Ocean Rig (NASDAQ: ORIG) has recently published a press release where it announced that it was non-compliant with NASDAQ listing rule. The company's shares traded below $1 for 30 consecutive business days, and now the company has time until March 27, 2017 to cure this deficiency.
Fellow contributor Fun Trading has already shared his thoughts on this issue in "Ocean Rig Is Noncomplying With NASDAQ Rule Of The $1 Threshold - What Does It Mean?". In his work, Fun Trading discussed why Ocean Rig's CEO, Mr. Economou, said that the company may file for bankruptcy during the second quarter earnings call - a move that crushed Ocean Rig's shares.
In my article, I want to focus on more practical things. I believe that the necessity to comply with NASDAQ rules may provide a good short-term long opportunity in the future. Here are my thoughts on this topic.
Ocean Rig has plenty of time before the deadline. Three things may happen until the end of March. First, Ocean Rig may really file for bankruptcy as Mr. Economou stated during the conference call. Second, Ocean Rig's shares may rise above $1, which will put the delisting question off the table. Third, Ocean Rig will do a 1 for 10 reverse stock split to increase the price of its shares. Let's discuss all three scenarios.
Bankruptcy
Just like many other observers, I was surprised when I read that Ocean Rig's management stated that the company may file for bankruptcy.
Yes, I thought that the ultimate target for Ocean Rig's shares is zero -- read "Ocean Rig - Target Price Is Zero" and "Ocean Rig: Target Price Is Still Zero" -- but I did not expect that bankruptcy will come soon. Ocean Rig's maturity situation clearly provides the company some waiting time.
However, there is a possibility that the company's restructuring will begin soon and end up in bankruptcy. There were plenty of strange moves by Ocean Rig's management this year.
The company bought its shares from DryShips (NYSE: DRYS) and did not cancel them. The company formed a new subsidiary Ocean Rig Investments and bought a drillship only to immediately cold stack it. The company suddenly announced its restructuring, crushing its own shares and burying the bulls' hopes that it was planning to sell the shares bought from DryShips at a profit. Frankly, a sudden bankruptcy would fit perfectly in this series of events.
I don't see why Ocean Rig rushed to hire restructuring advisors and told the market about a potential bankruptcy. I don't see fundamental reasons for this rush. However, the were no fundamental reasons to buy a drillship and cold stack it either, so I won't try to get into the heads of the company's management.
The practical takeaway is that the company may really file for bankruptcy or announce potentially dilutive restructuring arrangements any day now, so all speculative positions must be sized accordingly.
Rally
The second scenario is that Ocean Rig shares will rally from current levels, solving the $1 problem. In my view, the company's shares could successfully pass the $1 mark if the oil market takes OPEC seriously and prices go above $50 per barrel. However, whether such a move can be sustained remains a question.
Fundamentally, oil at $50 will not change much for the offshore drilling industry. Therefore, bankruptcy fears will remain, putting pressure on the company's shares.
At this time, Ocean Rig may count mostly on momentum traders to support its shares. Momentum crowd will surely join the party on the breakout of $1, but such a move won't be sustained as the same people will try to sell out of their positions a few days later.
All in all, I believe that Ocean Rig's ability to stay above $1 per share depends on a significant rally in oil, which could attract forces other than daytraders to the company's shares.
Stock split
I believe that this is the most probable scenario. Also, this is the scenario that will provide an opportunity for a short-term upside play. When Ocean Rig's share count will decrease, the company's shares will be in the same position as the shares of Pacific Drilling (NYSE: PACD) when the latter did its own reverse stock split on May 25. Look what happened next: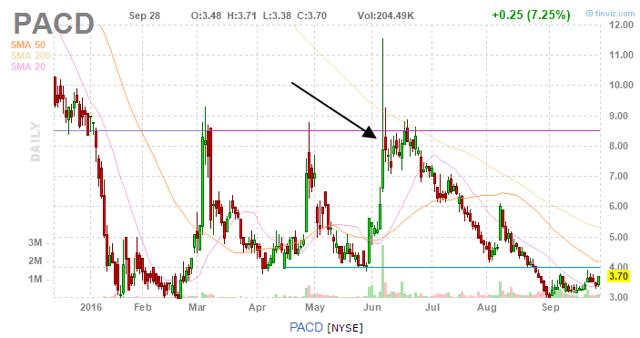 Click to enlarge
You can see the consequences of decreased share count in the chart above. Shorts covered into thin air, speculators pushed shares even higher.
Fundamentally, there was no reason for such activity as it was already evident that Pacific Drilling was a dead man walking. Nevertheless, market mechanics dictated the squeeze, providing an opportunity for short-term players.
I expect that a similar situation might happen with Ocean Rig shares. Contrary to Pacific Drilling, there are more factors which could be interpreted in favor of Ocean Rig - bigger backlog, more favorable maturity profile, potential unexpected moves by the company's CEO.
I think that those wanting to speculate on a potential upside in Ocean Rig's shares will be better off waiting for a reverse stock split. There are many risks associated with holding Ocean Rig's shares for any significant period of time as the company may suddenly announce its restructuring plan, which could be unfavorable to current shareholders.
Long term, I maintain my views that company's shares are worthless or almost worthless due to market conditions, debt load and multiple strange actions by the management. It is, of course, too late to short Ocean Rig and any possible trade will be on the long side, but I believe that this opportunity may arise only if the company does a reverse stock split.
Disclosure: I/we have no positions in any stocks mentioned, and no plans to initiate any positions within the next 72 hours.
I wrote this article myself, and it expresses my own opinions. I am not receiving compensation for it (other than from Seeking Alpha). I have no business relationship with any company whose stock is mentioned in this article.
Editor's Note: This article covers one or more stocks trading at less than $1 per share and/or with less than a $100 million market cap. Please be aware of the risks associated with these stocks.