Mitie Group PLC - Overblown Brexit Fears Offer Investors Chance to Clean Up
by Jason Booth, 9/25/16
Brexit fears have sent investors in Mitie Group PLC. (OTCPK:MITFY) running for the exit, leaving shares of the U.K.'s leading facilities management (FM) company trading at levels not seen since the darkest days of 2008.
Mitie's shares plunged record 28% in London trade last Monday, September 19th after the Bristol-based company released a "Trading Update" to the market stating that operating profit for fiscal year 2017 will be "very significantly lower" and "materially" short of previous forecasts, citing a reduction in government spending and delayed or cancelled contracts due to the Brexit vote.
The company had already rattled investors in May, one month before the vote, stating that some clients were canceling or delaying projects. Year to date the company has lost 40% of its market value. Investors and financial media appear to have found their sky-is-falling Brexit story.
Yet there are multiple signals that Mitie's selloff is driven more by short-term jitters among investors and media looking for clear cases of Brexit fallout, rather than fundamental change in the company's mid- and long-term outlook. In fact, with limited exposure to the EU market (3% of revenue), a track record of stable profitability, solid corporate governance and its lead position in maintenance of vital government and private facility, including Heathrow Airport, Mitie's bombed-out shares look primed for a near-term rebound, and possibly a longer-term upcycle. And with the U.K. Pound trading at historic lows, U.S. investors will likely also benefit from currency appreciation over the longer term.
Company Background:
Mitie Group PLC is a holding company with operating units supplying a wide range of services. According to company filings, its "soft" facilities management segment provides cleaning and environmental services, security, catering and front of house services. Its "Hard" FM segment includes a range of technical, building maintenance and energy services. Its property management segment provides repair and maintenance services in the social (state owned) housing market. Mitie also has as healthcare segment providing "nurse-led complex care solutions in the home, include catering, cleaning services, compliance services, custodial services, data center services, document management, electrical inspection and testing, and insurance claims management and repairs.
Short-term Investment Rational:
Investors are overacting. The market is essentially pricing in a 40% decline in the current and future value of the company. But in the September 19 statement, the company made clear that its problems were short term in nature, writing:
Whilst our current environment is challenging…. Mitie has an excellent customer base and order book, a substantial pipeline of opportunities and a portfolio of high quality, long-term contracts.
The company said that full year revenue will show a modest gain, in line with earlier forecasts. MTO is cheap compared with its peers. Mitie stock currently trades at the lowest PE Ratio among its peer companies in the U.K. Business Support Services sector. The spread between Mitie share performance and that of its competitors has also widened to the point where a narrowing is almost inevitable.
Selloff widens spread with leading competitor…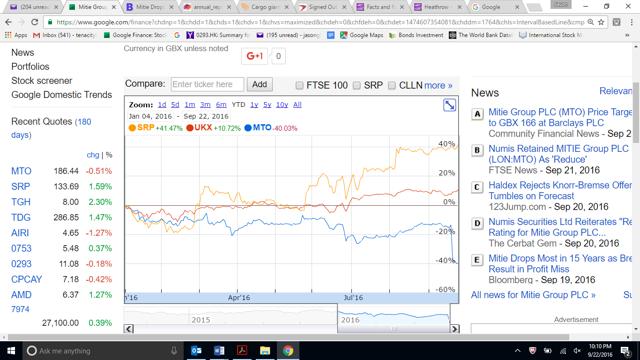 The market appears quick to forgive. Shares of peer company Interserve plc (OTCPK:ISVJY) took a similar dive of over 40%, bottoming out shortly after the Brexit vote. Since then, the company's share price has nearly doubled, sporting an exorbitant PE of 197.56. By comparison, Mitie is a bargain with a PE of just 8.75. Moving quickly to cut costs. In its Trading Update management states:
We have taken strong action to counter the impact of these pressures by making changes now to the way we operate and initiating cost efficiency programs across the group.
It predicted gross cost savings of about 15 million pounds in the second half of the year, countering much of the losses incurred in the first half of fiscal 2017.
Long-term Investment Rational:
Track record of good governance, stable profits and regular dividends. MTO has an average ROE of 19%, and a long-term record of operating profits of between 5% and 6%. "As a stable predictable business we are well placed to deliver value for all of our stakeholders," Mitie's CEO wrote in the company's 2016 annual report.
| | | | | | | |
| --- | --- | --- | --- | --- | --- | --- |
| Ticker | Company name | Share price YTD | P/E ratio | book ratio | Return on avg equity | Operating margin |
| MTO | Mitie Group PLC | -41% | 8.75 | 1.62 | 19.23 | 5.04 |
| | | +43% | 25.56 | 5.29 | -81.28 | -1.15 |
| | | -13% | 8.96 | 1.14 | 14.23 | 5.24 |
| ISVJY | | -25% | 197.56 | 1.13 | 14.46 | 2.99 |
| | | +27% | 27.18 | 12.72 | 46.03 | 7.16 |
| | | -18% | 78.40 | 9.68 | 6.89 | 4.42 |
Possible divestment of healthcare segment. A close reading of the September 19th statement makes it clear that the company's healthcare segment is the weakest unit, and raising the possibility of a sale of the unit. "Given this further deterioration during the first half of the year, we are now reviewing the long term plan and related options for our Healthcare business," the company stated. "We will update the market on progress at the interim results." Divestment of the healthcare unit would free up capital to invest in core FM businesses.
Company provides vital services on long-term contracts. The company's core business are facility maintenance and management. Neither of which can be ignored for long. In fact, the more clients delay upkeep of property, the more work will need to be done down the road. Similar trends have been seen in the oil and gas sector, with disasters like Deepwater Horizon sparking a resurgence of oilfield maintenance stocks.
Predictions of U.K. economic collapse premature. Despite worries of a Brexit slowdown, Heathrow Airport, a major Mitie client and economic bellwether is booming. The airport reported a new passenger record for the month of August, handling 7.34 million passengers. Heathrow Airport accounted for almost 30% of all U.K. exports by value outside the EU last year. Trade growth with non-EU economies from Heathrow was particularly strong in August, with cargo to Latin America up 12%, the Middle East up 5.7% and East Asia up 3.7%, according to airports statistics.
Conclusion:
We live in interesting times, resulting in periods of unprecedented volatility among typically stable, profitable companies. While the U.K.'s pending exit from the EU will impact every British company in some way, I do not believe Mitie will be hurt significantly more than its competitors, who have weaker long-term performance figures and higher share price multiples. As such, Mitie's 40% decline looks excessive, giving investors a chance to buy the company at bargain prices that won't last long.
Disclosure: I/we have no positions in any stocks mentioned, and no plans to initiate any positions within the next 72 hours.
I wrote this article myself, and it expresses my own opinions. I am not receiving compensation for it. I have no business relationship with any company whose stock is mentioned in this article.
Editor's Note: This article discusses one or more securities that do not trade on a major U.S. exchange. Please be aware of the risks associated with these stocks.