In two recent articles, I reviewed the dividend safety of the Dividend Champions and Dividend Contenders. There were a couple of patterns that emerged: Stocks with shorter streaks and stocks with higher yields tended to have lower dividend safety scores.
This article examines Dividend Contenders, which are companies with dividend increase streaks of between 5 and 9 years. The patterns are even stronger, as you will see below.
There are 441 Challengers. I dropped those with yields under 2.0%. The remaining 358 appear in the tables here.
Once again, I am indebted to two people for the underlying information. The first is David Fish, who produces the Dividend Champions document each month. The Challengers examined here come from that document, as do the notes indicating which of them have increases that were "overdue" as of August 31.
The second is Brian Bollinger. His Simply Safe Dividends scores are the measure of dividend safety used herein. Brian's Dividend Safety Scores are like credit ratings, except they are applied to dividends rather than bonds.
Dividend Safety Scores help answer the question, "Is the current dividend payment safe?" The scoring scale ranges from 0 to 100, with 50 being average. Here is the system.

Click to enlarge
Brian examines more than a dozen key factors in arriving at his scores. He suggests that conservative investors stick with companies that score at least 60 for Dividend Safety. For more information about the calculation, use, interpretation, and track record of Dividend Safety Scores, click here.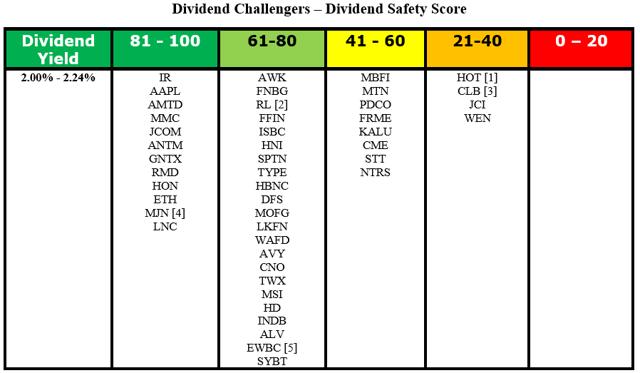 Click to enlarge

Click to enlarge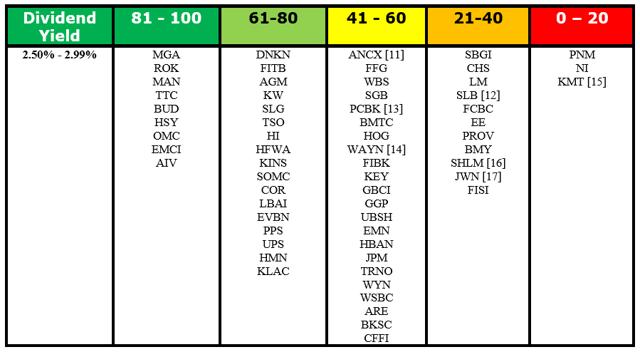 Click to enlarge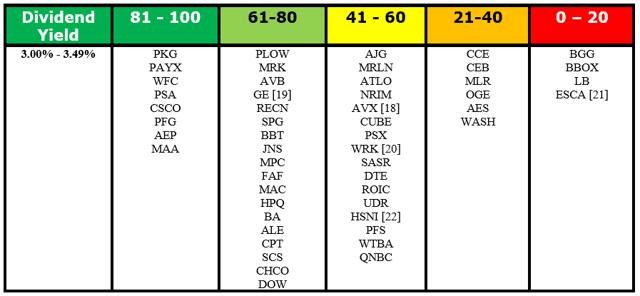 Click to enlarge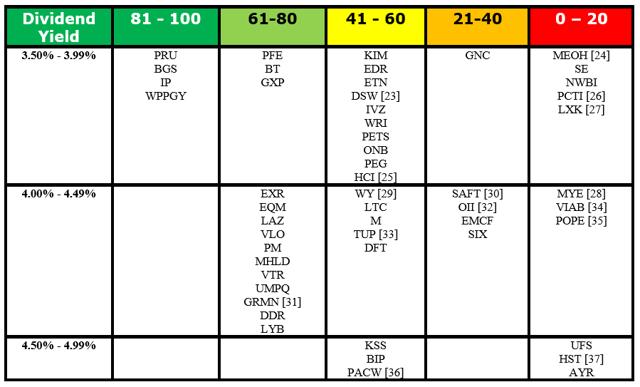 Click to enlarge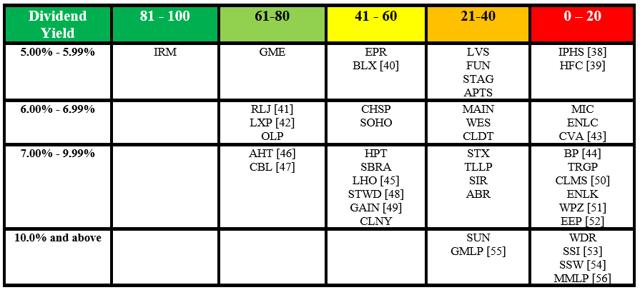 Click to enlarge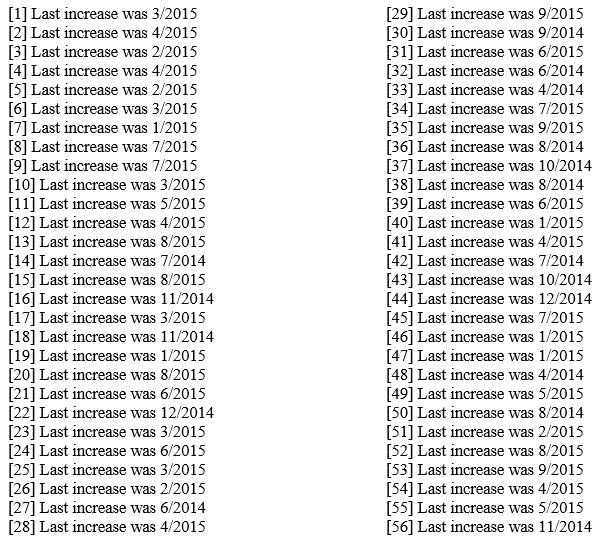 Comments and Observations
You may recall that no Dividend Champion has a yield higher than 5.9% at the moment, whereas 15 Contenders have yields of 6% or more. In this Challengers group, 35 companies have yields above 6.0%.
However, it is obvious that high yield does not translate to dividend safety as measured by the Dividend Safety Scores.
Only a single company with a yield above 4.0% has a safety score higher than 80.
More than half of the companies with overdue increases (29 out of 56) have yields above 4.0%.
Many of the lowest-scoring companies are REITs or in the energy sector.
The Challengers, as a group, seem to have less dividend safety than the Champions and Contenders. Nearly a fifth of this group have scores under 61. This makes sense, as these companies have shorter increase streaks. Many of them have not yet established the outstanding business models that support increase streaks of 20-25 years or more.
On the other hand, every Dividend Champion 20 years from now appears among these Challengers!
Once again, I expect that Brian will be participating in the comment stream, so if you have a question about the grades in general or a particular stock, feel free to ask him directly!
As always, please do not take anything in this article as a recommendation. Always do your own due diligence before investing in anything.
Disclosure: I am/we are long AAPL, CSCO, PFG, BA, PM, VTR, MAIN.
I wrote this article myself, and it expresses my own opinions. I am not receiving compensation for it (other than from Seeking Alpha). I have no business relationship with any company whose stock is mentioned in this article.