Oracle (NASDAQ:ORCL) missed on its top line and bottom line in its earnings for first fiscal quarter 2017. However, there were some bright spots in Oracle's set of earnings as the company continues its transition to the cloud. The SaaS and PaaS revenues were again the stars of the show. Revenue in both these areas increased by 77% on a rolling year basis. Furthermore, growth margins in these areas rose to 60% which is the best margin figure to date for these cloud offerings.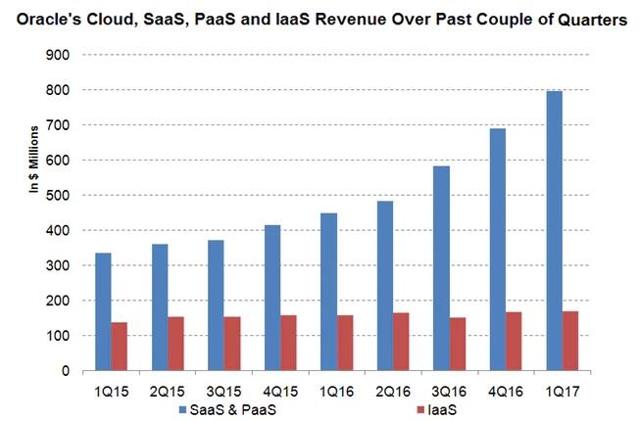 Click to enlarge
Source: Oracle Website
Oracle's total cloud revenue for the quarter rose 59% to $969 million. Take away the strong dollar and the rise was well over 60%. Furthermore, 750 new SaaS customers were added during the first quarter. Oracle's cloud revenue is now making up over 11% of its revenue. Moreover, I think the pending acquisition of NetSuite (NYSE:N) will only increase Oracle's growth in cloud computing.
I think investors who remain doubtful about Oracle's need to consider the passive income element to these newly acquired SaaS and PaaS customers. Furthermore investors need to look at the pace of growth of the cloud offerings that Oracle is providing.
Currently, the company has over $68 billion in cash on its balance sheet, has a price to cash flow ratio of just over 12 and a debt to equity ratio of just over 1. These numbers don't surprise me. Why? because Oracle came late to the cloud party. It has been very cautious and conservative with its acquisitions in the cloud to date. This doesn't mean however that the company will stay like this.
In fact, Executive Chairman Larry Ellison recently came out and said that the new Oracle cloud will be much cheaper, faster and will perform better than Amazon's (NASDAQ:AMZN) Aurora offering. What he's referring to here is the infrastructure (IaaS) side of the cloud business. This hasn't grown much to date. Furthermore, with Amazon doing almost $3 billion a quarter in infrastructure cloud revenue, there's plenty of market share here for Oracle to get from the likes of Amazon, Microsoft (NASDAQ:MSFT) and Google (NASDAQ:GOOG) (NASDAQ:GOOGL).
As a trader, Oracle interests me a lot because it is liquid, has strong competitive advantages and is a very stable stock to trade. If we pull out a chart we can see that there is pretty strong support at the $34 level and very strong resistance at the $42 level. At the moment with the stock trading at just under $40 a share, the earnings multiple is just under the company's five-year average.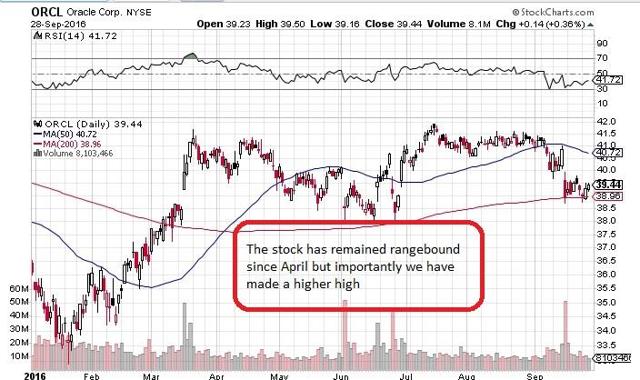 Click to enlarge
When trading and investing in stocks, protecting the downside is key and has always been my No. 1 priority. How do we know we are protected to some extent?
Some investors have become cautious about Oracle because of revenues trending downwards over the past few years. Revenues topped out in 2014 at just over $38 billion and have been declining ever since. However, 2018 estimates have higher revenues than 2014 plus substantially higher earnings per share estimates (expanding margins projected). I always state in my articles that one has to take a long-term view of companies especially when one is doing their research or fundamental analysis. Over a 10-year period if we take trailing 12-month averages, every important fundamental metric has risen.
Free cash flow has risen to $12.5 billion, growth margins have risen to over 80%, net income has risen to almost $9 billion a year, and earnings per share have a trailing 12month average of $2.10 per share. The one metric that is basically flat over 10 years is the operating margin. This is coming in at just around 34% on a trailing 12-month average which is just above the average over the 10 years. Operating expenses grew to $5.954 billion in the last quarter which definitely was higher than previous quarters.
What investors want to really extrapolate here is that if there is going to be a link between operating expense and cloud growth. With Oracle really pushing its infrastructure cloud offering, the question is if we are going to see elevated expense here in the next few quarters. However, research firms continue to increase their estimated growth rate of cloud revenues for the next few years. This has to be bullish for all cloud providers, especially companies that have the balance sheet to invest heavily in this area in the next few years.
In terms of Oracle's strong competitive advantages you have to take into account the switching costs that are relevant in this industry. Oracle (knowing that change was coming) spent 10 years re-writing its applications to ensure it would be ready for the cloud.
Whether it is the database market, the application software business or the middleware market, I believe Oracle still has sufficient distinct advantages to protect itself against competitors in this space. Some analysts believe that Oracle's database business could be at risk in the future due to lower price competition coming on the scene in droves at present. Although open source technology is definitely becoming a risk for some companies, I still feel Oracle's brand (which is paramount among a wide variety of its customers) plus compatibility and time constraints (if an enterprise were to jump ship) will keep the majority of businesses depending on Oracle's offerings.
In this space, database sales make up about 30% of Oracle's revenues. One has to remember that many customers in this segment have been with Oracle for decades. Therefore as long as Oracle stays on the cutting edge by maintaining elevated investment in its database technology, then I don't feel that competitors are going to make much of an inroad here. The worst case scenario here is that we have stagnation or a small decline in this part of the business. Cloud growth will be more than enough to offset marginal declines here.
Also I acknowledge that Oracle will need to keep investing in its software application business but again years of trust has been built up here with businesses and enterprises alike. The transition of these applications to the cloud will undoubtedly result in software becoming more user friendly going forward which could open up the market a touch. We can see this in companies such as Salesforce.com (NYSE:CRM) and Workday (NYSE:WDAY) where the software they are selling is both easy to use and competitively priced. Oracle will need to keep delivering on pricing and on innovation going forward. However the only real change here is the migration of this software to the cloud. As long as Oracle can keep investing in its software and keep on giving excellent customer service, there won't be any mass exodus like some bears have been touting.
Therefore to sum up, investors should use any weakness in the stock to buy. The company simply has too many competitive advantages so I would use any pullbacks to go long.
Disclosure: I am/we are long ORCL.
I wrote this article myself, and it expresses my own opinions. I am not receiving compensation for it (other than from Seeking Alpha). I have no business relationship with any company whose stock is mentioned in this article.