After six straight quarters of declining sales, the world's largest custom manufacturer of chips Taiwan Semiconductor Manufacturing Co. (NASDAQ: TSM) finally snapped out of its disappointing run by posting impressive growth during the June quarter and also issued upbeat Q3 guidance. TSMC forecast sales of NT$254 billion to NT$257 billion ($7.9 billion to $8 billion) for the quarter ending Sept. 30, the midpoint being 2.16% higher than the consensus on Wall Street. The question on the minds of most investors is whether this signifies a return to a period of sustained growth for TSMC or whether it's simply a lull before another storm.
TSM stock has handily beaten the industry's popular benchmark, iShares PHLX Semiconductor ETF (NASDAQ:SOXX), with YTD and 52-week gains of 33.2% and 52.45% vs. 22.15% and 39.9% by SOXX.
TSM vs. SOXX 52-week returns

Source: CNN Money
Slowing smartphone sales
As one of the chief makers of chips for Apple (NASDAQ:AAPL), Qualcomm (NASDAQ: QCOM) and MediaTek, TSMC has ridden the smartphone wave quite well. Almost 60% of the company's revenue comes from the Communication segment.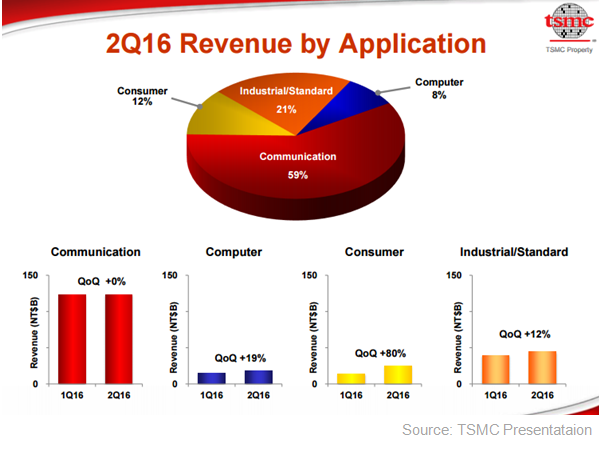 Source: Market Realist
During the last quarter, the Communication segment remained flat QoQ after TSMC was able to offset lower demand by Apple and Qualcomm with higher demand from Chinese smartphone manufacturers including Huawei and Oppo. The second half of the year looks good for the company due to a significant Apple design win where it will supply A10 Fusion SoCs for the iPhone 7. TSMC will share the sockets with Intel (NASDAQ:INTC).
The long-term outlook for the company though could be tricky due to a slowing smartphone market. After growing consistently in the double-digits, the smartphone market recorded single-digit growth for the first time in 2015. This is now expected to become a trend with the IDC predicting that the global smartphone market will grow at CAGR of 6.0% through 2020. The slowdown is mainly as a result of increasing saturation, though IDC says that new opportunities in emerging markets will be enough to prevent a complete stall.
The overall long-term outlook for TSMC though might not be as gloomy as many investors fear.
Non-mobile growth initiatives
During this year's Technology Symposium, TSMC discussed its long-term silicon roadmap that involves going for non-mobile segments including Internet of Things, high performance computing, and the automotive markets. The company's ambitions might not be far-fetched considering that its Computer, Consumer, and Industrial segments have been responsible for most of its growth lately.
The Computer segment accounts for just 8% of TSMC's top line but is growing at a healthy clip. The company manufacturers deep learning chips for Nvidia (NASDAQ: NVDA). Nvidia is squaring it off with Intel in the emerging AI industry and has been making good progress designing chips to process artificial intelligence applications. Although only 3% of servers have deployed GPUs in machine learning, this might quickly change as more and more companies experiment with GPUs in deep learning tasks. After all, GPUs are designed to handle complex matrix and vector operations in parallel more efficiently than single core CPUs.
Further, Nvidia has managed to build a pretty comprehensive cache of programming tools including its cuDNN deep learning library. During the last quarter, Nvidia said it's already working with more than 3,500 AI customers, and expects AI to become a big part of its business.
TSMC's Industrial and Consumer segments (32% of revenue) are also showing plenty of promise. The company has bet big on 10nm IoT chips which it predicts will become widely used in smart devices. TSMC believes that 10nm nodes will account for as much as 55% of its revenue by 2020, which is a bold statement considering that none of the company's previous process technologies has ever exceeded 40% of revenue. TSMC plans to begin production of 10nm nodes this year and 7nm in 2017. If it's able to hit those targets, then it will mark the first time a chip manufacturer manages to introduce two node transitions in two successive years. The company's 7nm nodes are comparable to Intel's 10nm nodes and are expected to hit the market about six months after Intel launches 10nm nodes. Intel, therefore, won't have the huge lead of a year or more that it's accustomed to. TSMC is keen to avoid a repeat of the 16nm FinFET debacle and has been insisting that it remains on course to hit both targets.
Bottom line
Many investors fear that a slowing smartphone market might negate the recent gains by TSMC. Although this remains a potential medium-term risk, the long-term outlook remains favorable because the company is likely to offset this weakness through new growth initiatives in the industrial, consumer, and deep learning segments. TSM stock remains a prime long-term holding.
Disclosure: I/we have no positions in any stocks mentioned, and no plans to initiate any positions within the next 72 hours.
I wrote this article myself, and it expresses my own opinions. I am not receiving compensation for it (other than from Seeking Alpha). I have no business relationship with any company whose stock is mentioned in this article.