More than a year ago, I had advised investors to buy shares of silver mining company Pan American Silver (NASDAQ:PAAS). Since then, Pan American shares have appreciated rapidly, gaining over 170% on the back of terrific results, powered by the rise in silver prices. In fact, the rise in silver prices has allowed Pan American to bring about a massive improvement in its financial performance.
Getting better
For instance, when Pan American had announced its second quarter 2016 results last month, the company reported $34.3 million in earnings compared to a loss of $7.5 million in the prior-year period. The adjusted earnings were $19.9 million, or $0.13 per share, compared with a loss of $11.2 million, or $0.07 per share, in the year-ago quarter.
Moreover, driven by improved silver pricing, Pan American had generated $66 million in cash flow from operations last quarter, which was the highest since the fourth quarter of 2012. More importantly, as a result of the improvement in its cash flow, Pan American's cash and cash equivalents plus short-term investments totaled $204 million, which was well ahead of its debt of $59 million.
In fact, due to the strength of its balance sheet, Pan American Silver has been able to fully fund all of its quarterly requirements, both for sustaining capital as well as expansion projects. Looking ahead, I believe that the improvement in Pan American Silver's financial performance will continue on the back of a rise in silver prices and its efforts to reduce costs.
Why Pan American will get better
All of the improvement in Pan American's earnings is not just a result of an improvement in silver pricing. In fact, silver prices were largely flat in the second quarter compared with the same period last year.
Now, Pan American Silver achieved a 41% decline in cash costs which played a key role in the earnings growth. The cash costs in the second quarter of this year were $5.57 per payable ounce of silver, down from $9.44 in the same quarter of last year. This is commendable, especially because the cost reduction took place across the entire operations of the company. Further, the all-in sustaining costs also came down by as much as 22% from a year ago to $11.31 per ounce, net of by-product credits.
So the price rise provided only the icing on the cake. The real achievement was the tremendous drop in cash costs and the remarkable drop in all-in sustaining costs. More importantly, based on the consistent cost reductions, Pan American has been able to reduce its guidance range for both consolidated cash costs and Consolidated All-In Sustaining Costs per Silver Ounce Sold ("AISCSOS").
Now, its cash costs are expected to come in between $6.50 and $7.50 per ounce of silver while the AISCSOS are expected to come in between $11.60 and $12.60 per ounce for full year 2016.This represents a reduction of 30% and 16%, respectively, in the cost outlook.
Improving production from key areas
Along with the reduction in costs, Pan American Silver also is being able to enhance production. For instance, in the second quarter, Pan American produced 6.33 million ounces of silver, which was slightly less than 6.65 million ounces of silver produced in the year ago quarter. However, the company said that it is well on track to achieve its annual forecast of 24 to 25 million ounces.
Of late, silver miners have started focusing on increasing their production to capitalize on the recent rally in the prices of the precious metal. The increase in the exploration and capital expenditure budgets of silver miners has been a notable theme in their second quarter result announcements.
In line with the trend, Pan American Silver also increased its exploration budget from $10.5 million to $14.5 million. The company will be increasing production by expanding its La Colorada and Dolores mines. Both these expansion projects are on budget and on schedule and will play a vital role in further improving the company's operating margins on their completion at the end of 2017.
In fact, as shown in the chart given below, Pan American Silver's production in 2018 is expected to come in at 26 million pounds while the cash cost is expected to go down to an average of $6.50 an ounce. This means that as a result of lower costs and higher production, the company will be able to enhance its margin profile, especially as silver prices rise.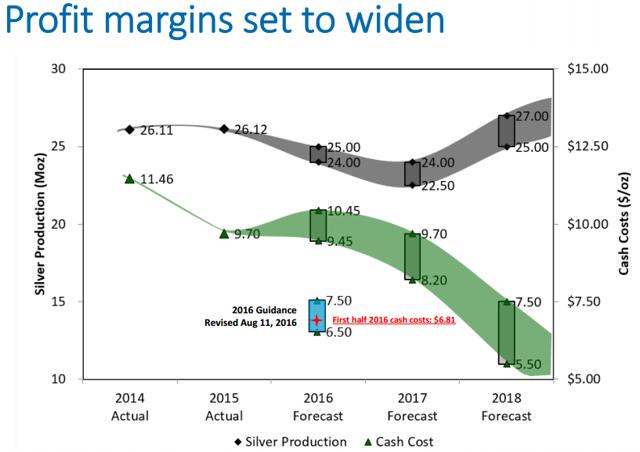 Click to enlarge
Conclusion
Pan American Silver is in a strong financial position. It has plenty of cash through which it can fund all its requirements without the aid of external capital. The prices of the precious metals that it sells are on the rise. Silver has stayed well over $19 an ounce and gold has stayed well over $1,300 an ounce throughout the third quarter. That straightaway gives a good idea of the kind of revenue the company is going to report for the third quarter.
In addition, the cost reductions achieved and forecasted by the company are expected to result in some attractive earnings figures. Also, Pan American Silver is well on track to achieve its annual production targets. Hence, we can expect the stock to move up steadily going forward.
Disclosure: I/we have no positions in any stocks mentioned, and no plans to initiate any positions within the next 72 hours.
I wrote this article myself, and it expresses my own opinions. I am not receiving compensation for it (other than from Seeking Alpha). I have no business relationship with any company whose stock is mentioned in this article.