Markets have shown calm of late. The S&P 500 (NYSEARCA:SPY) thus far has made it through September relatively unscathed. Only one roller-coaster whoosh after all those fears isn't so bad. Also the market has managed to hold thus far. With that as a backdrop Octobers are historically as fun as Septembers. The VIX (NASDAQ:XIV)(NYSEARCA:VXX) currently is near its lows which seems complacent. We wanted to take note of it versus upcoming catalyst events.
Here's the VIX.
Nothing much is going on in markets and nobody appears too worried when looking at the VIX.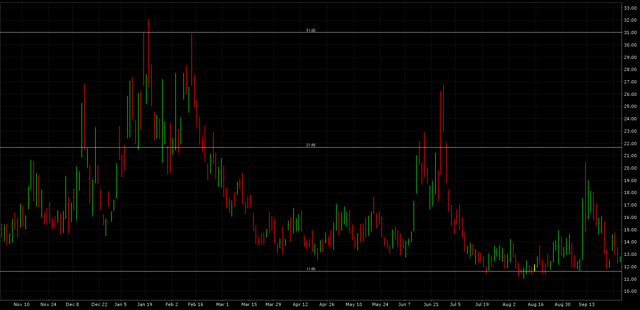 Click to enlarge
Source: Interactive Brokers
Nothing is going on in the world to worry about. That is at least according to the VIX. The VIX expects little volatility going forward.
When comparing that to multiple factors, it looks somewhat complacent.
What could possibly happen in the world that can get the VIX back up?
We're going to list a few factors that we see that can get the VIX back up which would imply market risk and volatility.
*Historical Seasonality
*Elections
*Living Will submissions and responses
*PCE and inflation
*Deutsche Bank
*Yuan going into IMF
We would say that typically when we list a bunch of risks in our careers it can just as well be a reason for markets to go up as down. If risks are so obvious others are listing them too and hedging out. If the listed risks don't then materialize that can also get markets to go up. That said it's a fair point to look at the risks especially catalyst events with the VIX so low. The VIX says these risks are not priced into the market.
Historical Seasonality
We almost made it through September. What about October?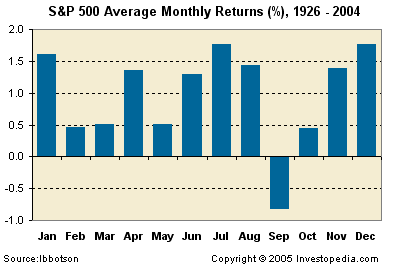 Source: Investopedia
Obviously we've seen that September and October have had the brunt of annual risk on average going back through 1926.
September we're almost ok, but October is coming up. And this October, has a lot going on.
Elections
We are in a very close race for presidency. There are many toss up factors that can sway voters the last minute. The first presidential debate this week was the most watched presidential debate ever. There are two more coming up.
It's fair to think that shifts and news from the election process could swing markets up and down.
Just like what we saw from typical seasonality above, the presidential cycles don't give us much comfort.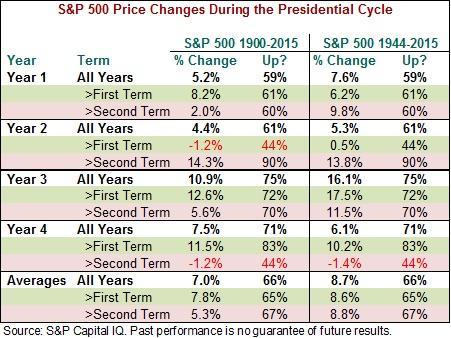 Source: S&P Capital IQ
What do you see here? Going back 116 years the only year to average down in that time was this year. The fourth year of a second term presidency was the only year that was down on average in a century.
Why should that be? Major change comes with a changing of the guard. Does anybody expect any major change in this election? There is a chance for a little change or a lot of change.
We think this year has the makings of that. If Hillary Clinton takes a lead and holds it we see less volatility. The reason that many hedge funds are supporting Mrs. Clinton over Mr. Trump is that they probably see less change in the offing. They are voting for less volatility.
Less change is better for financial markets. Markets like calm and hate uncertainty. For that reason it's fair to think that a close race causes volatility.
Living Will Submissions Due October 1st
No biggie here. Five of the largest banks in the US have failed Federal Reserve and FDIC requirements. Banks need to have cogent plans to dissolve assets in an orderly fashion in the event of a bankruptcy. If these banks continue to fail the Fed can raise these banks' capital requirements or worse break them up.
It usually takes the Fed about a month to respond. Submissions are due October 1st. The Fed's replies could be by early November. That's right in front of elections.
Can that cause volatility? Definitely. These banks have already failed several times. In our work, not many banks know the timing of when the penalties can kick in.
We've shown that Fed Chair Yellen implied that bank break ups can happen if they fail this round of living will submissions.
The failing banks in question are JPMorgan Chase (NYSE:JPM), Wells Fargo (NYSE:WFC), Bank of America (NYSE:BAC), State Street (NYSE:STT), and Bank of New York Mellon (NYSE:BK).
Breaking these banks up would likely cause a short term credit supply crunch which could affect markets. That can cause volatility.
PCE and Inflation
Fed Chair Yellen had a hint yesterday that if the labor market continued the Fed may have to play catch up in rates.
That would certainly be a market negative as most are expecting a slow, steady, gradual, forever or maybe never series of rate hikes.
Playing catch up is not good for markets.
PCE reports Friday and if it is like the CPI report it could give the Fed more itch to raise faster.
| | | | | | | | |
| --- | --- | --- | --- | --- | --- | --- | --- |
| | Feb | Mar | Apr | May | Jun | Jul | Aug |
| Core CPI | 0.3 | 0.1 | 0.2 | 0.2 | 0.2 | 0.1 | 0.3 |
| Core PCE | 0.1 | 0.1 | 0.2 | 0.2 | 0.1 | 0.1 | |
CPI and PCE have tracked each other to some degree. CPI picked up in its latest report. PCE is the Fed's favored inflation measure.
If PCE looks like CPI for August, it can likely be a market negative. It will mean the Fed could be behind the curve and need to raise rates faster than originally planned.
Deutsche Bank (NYSE:DB)
No problem here. Just one of the largest banks in Europe doesn't have enough money to pay a US debt.
The ECB and the German government have both threatened they do not want to save the bank. We don't believe it but that's the risk.
If Deutsche Bank is allowed to fail there will be fear in financial markets that other banks can fall much like the spiral of bank risk in 2008.
Yuan Into The IMF
This will be the first major change since the IMF adjusted its money basket for the Euro. If countries and investors shift support to the yuan (NYSEARCA:CYB) they could pull support from the dollar (NYSEARCA:UUP).
We've seen China already pull back on US treasury investments. As China molds and supports their own currency into a world currency that could put pressure on the dollar and dollar related assets. That can affect US markets.
Conclusion
We may have missed a few risks here. The point though was that the VIX is near its lows while world events and upcoming catalyst dates could push markets around. The VIX implies little expected risk. That may be mispriced. We said Sunday we think there could be downside in the markets this week. We've also pointed out other periods when risk seemed mispriced, which was then followed by volatility and down markets.
Stay Safe.
Your Trading Team
Your Trading Team is an Elazar premium service on Seeking Alpha that helps catch multi-week moves in SPY, GLD, Oil, TLT and more. We developed a simple trading gameplan that instills discipline to trading. Working together also helps avoid many trading pitfalls. We look forward for the chance to work together.
If you want Elazar's analysis on Seeking Alpha, scroll to the top of the article and hit "Follow." Elazar also writes real-time pieces as news is reported. If you want to be among the first updated check the box for "Real-time alerts on this author" under "Follow."
Disclaimer: All investments have many risks and can lose principal in the short and long term. This article is for information purposes only. By reading this you agree, understand and accept that you take upon yourself all responsibility for all of your investment decisions and to do your own work and hold Elazar Advisors, LLC and their related parties harmless.
Disclosure: I/we have no positions in any stocks mentioned, and no plans to initiate any positions within the next 72 hours.
I wrote this article myself, and it expresses my own opinions. I am not receiving compensation for it (other than from Seeking Alpha). I have no business relationship with any company whose stock is mentioned in this article.