Kirkland Lake Gold and Newmarket Gold to Combine
In quite a surprising development Thursday, my top overall gold stock pick for 2016 Newmarket Gold (OTCQX:NMKTF) has announced that it will combine with Kirkland Lake Gold (OTCPK:KGILF) - a stock I own in my real-life gold portfolio (it makes up close to 7% of my total holdings) - in a $1 billion deal.
I've highlighted the terms of the transaction, and have provided my thoughts on the deal. Overall, I think it's a smart deal, but I'll get into the full details below.
Here's the deal: existing Kirkland Lake Gold and Newmarket shareholders will own approximately 57% and 43% of the combined company. For Newmarket shareholders, this implies a value of C$5.28 per Newmarket common share based on the closing price of Kirkland Lake Gold on Sept. 28, 2016.
The deal represents a premium of 9.4% based on Newmarket's closing share price on Wednesday, and a premium of 22.9% based on Newmarket's 20-day volume weighted average price. Newmarket is being valued at C$1.01 billion. It's been quite a year for Newmarket Gold shares.
The new company will be a low-cost, mid-tier gold producer that will produce over 500,000 ounces of gold in 2016, with all-in sustaining costs below $1,015 an ounce; the company will be much more diversified, with production from the Macassa, Fosterville and Taylor mines in Canada and Australia, which are both top-tier mining jurisdictions, plus a number of development and exploration properties.
The company will also be very well-funded, with over C$275 million in cash and strong free cash flow expected this year.
The deal requires approval by 66.66% of the votes cast by its shareholders as well as the approval of a simple majority of disinterested shareholders voting at a special shareholders meeting. For Newmarket shareholders, it requires a simple majority of the shareholders of Newmarket as well as the approval of 66.66% of the votes cast by Newmarket shareholders.
For Newmarket Gold shareholders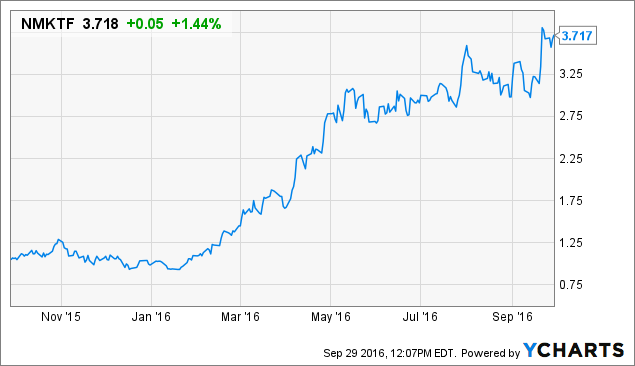 NMKTF data by YCharts
Here are the main benefits for Newmarket Gold shareholders:
Shareholders will get a premium of 9.4% based on the closing price of Newmarket on Wednesday, and a premium of 22.9% based on Newmarket's 22.9% 20-day volume weighted average price.
The deal values Newmarket Gold at over C$1 billion. Just eight months ago, Newmarket Gold of C$230-$250 million when shares traded at just C$1.35. Following completion of the takeover, the stock will finish the year up over 250%. Not bad returns if you ask me, especially compared to the benchmark gold miners index (NYSEARCA:GDX), which has returned 94.83% year-to-date.
The company should benefit from the financial strength and experience of Kirkland Lake Gold, and the deal gives Newmarket Gold exposure to Kirkland Lake's strong Canadian assets.
Kirkland Lake Gold owns one of the highest grade gold mines in the world in the Macassa Mine Complex - average reserve grades are 19.2 g/t gold. While all-in sustaining cost guidance calls for AISC of about $1,000 to $1,050 per ounce, the company has beat estimates the past few quarters. In addition, Kirkland Lake reported strong Q2 production results of 68,338 ounces of gold, and ended the last quarter with a healthy balance sheet of $157.3 million cash on hand.
Since it will be a larger company, shareholders of both companies should benefit from more trading liquidity and possibly a re-rating by the market.
For Kirkland Lake Gold shareholders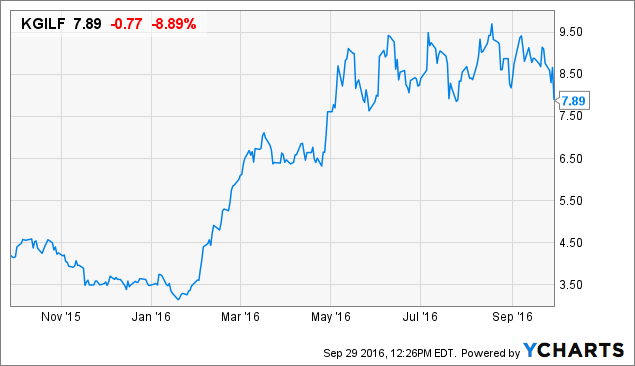 KGILF data by YCharts
This is Kirkland Lake Gold's second major acquisition, following the company's 2015 takeover of St. Andrew Goldfields. That acquisition has worked out pretty well for Kirkland Lake, and I expect this one will do the same. The stock has also outperformed this year, returning 126% year-to-date.
Here's the main benefit for Kirkland Lake: it gets ownership of Newmarket's excellent gold assets, including the Fosterville Gold Mine, which produced 70,400 ounces of gold in the first half of this year at gold grades of 7.4 g/t. The mine contains 1.5 million ounces of gold in reserves at 19.2 g/t, so it is extremely high grade and low-cost.
The exploration upside at Fosterville is simply huge. For example, Newmarket recently reported outstanding underground exploration results at Fosterville, including drill results of 194 g/t gold over 14.3 meters and 283 g/t gold over 3 meters. Check out the release for more results and details.
The Cosmo mine and Union Reefs mill is another strong asset, as this mine produced 31,800 ounces of gold in H1 2016 with head grades of 3.1 g/t gold.
Kirkland Lake also gains ownership of a strong pipeline of growth and exploration projects, including the Maud Creek project, which carries strong economics: a pre-tax net present value (5% discount) of $155 million using a $1,200 gold price, with average annual production of 52,000 ounces and low upfront capital costs of $32 million, according to a preliminary economic assessment.
What the New Company Will Look Like
The pro forma company will hold a share price of $11.12 on the TSX, have 211.6 million fully diluted shares outstanding, carry a fully diluted market capitalization of $2.35 billion, and hold total cash and investments of $266 million, with total debt of $123 million.
The new company will hold a total reserve and resource base of 3.1 million ounces proven and probable gold reserves, plus 8.6 million ounces measured and indicated resources, and 5.1 million ounces inferred resources.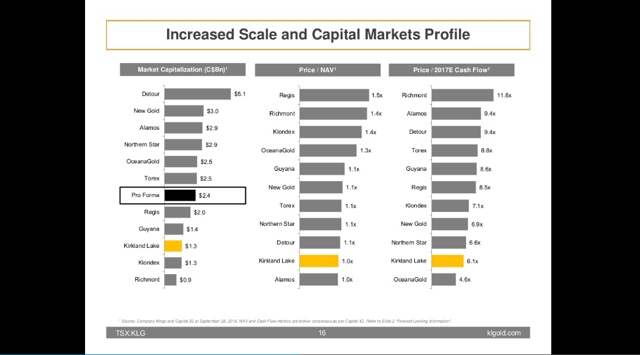 Click to enlarge
According to Newmarket Gold's corporate presentation, the pro-forma company will trade at a price/NAV of 1X, and a price to 2017 estimated cash flow of 6.1X. This looks very cheap to its peers, as Newmarket trades at a lower valuation than New Gold (NYSEMKT:NGD), Klondex (NYSEMKT:KLDX), Alamos Gold (NYSE:AGI), Richmont (NYSEMKT:RIC) and others, as you can see in the above chart.
The combined company produced $92 million in free cash flow in the first half of 2016, according to the presentation. With C$276 million in cash and equivalents and C$119 million in debt, it is in quite a strong financial position. The company can ramp up exploration work at all of its properties if it wishes to.
The Bottom Line
As a Kirkland Lake shareholder, I love the deal. With Newmarket Gold as my top overall gold pick for 2016, I also love the deal. I think it will benefit shareholders of both companies for the reasons mentioned above.
I also think the new company will present investors with a buying opportunity given the benefits expected from this deal, the company's strong balance sheet, low-cost operations and exploration upside, as I'll certainly give strong consideration to listing the stock as one of my top overall gold stocks to own in 2017 when I write that article later this year.
What do you think of this deal? Please let me know your thoughts in the comments below.
Disclosure: I am/we are long KGILF.
I wrote this article myself, and it expresses my own opinions. I am not receiving compensation for it (other than from Seeking Alpha). I have no business relationship with any company whose stock is mentioned in this article.
Editor's Note: This article discusses one or more securities that do not trade on a major U.S. exchange. Please be aware of the risks associated with these stocks.