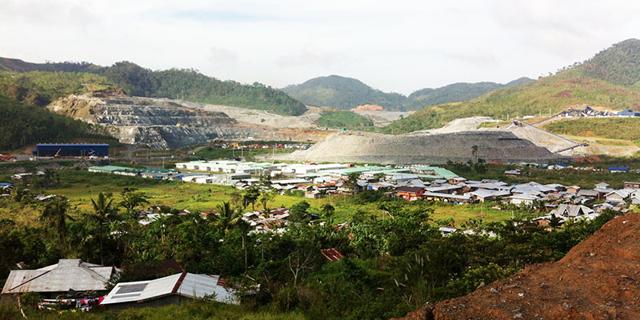 In the last few days the share price of OceanaGold (OTCPK:OCANF) has been absolutely hammered following news that its Didipio copper and gold mine in The Philippines has been named as one of a number of mines which is threatened with closure by the Duterte government. We have taken a small position in OceanaGold as we believe that the mine will stay open and the share price will then rebound as a result. As you can see on the chart below, its shares dropped lower by as much as 19 percent before we opened a position, wiping as much as A$520 million off its market value.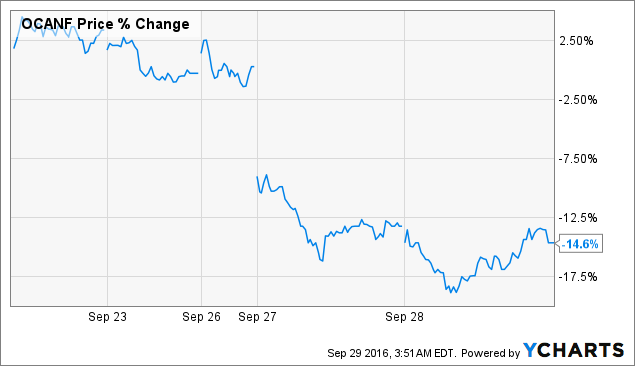 On Tuesday the Philippine Department of Environment and Natural Resources continued its crackdown on mining in the nation. In a press conference Secretary Lopez and Senior Undersecretary Jasareno listed 20 mining companies that may be on the verge of having their operations suspended due to alleged outstanding social issues.
There is clearly no love lost between President Duterte and mining companies. Despite the jobs they provide and the taxes and royalties they pay, Duterte has insisted that the country would be fine without them. Whilst we believe mines acting irresponsibly socially and environmentally should be closed, OceanaGold's Didipio mine is certainly not one of them in our opinion.
According to management the A$520 million wiped off OceanaGold's market cap all comes down to a faulty wall. On a conference call on Wednesday chief executive Mick Wilkes revealed that a recent audit found cracks in the walls of a single house near its Didipio copper and gold mine. The concern was raised by the resident but appears to be due to faulty construction and nothing to do with the mining operation.
In our opinion this supports the view that the mine will in fact remain open. Further supporting this view are the locals themselves. The company expects a protest this week from locals who support the mine. Considering it provides almost 1,800 local jobs, it is a vital part of the Didipio economy. The loss of these jobs would be catastrophic and we see little way for them to be replaced.
It would also be a disaster for OceanaGold. Although it has a number of operations, Didipio is far and away the company's key asset. According to its recent quarterly report, year to date the operation has accounted for 40 percent of the company's total gold production and 35 percent of its total copper production.
It is worth noting that production has continued as normal despite the threats. So there will be no material impact to its results should the drama blow over when the government announces further details within the next couple of weeks.
Which we expect will happen. As well as the reasons listed above, thanks to the Didipio operation having received numerous international and national awards for its strong track record for health and safety, environmental management and community engagement, we expect it will survive the closure threat and continue operating as normal.
It is for this reason why we think that taking a long position today in OceanaGold is a great short-term trade with plenty of upside potential despite our reasonably bearish view on gold prices in the next 12 months.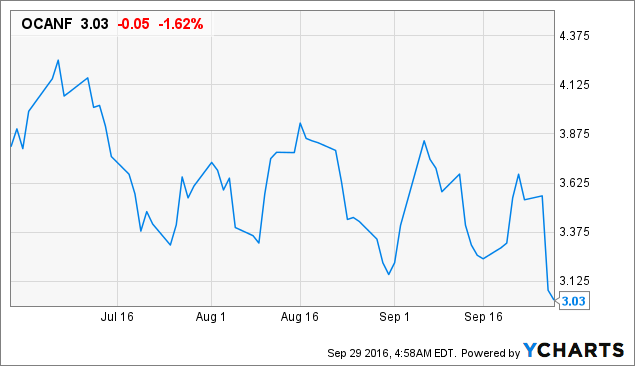 We expect its share price to bounce back to around $3.60 within the next couple of weeks, which equates to a return of 18.8 percent from the current trade price. In our opinion this is a great investment opportunity, but it is not without risks.
As we mentioned earlier, the mine is OceanaGold's key asset. Although we feel quite sure that things will blow over and the mine will remain in operation, if things do not go according to plan then there is significant downside risk. As it contributes 40 percent of the company's total gold production and 35 percent of its total copper production, the mine's closure could knock its share price lower by a third.
Thankfully we don't see that occurring. We will keep you posted with developments as and when they happen. Until then, all the best with your trades.
Disclosure: I am/we are long OCANF.
I wrote this article myself, and it expresses my own opinions. I am not receiving compensation for it (other than from Seeking Alpha). I have no business relationship with any company whose stock is mentioned in this article.
Editor's Note: This article discusses one or more securities that do not trade on a major U.S. exchange. Please be aware of the risks associated with these stocks.