I recently provided my analysis and projections of U.S. crude oil production. I utilized the same econometric approach for natural gas production. I provide my monthly projections out through 2017 and compare them to those provided in the latest Energy Information Administration's (EIA) Short-Term Energy Outlook (STEO).
My projections, which are based on recent NYMEX natural gas future prices, show marketed production below the level projected by the EIA. However, I have noted that the EIA had begun providing data on Drilled But Uncompleted Wells (DUCs) as part of its Drilling Productivity Report (DPR). I highlighted that this could be an important source of new supply that is not reflected in the rigs data because rigs used for well completions are not included in the rigs database and completions have exceeded wells drilled in recent months.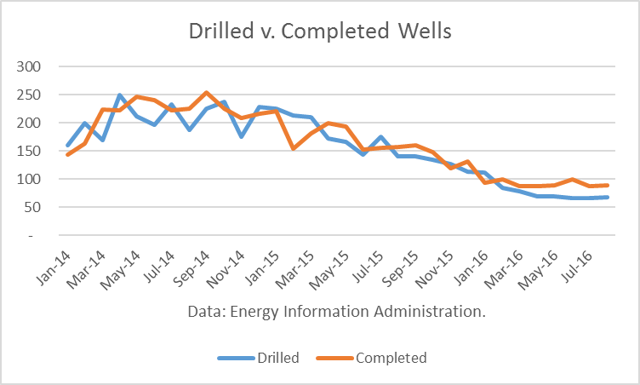 Click to enlarge
Furthermore, the EIA has reported that there are over 1,000 DUCs in the three DPR regions that mainly produce natural gas: Haynesville, Marcellus and Utica.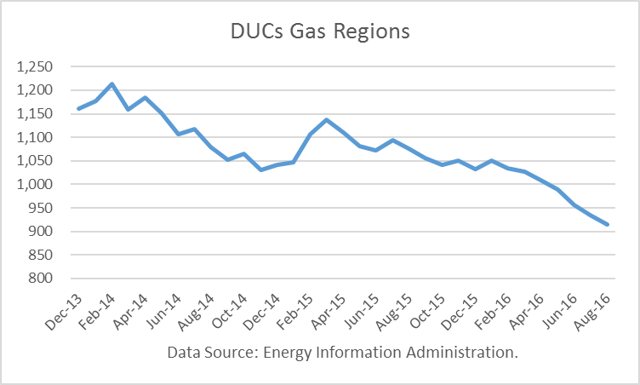 Click to enlarge
Findings
1. I conducted a linear regression of monthly rigs in the DPR regions (combined) and have an adjusted r-squared fit of 98.9%. The explanatory variables are WTI and natural gas prices and the rig level in the prior month (t-1).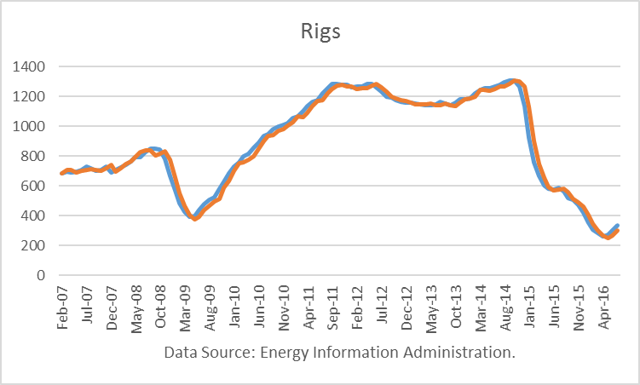 Click to enlarge
2. I modeled production in the DPR regions and obtained an r-squared of 99.9%. The explanatory factors are production (t-1) and rigs (t-5). Legacy production is a big factor in explaining future production, subject to a decline rate. New production adds to legacy production but there is a time lag between when the rigs are used for drilling and when new production affects total output.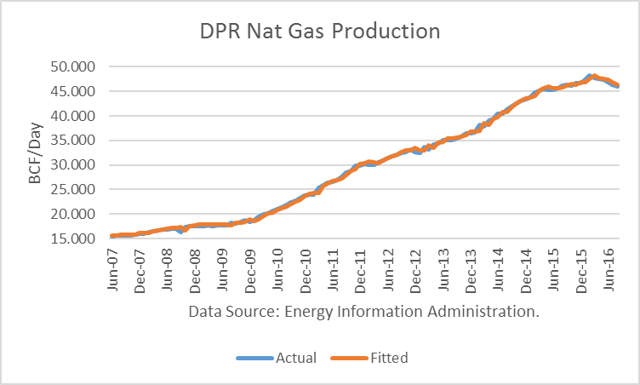 Click to enlarge
3. Much - but not all - of the rise and fall in U.S. production has resulted from changes in the DPR regions. (The drop in production in September 2008 occurred in the U.S. Gulf due to Hurricane Ike - see graph.) I was able to obtain a 97.8% r-squared result by modeling total production simply as a function of DPR production.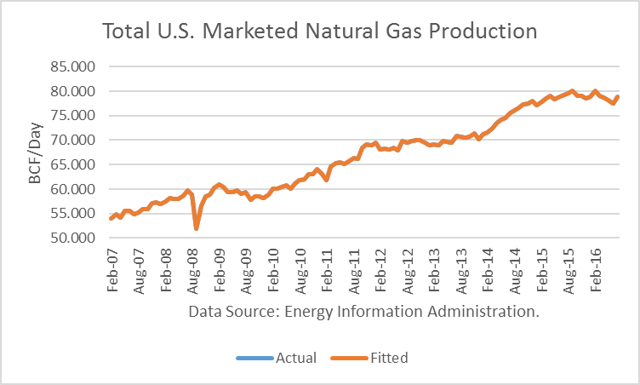 Click to enlarge
4. I then used the natural gas futures prices to predict the future DPR rig utilizations using the regression equation discussed above. It appears that the bottom was in April, but based on current (9/26/16) futures prices, the forecast shows rigs trending somewhat higher through the end of 2017.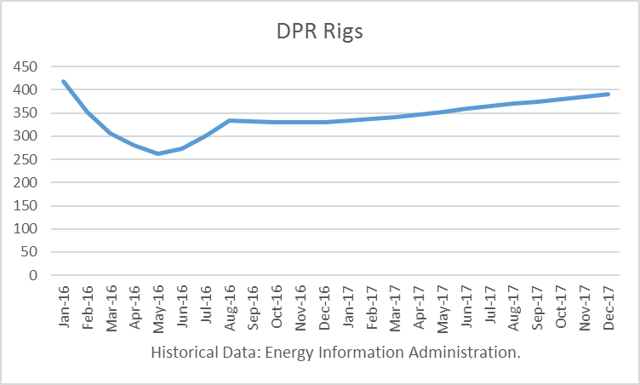 Click to enlarge
Conclusions
The EIA STEO forecasts for natural gas production are far more optimistic than this modeling approach yields. Based on the production decline rate and rig count, I do not see how that level of production can be achieved without a massive completion of DUCs.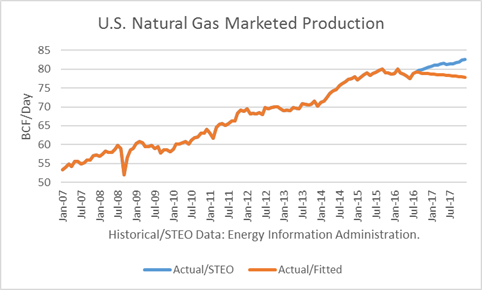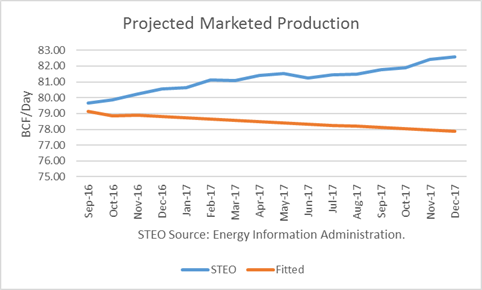 Disclosure: I/we have no positions in any stocks mentioned, and no plans to initiate any positions within the next 72 hours.
I wrote this article myself, and it expresses my own opinions. I am not receiving compensation for it (other than from Seeking Alpha). I have no business relationship with any company whose stock is mentioned in this article.