Financial stocks cover a wide range of companies. Banks, insurance companies, stock brokerage firms, and investment related stocks fall into this category. Investing in these companies could be highly risky, as there is always a probability of default. In the case of a default, shareholders of these holdings usually receive almost nothing but a whisper in the air.
When things work well in the market, everybody is happy. The management receives the lofty bonuses, the shareholders enjoy significant returns. However, if things go south, the entire system shakes. During the sub-prime crises, many financial companies could not survive. Their shareholders are left with nothing but worthless shares.
Last year was a disastrous year for the financials. While nothing seriously has happened, the rumor of a double-dip recession and the eurozone debt issues was enough to create a panicked atmosphere among shareholders. Giants such as Bank of America (NYSE:BAC) and Citibank (NYSE:C) lost more than half of their market capitalizations in 2011.
Although financials were the worst stocks of the last year, these stocks have been among the top performers of this year. Since January, financials returned an average of 15%. I think the losers of the last year would be the winners of this year. I particularly expect the following 5 financials to outperform the market by a large margin.
Bank of America
Bank of America has been one of the top performers of this year. The stock has returned 45% since January. However, it is still trading 44% below its 52-week high.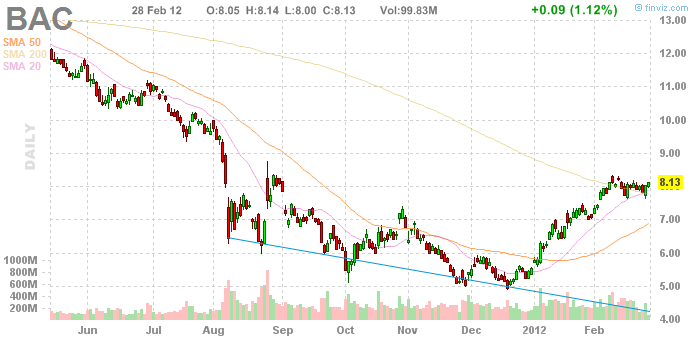 Click to enlargeOne of the issues that were keeping the stock under pressure was the litigation issues. Bank of America did not have much exposure to mortgage-related securities before the subprime crises. However, the acquisition of Merrill Lynch came with several strings attached. Merrill Lynch had significant exposure to toxic assets, which has been transferred to Bank of America after the merger.
Another less-known deal was the attachment of Countrywide Financial for a price of $4.1 billion in stock. While the deal sounded like a cheap one, it is about to cost an additional $8.5 billion to Bank of America. Yet, this is still a good move for the company, as it seeks approval to settle claims by investors. This discretionary cost might erase most of Bank of America's 2012 profits, but it will also eliminate a significant hurdle for the company. As fellow SA contributor Regarded Solutions suggests, at the current prices, Bank of America offers a good risk/value play.
Citigroup
Citigroup is one of the largest financial institutions around the world. It offers traditional banking services through Citicorp segment. The Citi Holdings segment operates as an investment bank. Established in 1812, the New York-headquartered Citigroup has more than 200 million customers worldwide.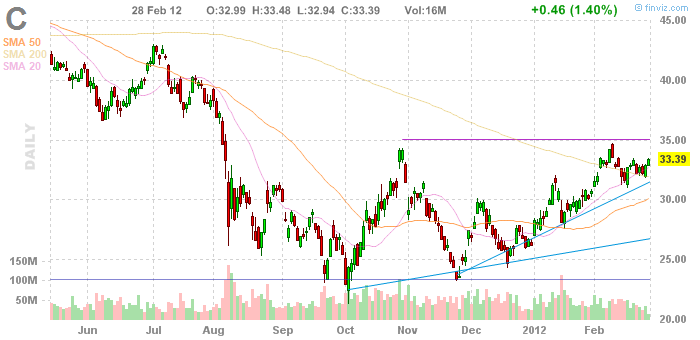 Click to enlargeCitigroup moves in parallel with other financials, but it is not as volatile as Bank of America. The stock returned 25% in this year alone, but it is still trading 30% below its 52-week high. Citigroup is also a relatively safer bet, as it trades with a low trailing P/E ratio of 9. The forward P/E ratio of 7 implies an earnings estimate of $14 billion for this year alone. I am not sure whether this estimate includes the cash from the sales of Citi's investment in Housing Development Finance Corporation of India. The $1.9 billion deal would bolster Citigroup's capital in light of new banking rules.
JPMorgan Chase (NYSE:JPM)
JPMorgan Chase is probably among the best-run financial companies in the world. It not only avoided the sub-prime crises, but emerged as one of the strongest banks among its peers. The acquisition of Washington Mutual in an FDIC-assisted transaction greatly expanded the size of the company. With more than $2 trillion in assets, it is one of the largest banks in the world. At a price of $40, it is trading close to the pre-crises valuation levels.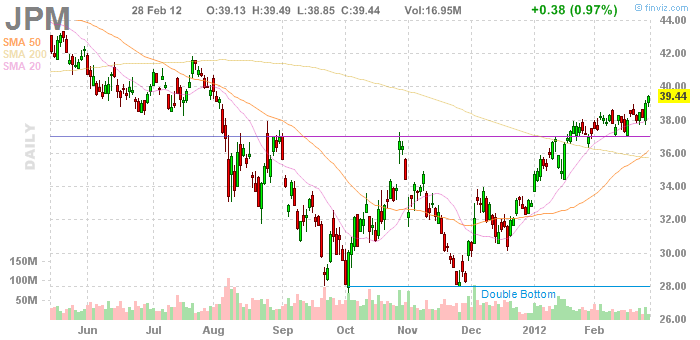 Click to enlargeJPMorgan has a 4-star rating from Morningstar. Unlike Citibank and BAC, it pays a nifty yield of 2.56%. Surely that is much lower than the pre-crises yield, but it still shows the management's motivation to keep the dividends alive. A friend of mine has been investing in JPMorgan for a long time, claiming that it will be his early retirement ticket. Omega Advisors CEO Leon Cooperman is also bullish on the company, listing it among his favorites, along with Bank of America and Citi.
Wells Fargo (NYSE:WFC)
Wells Fargo was also among the biggest winners of the sub-prime crises. It was able to acquire Wachovia at a dirt-cheap deal. Acquisition of Wachovia offered Wells Fargo a quick access to million of households living in the Southeastern states.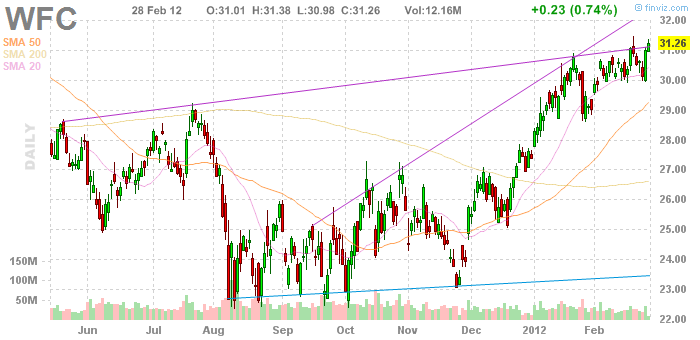 Click to enlargeWells Fargo, a Warren Buffett favorite, has a great long-term record. Similar to JP Morgan, the company is trading close to its pre-crises valuation levels. At a trailing P/E ratio of 11, it is a bit more expensive than JPM, but I think this is justified, given Buffett's large stake in the company. Wells Fargo also offers a yield of 1.55%. CEO John Stumpf recently announced the company's intention to grow its wealth management and insurance divisions through acquisitions from distressed European Banks. I think Wells Fargo is getting into more lucrative investment banking branch, which will surely boost the profits in the long term.
Morgan Stanley (NYSE:MS)
Morgan Stanley is a pure play in the investment banking business. The company offers investment-related services through three segments: Institutional Securities, Global Wealth Management, and Asset Management. The fears over the future of investment banks caused a massive sell-off in the last year. Morgan Stanley was oversold to the point where it reached the peak-crises valuation of $25 billion. The stock has performed well this year, returning 25% since January. However, it still trading 36% below its 52-week high.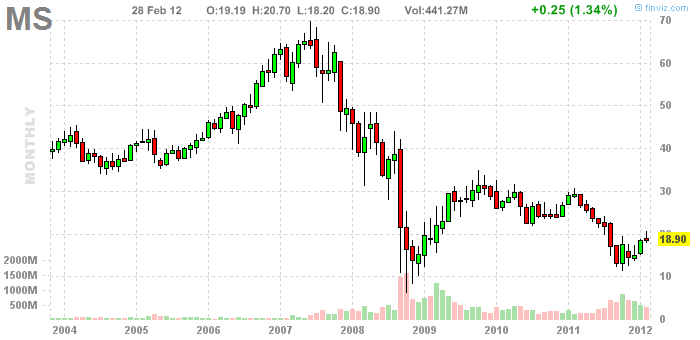 Click to enlargeAt a price of $18, Morgan Stanley is trading way below its heyday valuation of $65. Surely, that was a lofty valuation, but it also shows the stock's potential. If things go well, I think MS could reach $30 or more in this year. At a forward P/E of 7.94, it has a good margin of safety.
Disclosure: I have no positions in any stocks mentioned, and no plans to initiate any positions within the next 72 hours.