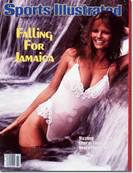 What must certainly be the best stock market indicator known to man has blessed the stock market. The Sports Illustrated Swim Suit Issue indicator is screaming for a big year. When an American graces the cover, like this year, the stock market goes up 88% of the time for an average gain of 14.3%.
Of course, as much fun as this indicator is, why don't we use the second best indicator out there, "Don't fight the Fed" (really the first). This gauge simply says that when the Federal Reserve keeps stimulating the economy through low interest rates and free money, the added liquidity pushes stocks higher. Considering the unified action of Federal banks around the world over the last few years, the amount of liquidity in global systems is staggering.
According to Barron's, the current balance sheet of Ben Bernanke's Federal Reserve is $2.9 trillion, largely from QE programs, Twists and continued asset purchases. Add this on top of the ECB's (European Central Bank) $3.6 trillion and the BOE's (Bank of England) $1.1 Trillion, and you've got liquidity out the wazoo. That total of $7.6 trillion of newly printed money out of thin air is 350% more than the system had in it before the financial crises and it now makes up over 30% of the total equity market capitalization of the U.S., European and UK stock markets combined! Who said money can't buy love ... unless of course it has to be paid back!
And paying it back the problem be. The U.S. and Europe had a post WWII baby boom at the same time, and those crazy kids (yes us) simply made too many promises to ourselves for when we got older. (Social Security, health care, pensions etc). Now, that the baby boomers are at or near retirement age, its' time to pay the piper. What made matters worse was the massive borrowing by consumers which created the biggest debt bubble in the history of time. This debt bubble as all debt bubbles, will take years to unwind and deleverage. These are the very issues along with solutions are discussed in great depth in, Facing Goliath, How to Triumph in the Dangerous Market Ahead, a must read for any and all who hopes to retire in the next 5-10 years or is already in their golden years and wants to protect and grow their families nest egg. Investors of all ages had better be prepared for the day the gravy train ends, because Greece and Italy will look like a picnic.
Investors Strategy
More stimulus in any form will push commodities higher, especially gold and silver. Investors can buy SPDR Gold Shares (NYSEARCA:GLD), Market Vectors Gold Miners ETF (NYSEARCA:GDX), Newmont Mining Corp. (NYSE:NEM), Goldcorp. (NYSE:GG), Freeport-McMoRan Copper & Gold Inc. (NYSE:FCX), PowerShares DB Gold Double Long ETN (NYSEARCA:DGP) for the not so faint of heart, plus Silver Wheaton Corp. (NYSE:SLW) and ProShares Ultra Silver (NYSEARCA:AGQ) and Fortuna Silver Mines (NYSE:FSM).
All this excess liquidity, and the possibility of a QE3 definitely makes the stock market look good…for now, even though we are definitely overdue for a correction. Although, so many people are waiting for a pullback to get invested, it will likely not come until the market is much higher. Regardless of the market's possibilities however, we continue to recommend to simply, Invest for Need, Not for Greed. That is merely the art of getting the very best returns you need in order to succeed, with the least risk possible. At some point the Fed's printing of money will stop. After all, the answer to the problem of too much debt is NOT more debt. That day will be quite a wakeup call and come without warning, and investors who are unprepared will be devastated.
Investors must be "Tactical" and avoid buy-and-hold (buy-and-hope) at all costs. If we get a QE3 as I expect, we'll probably see new highs. However, you must measure your risk reward ratios. Even if we make new highs and get a 10% move higher, the downside risk is still 30, 40 or 50%, so decide if its' worth it. Long investors can buy SPDR S & P 500 (NYSEARCA:SPY), SPDR Select Sector Fund - Financial (NYSEARCA:XLF), iShares MSCI Emerging Index Fund (NYSEARCA:EEM), Emerging Markets Consumer ETF (NYSEARCA:ECON), PowerShares QQQ Trust, Series 1 (NASDAQ:QQQ), iShares Russell 2000 (NYSEARCA:IWM) and iShares FTSE China 25 Index Fund (NYSEARCA:FXI). More aggressive investors will still want to stick with the big daddy's like Apple (NASDAQ:AAPL), Google (NASDAQ:GOOG), Intel Corporation (NASDAQ:INTC), Microsoft (NASDAQ:MSFT), Cisco Systems (NASDAQ:CSCO), Dell (NASDAQ:DELL), Caterpillar (NYSE:CAT), General Electric (NYSE:GE) and Yahoo (NASDAQ:YHOO).
We remain focused on the market's "sweet spot" which is currently income investments such as corporate bonds, preferreds and MLP's, many yielding 8-10%. If the market does continue to rise, you'll likely get the best of both worlds of appreciation along with a healthy dividend, but with less risk.
Disclosure: I have no positions in any stocks mentioned, and no plans to initiate any positions within the next 72 hours.