MLPs sold off after two straight positive weeks, as choppy, uncertain trading continues despite what appears to be certain strength in commodities. The interest rate on the U.S. 10 Year (down 55 basis points YTD) increased 13 basis points this week, spooking all yield-oriented investment.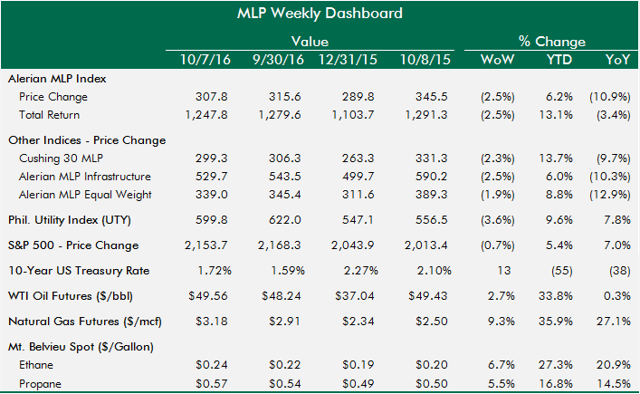 Click to enlarge
Commodity price strength (and a lack of MLP equity offerings) helped MLPs outperform utilities, but not by much. MLPs are still trailing utilities YTD and over the last 12 months, even thought oil prices are up 34% this year.
The yield trade appears to be over. Utilities, as measured by the UTY index, declined for 10 straight days until a small uptick Friday. MLPs didn't participate as much in the yield trade when it was a positive thing, but got caught up in the negative unwind this week.
Clearly, the market is skittish ahead of the Presidential election next month and is looking for any reason to sell things that have worked. Donald Trump's latest implosion may be a short-term positive for the market, but it may also raise concern over the congressional balance post-election.
Commodity prices have rebounded, onshore drilling activity has returned, capital markets have thawed somewhat, and big M&A is happening. But there's always another boogeyman. Uncertainty on interest rates, winter weather, the extent of the implosion of the Republican Party and its impact on energy policy, etc.
It was a relief to see OPEC not screw up their latest meeting, it was a relief to see massive oil inventory reductions in 3Q, and it was a relief that natural gas market seems to be on solid footing heading into winter. But relief hasn't meant a rally, because the relief just stems selling from the "base", investors already long. Attracting new capital to the space after the initial bounce will take time, above all else.
Winners & Losers
CONE Midstream Partners LP (NYSE:CNNX) led the MLP sector this week based on: (1) an analyst upgrade, (2) strong natural gas prices, and (3) it not being in any MLP indexes, which were all down. Other winners this week were small cap MLPs that tend to get whipped around by oil prices.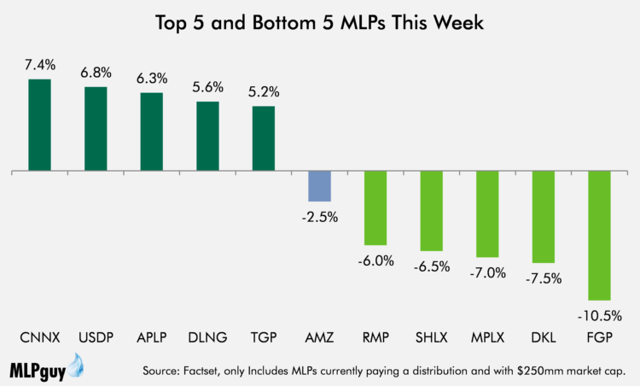 Click to enlarge
On the downside, Ferrellgas Partners L.P. (NYSE:FGP) continued last week's carnage to lead all MLPs lower. Rice Midstream Partners LP (NYSE:RMP) backed off last week's euphoria a bit. Despite some positive momentum in recent weeks, Shell Midstream Partners, LP (NYSE:SHLX), MPLX LP (NYSE:MPLX) and Delek Logistics Partners LP (NYSE:DKL) underperformed dramatically this week.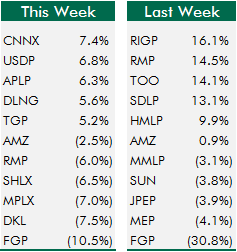 Year to Date Leaderboard
On the YTD leaderboard this week, Natural Resource Partners LP (NYSE:NRP) took over the top spot, CNNX climbed back above 100% YTD. On the downside, FGP inched closer to the bottom spot, but SHLX isn't too far behind.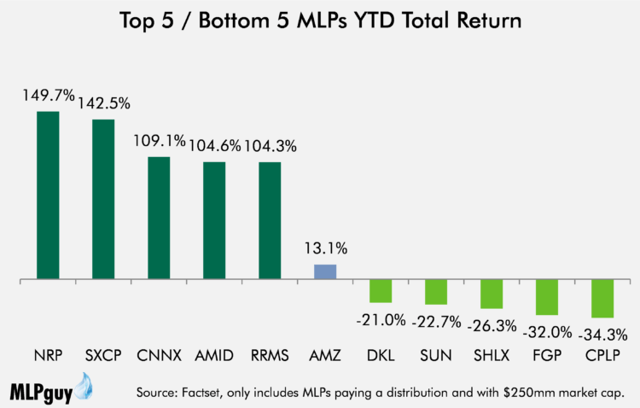 Click to enlarge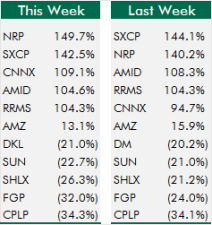 General Partner Holding Companies
General partners overall performed in line with the MLP Index this week. Alliance Holdings GP (NASDAQ:AHGP) was the outlier on the upside, presumably because of natural gas price strength and its impact on the coal markets. Kinder Morgan (NYSE:KMI) (not pictured below) had a worse week than any GP, giving up all of its 5% gains last week with a 6.3% drop.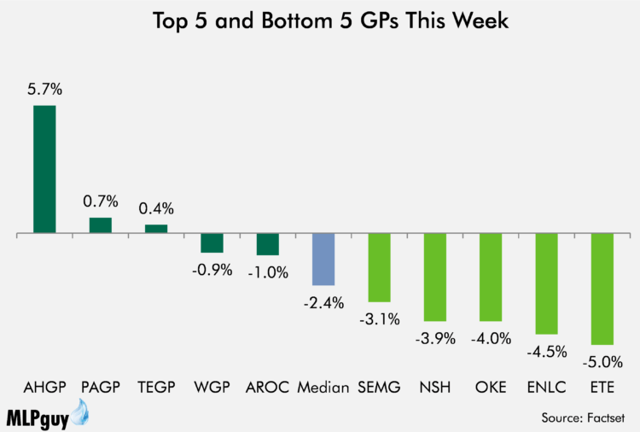 Click to enlarge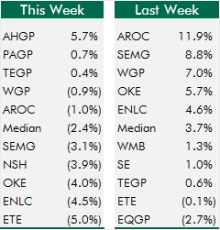 News of the (MLP) World
There was an unusually high amount of M&A activity focused on a town in Texas I didn't realize existed until this week: Point Comfort. That was the kind of week it was for MLP transactions: smaller deals involving smaller MLPs, but some of them quite meaningful for those smaller MLPs.
Financing
Growth Projects/M&A
Other
Editor's Note: This article covers one or more stocks trading at less than $1 per share and/or with less than a $100 million market cap. Please be aware of the risks associated with these stocks.