Beyond all the M&A talk that Wall Street has focused on during the past week, Netflix (NASDAQ:NFLX) has quietly but importantly continued to provide the consumer with compelling original content. On the heels of arguably the platform's best original content launch to date with Stranger Things in July of 2016, Netflix has followed up with a very well received second season of Narcos and a timely hit with Marvel's Luke Cage, a show that currently appears to be one of the most talked about things on the Internet. On the M&A side, we maintain that Netflix is an attractive acquisition target for Disney (NYSE:DIS), but think the platform's standalone value alone warrants the recent run-up in stock price. While we aren't chasing the stock up here, we are not selling either, and feel comfortable owning NFLX at these price levels given the strengthening growth story and potential M&A catalyst.
M&A chatter aside, Netflix has continued to reel off original content hits. We noted following the success of Stranger Things that Netflix was transforming into the best OTT original content producer. That thesis seems to be even more true now with Narcos and Marvel's Luke Cage both showing early signs of positive audience reception. Season 2 of Narcos, which debuted in early September, appears to be even better than Season 1 and is receiving markedly higher reviews. Luke Cage, meanwhile, is a timely superhero series that is undoubtedly benefiting from addressing current social and political issues.
Luke Cage's social significance is partly why the show rose to number 1 on IMDb's Most Popular TV Shows list (number 2 on that list as of the writing of this article was Stranger Things, another Netflix original). It is also likely why the show is widely discussed on the Internet. Even with the significant amount of media coverage on this year's Presidential election, there was a period of time wherein Google (NASDAQ:GOOG) users were more interested in Netflix's newest show than they were in either Presidential candidate. According to Google Trends, "Luke Cage" was more widely "Googled" than both "Donald Trump" and "Hillary Clinton" in the days following the show's debut on Netflix. Interestingly, more than a week later, "Luke Cage" remains more widely searched on Google than "Hillary Clinton".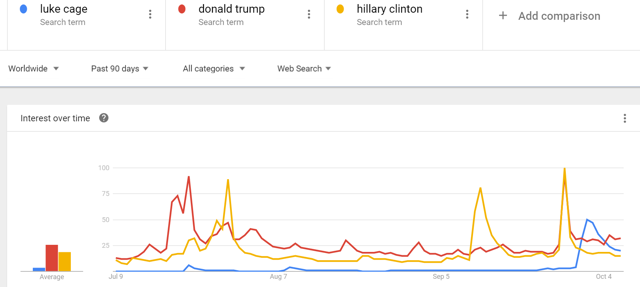 Click to enlarge
Staying up to date on the quality of Netflix's original content is crucial for investors. The more quality original content Netflix produces, the more comfortable we feel in the stock because the current valuation is a bet on future user and ARPU growth, which can both be boiled down to how much return can Netflix get on its heavy original content investments. The better the content, the more users will transition to the platform, the more Netflix can charge per month, and the higher the stock will go.
If this year is any indication of Netflix's ability to produce quality original content with long-term value, then the company should have no trouble generating strong ROI from its current investments. 2016 has been critical for the company's original content transition, with 3 solid additions to the original TV show portfolio in Stranger Things, The Get Down, and Luke Cage. This is an addition to new seasons from traditional original favorites like House of Cards, Daredevil, Grace & Frankie, Bloodline, Orange Is The New Black, Marco Polo, and Narcos.
It also helps to know that there is a potential M&A catalyst on the horizon. After early reports surfaced that Disney was interested in buying Twitter (NYSE:TWTR), it appears as though such interest has shifted entirely to Netflix. We have a favorable outlook on both the synergies and likelihood of such an acquisition, and wouldn't be surprised to see Disney get more aggressive about a Netflix acquisition if NBA ratings this fall decline in-line with the NFL and Olympics.
At these levels, Netflix is richly valued but not priced for perfection. Netflix has a hit a string of home runs with its original content, and those original content costs could fall dramatically if Disney bought the company and flooded the platform with its exclusive content. Netflix is ideally positioned as the leading player in the dynamic and growing SVOD marketplace, and we like the stock here both for its M&A potential and organic growth.
Disclosure: I am/we are long NFLX, DIS.
I wrote this article myself, and it expresses my own opinions. I am not receiving compensation for it (other than from Seeking Alpha). I have no business relationship with any company whose stock is mentioned in this article.