Asset traps are their own minefield in the investing industry and the energy sector is loaded with asset traps that do not reach their potential or lose money. Chesapeake Energy Corporation (NYSE:CHK) may be the latest poster child for this situation. This large company has very large remaining problems that may prevent the eventual realization of the asset values.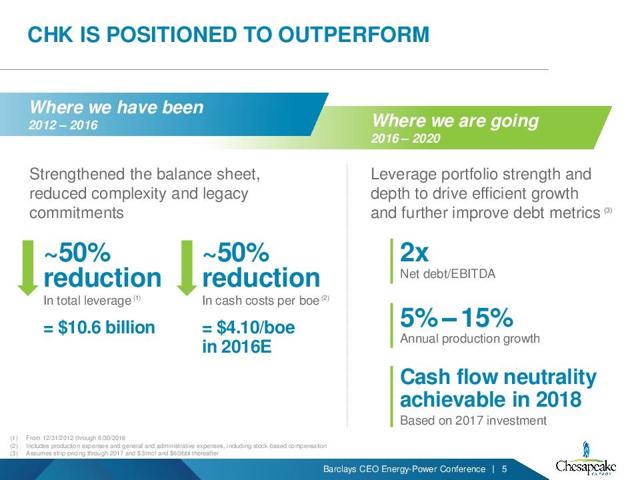 Click to enlarge
Source: Chesapeake Slide Presentation, Barclays CEO Energy-Power Conference, September 8, 2016
Anytime an investor sees a cash flow neutrality prediction well into the future, it is time to hold firmly onto the wallet and really hedge any outstanding positions. In fact, it is probably better to watch from the sidelines. Any company this size would take a very long time to liquidate and realize any potential asset value. Many bad things can happen along the way to the investment potential. In fact, as long as this company continues reorganizing, more billion dollar writeoffs are probably in the forecast. The chances for appreciation of the common stock, especially after the latest run-up are very speculative at best.
Typically, investments do not outrun cash flow valuations for long. So while this stock may be an excellent trading vehicle based upon the announcements of refinancing progress (or maybe a fantastic well), a long-term hold of the common shares or even the preferred shares is not indicated. Preferred dividends will not be resumed until there is cash to pay them. That appears to be well into the future.
Source: Chesapeake Slide Presentation, Barclays CEO Energy-Power Conference, September 8, 2016
Management has been trumpeting the progress of the company over the last few years. The periodic announcements of that progress are one of the factors keeping the stock as high as it currently is priced. But even a sharply reduced debt needs to be repaid in cash. For this company that is very problematic.
At the six-month period (August 4, 2016, pick your download), this company had $327 million of cash flow USED by operations. That is negative cash flow from operations that cannot be adjusted to a sufficient number no matter what an analyst tries to do. It is more than a billion dollars in the wrong direction from the year before. So despite all the debt repayments and asset sales, operations, so far is failing to help solve another part of the problem. Debt cannot be reduced to a satisfactory level when there is no cash flow from operations. That should be a very red flag to investors with any visions of long-term success.
When combined with management's forecast of cash flow neutrality in 2018, this stock is probably a long-term short until that problem is resolved. Although shorting will probably be more successful when there are few prospects of a significant update that seems to excite speculators from time to time. At some point the company needs to make money from operations for the equity to have any value. A continuing program to sell assets keeps the banks and the bond holders happy, but really does not help equity that much unless the business makes money.
Source: Chesapeake Slide Presentation, Barclays CEO Energy-Power Conference, September 8, 2016
Operations management certainly gets credit for trying and succeeding at improving results. But cash flow probably needs to be at least $3 billion a year to properly service the debt load. So while that figure will change as the company continues to sell assets to reduce debt, the current cash flow figure is so different from what is required that investors should probably watch from the sidelines. Decreasing commodity prices in the first half probably made the situation worse, but the nature of the industry demands that management overcome that challenge. So far that has not happened. Companies this large do not suddenly overcome all their significant problems overnight, so there will be plenty of time to invest if and when an opportunity presents itself for investment.
Hopefully, the latest rally in gas prices will provide some help for management to achieve some reasonable cash flow. But clearly, despite the large operational progress, there is still a lot of operational improvement needed. That is not necessarily the fault of the current management but it is something that management needs to achieve. This company has a lot of "older" production that will be more costly to produce than the latest ones from the slides shown above. Cost reductions can sometimes happen through reworks, but that takes cash that the company is not producing from operations.
Source: Chesapeake Slide Presentation, Barclays CEO Energy-Power Conference, September 8, 2016
The company shows interest paid of $154 million for the six-month period. Yet the effect on costs above is completely missing. More interest was capitalized. Now that amount will probably decrease as the reorganization continues, but it is a very significant cost that should be shown separately in the presentation.
Otherwise, the cash costs shown above are far better now than they were in the past. So the operational management is making significant progress. However, the second slide costs are way out of line and probably need at least $4 BOE eliminated. The fact that they are getting better is minor compared to where they should be. While the reasons for those costs have been extensively discussed in several articles, the fact is that decreasing those costs is going to cost shareholders some very significant money and take valuable time.
Plus, cash on hand decreased at the end of the second quarter to less than $10 million. So management is very heavily dependent on property sales to provide the cash needed for the operational improvements shown. The company does have an adequate line of credit that it has judiciously used and repaid from asset sales as quickly as possible. But an unfavorable turn of events in asset sales could very quickly doom this company. It also could not stand a sustained drop in gas prices.
For all the operating progress made and the debt reduction accomplished, this company still has a very long way to go to become even a speculative equity investment. The lender backing and the latest bond prices indicate that both the market and the lenders agree that the company will not go broke. But that does not make this stock a suitable recovery investment. If the cash flow recovers in 2018 as management predicts, then maybe an investment would be justified. Until then the stock is a very good short candidate after every positive announcement and a great trading vehicle on volatility.
Disclaimer: I am not an investment advisor, and this article is not meant to be a recommendation of the purchase or sale of stock. Investors are advised to review all company documents and press releases to see if the company fits their own investment qualifications.
Disclosure: I/we have no positions in any stocks mentioned, and no plans to initiate any positions within the next 72 hours.
I wrote this article myself, and it expresses my own opinions. I am not receiving compensation for it (other than from Seeking Alpha). I have no business relationship with any company whose stock is mentioned in this article.