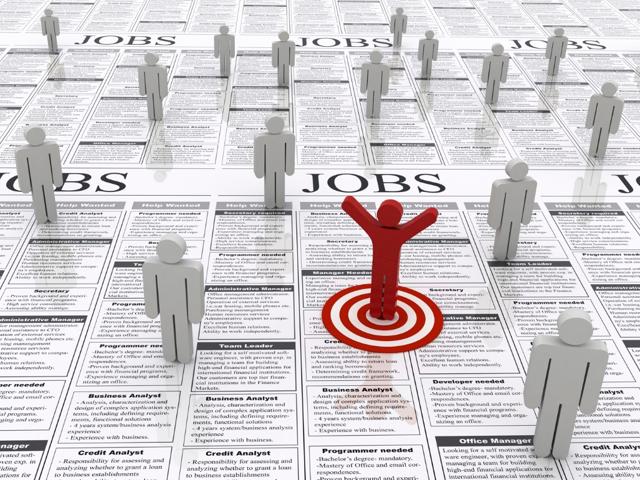 Click to enlarge
Source: Google Images
The September nonfarm payroll numbers missed expectations by around 19,000 with an increase of 156,000 jobs. The previous month's results were revised upwards of around 16,000, so basically the past couple of months were a wash. The unemployment rate clocked in at 5 percent up 10 bps from the 4.9 percent estimate and last month's number.
While these results were stable, they did not inspire much of a positive reaction for broader markets. The theme for 2016 continues to be a stable employment situation, coupled with an over-dependence on the consumer to support GDP growth.
Q1 2016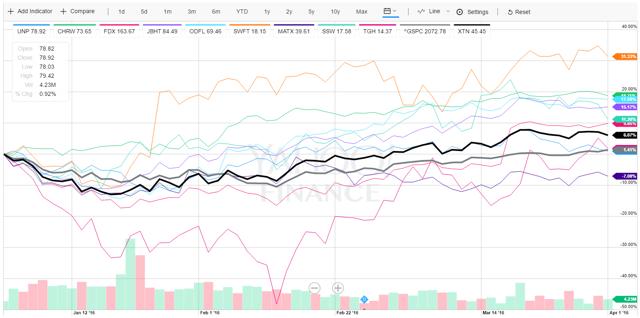 Click to enlarge
Source: Yahoo! Finance
Through the first quarter of 2016, transports substantially outperformed the broader S&P 500 index as evidenced by the SPDR S&P Transportation ETF. Transports were up over 6 percent during the quarter, while the S&P 500 was up nearly 1.5 percent. Mid-March reflected the greatest difference between the two.
Specific examples of companies reflecting major transport segments have been highlighted above for illustrative purposes. Only Union Pacific (NYSE:UNP), Textainer Group Holdings (NYSE:TGH) and Matson (NYSE:MATX) lagged the SPDR S&P Transportation ETF performance during the first quarter.
Q2 2016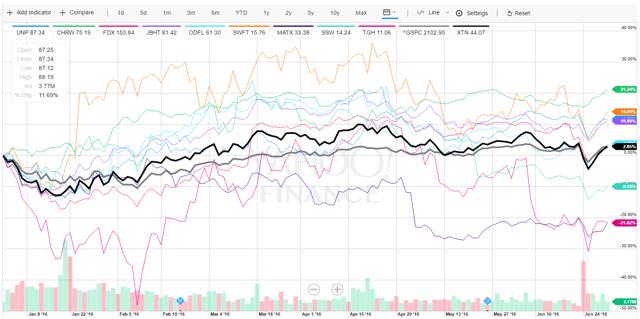 Click to enlarge
Source: Yahoo! Finance
Through the second quarter of 2016, transports substantially underperformed the broader S&P 500 index as evidenced by the SPDR S&P Transportation ETF. Both transports and the S&P 500 index were up nearly 3 percent through the second quarter.
Transports were much more effected by the perceived impacts from the Brexit vote, similar to the growth concern impacts during January and February. Only Matson and Seaspan Corporation (NYSE:SSW) lagged the SPDR S&P Transportation ETF performance through the second quarter.
Q3 2016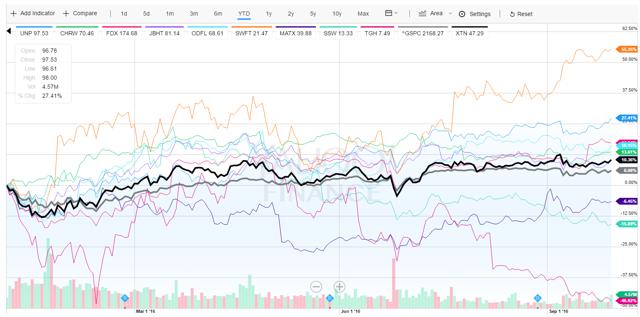 Click to enlarge
Source: Yahoo! Finance
During the third quarter of 2016, transports re-established the lead versus the S&P 500 as evidenced by the SPDR S&P Transportation index. Both were up 6.1 and 10.4 percent respectively.
Major laggards included Matson, Seaspan and Textainer Group Holdings . The challenging shipping container industry and the Hanjin bankruptcy have continued to weigh on all companies with strong exposure to this industry.
YTD 2016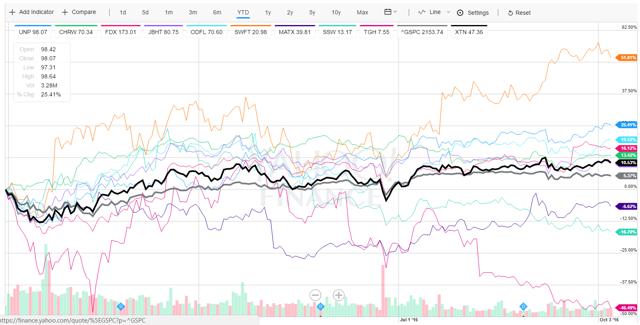 Click to enlarge
Source: Yahoo! Finance
Year-to-date, YTD the spread between the SPDR S&P Transportation ETF and the S&P 500 increased from last week with transports now leading by 5.2 percentage points. The S&P 500 declined by 70 basis points, bps to 5.4 percent YTD; while the SPDR S&P Transportation ETF improved by 10 bps to 10.5 percent YTD.
Three things come to mind this week; weaker than expected job additions, improved ISM manufacturing index results and continued downward revised GDP estimates. With unemployment near 5 percent, the jobs numbers did not seem to be extremely poor. But when thinking about average wages, average work hours, productivity, benefits, etc., the jobs picture is clearly murky.
For manufacturing, the numbers got back on-track painting an expansion picture. But the transports industries continue to witness weakness related to new hires, idled equipment and low freight rates due to slow demand. This has been tied mostly to high inventory levels, and further needed consumer spending.
Lastly, GDP revisions continued to witness further downward revisions for the third quarter to slightly above 2 percent. Revisions have been substantial as expectations were between 3 to nearly 4 percent not too long ago.
Rail Operators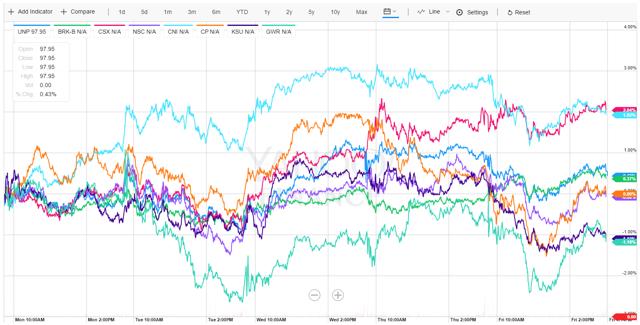 Click to enlarge
Source: Yahoo! Finance
Railroad stocks were mixed this past week, not surprisingly as broader transports indices were only marginally positive. Canadian National (NYSE:CNI) and CSX (NYSE:CSX) led rail stocks, while Kansas City Southern (NYSE:KSU) and Genesee & Wyoming (NYSE:GWR) were laggards.
Rail traffic continues to marginally improve, and Canadian National witnessed robust growth during the month of September. Railroads have also witnessed stable pricing despite negative performance versus last year. The stable freight rates stemmed from the late August spike.
Railcar Manufacturers & Lessors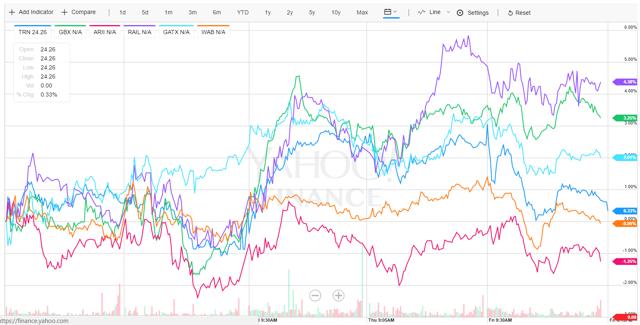 Click to enlarge
Source: Yahoo! Finance
Similar to railroads, railcar manufacturers and lessors were mixed, but most witnessed positive performance. This was led by FreightCar America (NASDAQ:RAIL) and The Greenbrier Companies (NYSE:GBX).
Investors should continue to monitor railcar demand as it relates to idled railcars and locomotives. There typically is a lag between when traffic picks up to when demand for railcars increases. And despite recent improved rail traffic trends, railroads could continue to sit on equipment until a return to growth occurs.
Truckload Carriers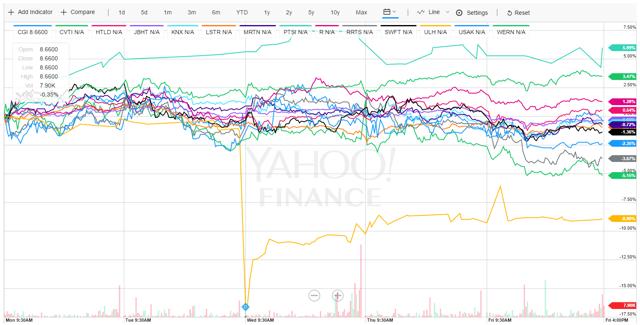 Click to enlarge
Source: Yahoo! Finance
The truckload market was also mixed with the majority of companies performing between negative 2 percent and positive 1 percent. Leading performers included P.A.M. Transportation Services (NASDAQ:PTSI) and Werner Enterprises (NASDAQ:WERN). Laggards included Roadrunner Transportation (NYSE:RRTS), Covenant Transportation (NASDAQ:CVTI) and Universal Logistics (NASDAQ:ULH).
Low fuel costs are still prevalent, but companies are feeling the slack environment as hiring has been on the decline. The upcoming holiday season will potentially provide some much needed consumption, beyond the summer slowdown levels.
Less-Than-Truckload Carriers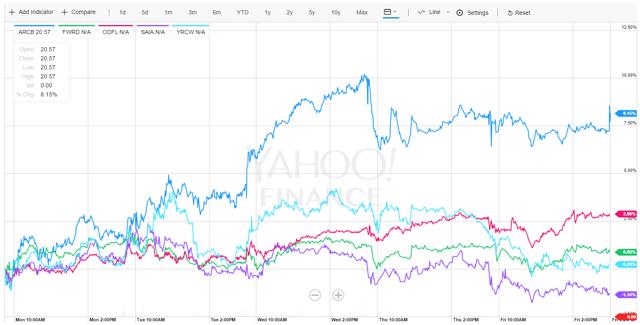 Click to enlarge
Source: Yahoo! Finance
LTL carriers were mostly positive. This was led by ArcBest Corporation (NASDAQ:ARCB) and Old Dominion Freight Lines (NASDAQ:ODFL). The major laggard for the group was Saia (NASDAQ:SAIA). YRC Worldwide (NASDAQ:YRCW) was off to a solid start by mid-week, but fizzled out as markets declined on Friday.
Based upon recent comments in the LTL industry, ISM manufacturing index reads will likely need to get towards the 55 or higher level for the trucking industry to witness expansion benefits.
Air Freight, Package & Delivery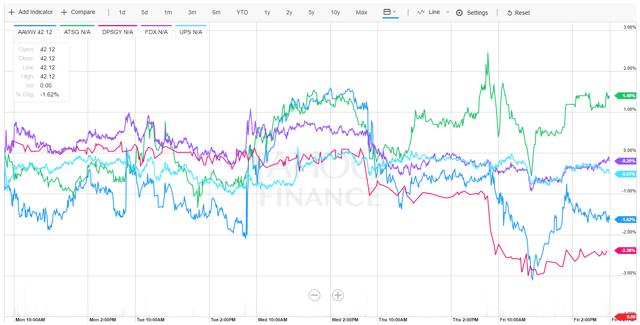 Click to enlarge
Source: Yahoo! Finance
The airfreight, package and delivery industry witnessed varied performance for the week. Air Transport Group (NASDAQ:ATSG) led all peers, while Deutsche Post DHL Group (OTCPK:DPSGY) was the laggard.
Volatility in Europe was the primary factor leading to DHL Group's lagging performance, but this is going to be a continued factor moving forward. All other companies witnessed marginal performance.
Contract Logistics, Forwarding & Brokerage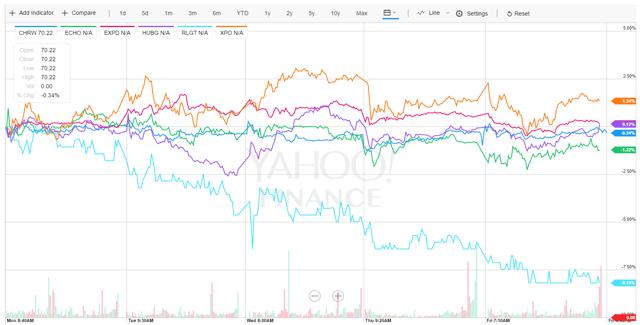 Click to enlarge
Source: Yahoo! Finance
Most contract logistics companies traded within a range of positive and negative 1 percent with the exception being Radiant Logistics (NYSEMKT:RLGT) which lagged all of its peers.
As earnings season approaches for the third quarter, all eyes are going to be on XPO Logistics (NYSEMKT:XPO) to see if the company can once again beat analyst estimates. Expectations for a similar beat would be extraordinary, but a modest beat could be in order.
Container Shipping Lines, Charter Owners & Container Lessors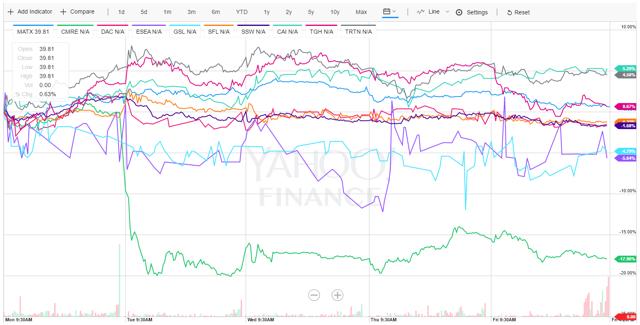 Click to enlarge
Source: Yahoo! Finance
Companies exposed to the container shipping industry witnessed modest performance with container lessors and managers leading the way including CAI International (NYSE:CAI) and Triton International (NYSE:TRTN). Laggards included Costamare (NYSE:CMRE), Euroseas (NASDAQ:ESEA) and Global Ship Lease (NYSE:GSL).
Costamare's substantial dividend cut placed immediate pressure on all vessel charter and managing companies. The Hanjin bankruptcy has some believing that there will be further pain with other companies possibly going bankrupt. Vessel charter and managing companies have a lot at stake during these uncertain times.
Demand Trends
Key demand-based indicators that are monitored include Class I rail traffic, trucking industry tonnage, shipments, and loads, air cargo tonnage, container shipping line twenty-foot equivalent units, TEUs, North America seaport TEUs, shipping lane port calls, North America cross-border trade, and freight rates for most of these indicators.
Class I Rail Traffic
For week 39, total traffic improved by 10 bps to -6.8 percent YTD with carload traffic better by 20 bps to -9.6 percent and intermodal traffic flat at -3.4 percent. Week 39 continued to witness overall improvement compared to year-over-year (YOY) rail performance, but total traffic declines increased 50 bps from week 38 to -2.7 percent.
Container traffic remained flat at -1 percent for the year. Both eastbound and westbound intermodal pricing weakened YOY, but remained up from the late August price surge.
Week 39 witnessed a new record for the year with the twelfth consecutive week of weekly coal carload traffic above 108,000, and tenth consecutive week above 112,000. Grain continued its strong performance for the third quarter, but declined to positive 7.7 percent versus last year.
Motor vehicles and equipment carload traffic maintained its performance above 40,000 carloads with a 6.6 percentage increase from last week to 9.9 percent versus last year. Crushed stone, gravel and sand has outperformed petroleum products now for twelve consecutive weeks.
Trucking Industry
There have been multiple recent negative reports for the trucking industry of late. This has included declining jobs reports and declining heavy truck orders. Class 8 truck orders in September were down 2 percent from August representing the worst truck order year for September since 2009. Class 8 truck orders fell 56 and 35 percent YOY in July and August.
Trucking employment dropped by 3,600 jobs in September led by soft freight demand and loose capacity including idled trucks. It would appear that last week's review of tonnage versus shipments has clearly supported the focus on shipments thesis.
Air Cargo
The gap between growth in air cargo demand versus capacity closed during August. Global demand grew at a rate of 3.9 percent, while capacity grew at 4.1 percent. The supply-demand balance growth was not equal globally as both Europe and North America demand outpaced capacity, but the Middle East and Africa capacities substantially outperformed demand.
As a positive example of this, Japan Airlines airfreight division is expected to generate positive tonnage growth for all of 2016. This is after two consecutive years of declines. Exports will be the leading tonnage generator as imports are expected to be marginally positive.
Container Shipping Lines
The Hanjin bankruptcy has some fearful that further bankruptcies could follow. Large container shipping lines like Maersk and Mediterranean Shipping Company, MSC would seem too large to fail, but recent mergers including CMA CGM and New Orient Lines, NOL and Hapag Lloyd and United Arab Shipping Company, UASC have led to credit downgrades due to increased leverage risk and the weak freight rate environment.
Speculation has been rampant regarding further consolidation, but what is clear is the fact that the current freight rate environment is not sustainable. The longer it persists, the more likely that further bankruptcies will occur.
Companies are once again posturing to increase GRIs, but this is a shipper's market. The current price war for containers has the competition in a race to the bottom nose-dive.
North America Seaports
The balance of power largely resides on the West Coast as it has for the past decades. But the new Panama Canal locks and anticipated expansion investments projects in both Canada and Mexico will continue to weigh on major West Coast seaports.
More importantly is the stance of foreign trade policies. As long as Asia continues to be a major trade partner for North America, the West Coast will continue to be a primary trade lane for a substantial number of goods. But protectionist policies across the globe could threaten these dynamics.
The Port of Long Beach recently opened its Overseas Orient Container Lines, OOCL terminal which boasts of the most automated container handling in the U.S. Phase 2 is anticipated in the near-term as well as the raising of the Desmond bridge for larger container ships.
North America Cross-Border Trade
A primary theme expressed at large manufacturing conferences in the U.S. have expressed the desire to bring back manufacturing to the U.S. This has mostly been expressed as diverting jobs from Asia. Many companies, especially small to medium sized businesses are show-casing locally sources inputs and manufactured products.
If these new production developments do catch momentum, this should have a stronger impact on Asia than Canada and Mexico. Canada and Mexico are likely to provide strong supply chain efficiencies due to proximity and competitive labor rates.
Portfolio Management Strategy Update
The LLGP and LSGP portfolios were created in February/March of this year. At the end of the week, both portfolios were up 5.9 and 33.9 percent representing a 80 bps from last week. The existing Sanderson Farms (NASDAQ:SAFM) position was added to during the week at $88.87 per share.
LLGP top five performers YTD:
Amazon.com (NASDAQ:AMZN) 58.5 percent
The WhiteWave Foods Company (NYSE:WWAV) 54.9 percent
LINE Corporation (NASDAQ:LN) 20.8 percent
Canadian National 16.8 percent
Deutsche Post DHL Group 13.4 percent
LLGP worst five performers YTD:
Cal-Maine Foods (NASDAQ:CALM) -9.1 percent
Sprouts Farmers Market (NASDAQ:SFM) -7.9 percent
Seaspan Corporation -7.5 percent
US Foods Holding (NYSE:USFD) -4.1 percent
ULTA Salon, Cosmetics and Fragrance (NASDAQ:ULTA) -3.7 percent
Broader market weakness reduced most of the holdings which were positive from last week with the exception being Amazon. Countering these effects was Sprouts positive performance for the week. Speculation did play a role as consolidation expectations in the grocery industry were mentioned. These were quickly rebutted but based solely on a Kroger (NYSE:KR) Whole Foods (NASDAQ:WFM) deal.
Cal-Maine witnessed some strong volatility this week, but another addition will not be performed until the stock approaches the $36.50 per share level. It got fairly close below $37.50 per share earlier in the week. The timing of getting into the position was a little premature as the short interest in the stock materialized more methodically than anticipated.
Seaspan also has witnessed some weakness recently driven by the recent Hanjin bankruptcy and Costamare's dividend reduction. I think anyone exposed to charter owners and managers needs to be thinking about lease terms and future near-term business prospects. A more cautious stance has been taken and the upcoming earnings report will be scrutinized for holding management considerations.
LSGP Performance
Mobileye (NYSE:MBLY) 10.1 percent
XPO Logistics 40.5 percent
YRC Worldwide 40.3 percent
Similar to Seaspan, Mobileye's recent weakness will be assessed from the company's quarterly earnings report. Mobileye will be considered for addition to the LLGP next year and the upcoming earnings report will be part of that assessment.
XPO and YRC both are being held with different management expectations. YRC is being held for a short-term gain possibility while XPO is in the running to move to the LLGP. Both holdings have performed very well during 2016.
LLGP Holding Scorecard
Top Performer
Top performers are companies which have returned the highest results for the year. In addition, they have exhibited strong operating metric performance leading to stock gains. These companies imbue the objective of achieving annualized double-digit returns.
No changes were made for top performer holdings for this week.
Amazon.com
Canadian National
Deutsche Post DHL Group
JB Hunt
Line Corporation
Matson
PayPal
Neutral
Neutral holdings have returned moderately positive or negative performance for the year. Some companies may be witnessing moderate impacts to the business driven mostly by industry-specific trends.
These companies typically will fluctuate between less than positive 9 percent to no greater than negative 5 percent during normalized market conditions. Seaspan was dropped back down to the watch list. Typically, it is not uncommon for a majority of holdings to be in this list. Ideally, the substantial majority will be in the neutral or higher lists.
The Boeing Company
Calavo Growers
Republic Services
Sanderson Farms
Unilever
ULTA
US Foods
Watch List
Companies on the watch list merit a close consideration as to their sustainability to remain within the LLGP. If a determination is made to remain, the likely result will be to aggressively defend the stock price and accumulate on weakness. If the determination is to liquidate, the holding will likely be moved to the LSGP and sold opportunistically for a realized gain.
To date, all companies on the watch list have had a determination made to remain in the LLGP. Both Cal-Maine and Seaspan will be monitored weekly as to possible further additions. Ideally, not many companies will remain on this list for a long duration period.
Cal-Maine Foods
Sprouts Farmers Market
Seaspan
Get Ready For Schneider Transportation IPO
It is anticipated that Schneider Transportation will do an IPO next year. Through the process, it is expected that controlling ownership of Schneider by the Schneider family will continue through an independent corporate governance structure.
This IPO will be great on two fronts. First, it will offer investors another option for a company with a strong intermodal presence. Second it will offer a better peer to compare against JB Hunt Transport (NASDAQ:JBHT).
JB Hunt is a holding within the LLGP and an assessment will be performed from Schneider's initial prospectus against JB Hunt. Schneider being a closer peer, has been thought of as an acquisition target for JB Hunt, as both companies provide much needed intermodal capacity to Class Is.
Preliminary information suggests that Schneider's intermodal business is smaller than JB Hunt's, but that Schneider's truckload segment is larger. Investors interested in direct intermodal exposure should consider Schneider and JB Hunt. JB Hunt has recently struggled with increased rail purchased transportation costs. Schneider's IPO will shed further light on this effect as well as comparison for load volumes and pricing.
The Chicken Collusion
A report came out this morning regarding chicken pricing collusion between Tyson Foods (NYSE:TSN), Sanderson Farms and Pilgrim's Pride (NYSE:PPC) among other private entities. If not for this event, there would have been no action for either portfolios under management.
At first glance, this was not positive and from a timing perspective, unfortunate based upon the addition of Sanderson Farms. But after pondering the fact that the firm was speculating on regulatory impacts with no tangible way to account for them and reducing its price target from $100 to $40 per share, frustration quickly turned into a buying opportunity.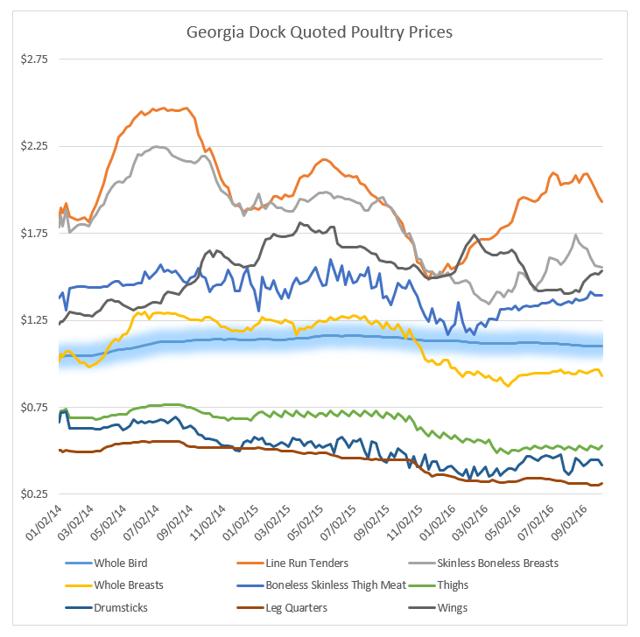 Click to enlarge
Source: Georgia Department of Agriculture
Collusion in a fragmented commodity-specific market seems highly unlikely. Especially as prices have fluctuated and currently have been in decline. Prior to this week's decline, Sanderson Farms was trading as high as $97 per share. I would not be surprised to see a return near this level within the next few weeks.
Areas Of Interest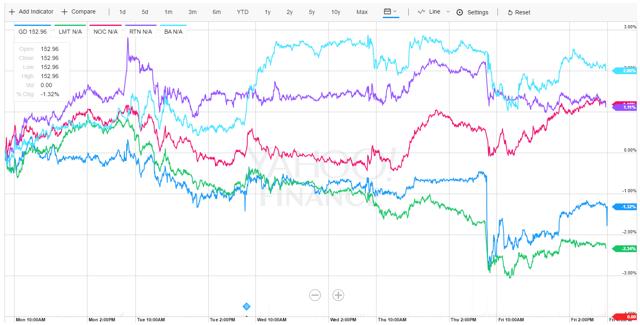 Click to enlarge
Source: Yahoo! Finance
Defense stocks like transports were mixed for the week. The Boeing Company (NYSE:BA) continued to perform in-line or better than the peer group. Some analysts have recently placed their bets on Northrop Grumman (NYSE:NOC) as the best defense stock play with price targets of around $260 per share offering a potential 21 percent discount.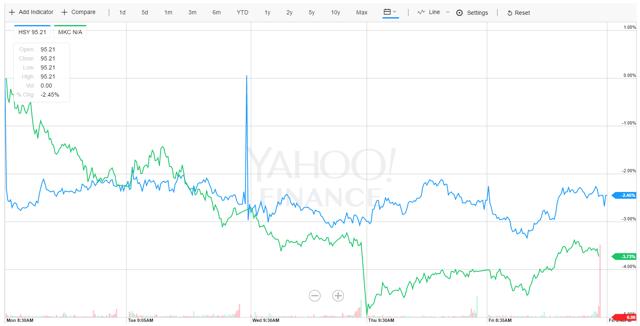 Click to enlarge
Source: Yahoo! Finance
Both The Hershey Company (NYSE:HSY) and McCormick (NYSE:MKC) witnessed strong declines for the week. Despite this, both McCormick and The Hershey Company are overvalued. Either would be a great addition, but the way things are going, neither will be added anytime soon.
Summary
Economic indicators continue to be a mixed bag. Employment levels have remained solid and consumers continue to spend enough money to keep GDP afloat. Wages have moderately improved.
In order for things to pick up, the consumer, businesses and government expenditures will need to increase to drive GDP. Not many are eager with anticipation that a robust trend for growth will be occurring anytime soon.
But as mentioned previously, the holiday shopping season will play a large role in determining future inventory levels and as an extension, how demand will track leading into next year.
Disclosure: I am/we are long AMZN, BA, CALM, CNI, CVGW, DPSGY, JBHT, LN, MATX, PYPL, MBLY, RSG, SAFM, SFM, SSW, UL, USFD, ULTA, XPO, YRCW.
I wrote this article myself, and it expresses my own opinions. I am not receiving compensation for it (other than from Seeking Alpha). I have no business relationship with any company whose stock is mentioned in this article.
Editor's Note: This article covers one or more stocks trading at less than $1 per share and/or with less than a $100 million market cap. Please be aware of the risks associated with these stocks.