Natural gas futures prices fell by 2.8% ($0.09/mmbtu) in the week ending October 4th (to correspond to the data below), as the hot summer was finally winding down. As Hurricane Matthew approached, there was widespread belief that it would significantly impact Florida's power grid, reducing demand for natural gas. But it largely side skirted the state, and its impact was far less than feared. As a result, futures prices rallied on Friday and prices ended up 7.7% from October 4 th at $3.193, the highest close for a nearby contract since December 2014.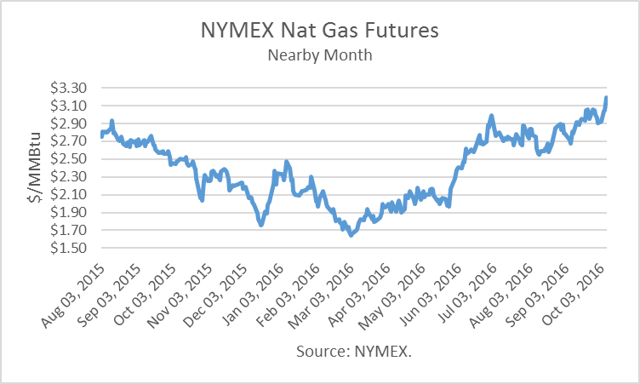 Click to enlarge
Commitments of Traders
Utilizing the Commodity Futures Trading Commission (CFTC) Commitments of Traders (NYSE:COT) reports for natural gas, I was able to dissect how traders were re-positioning last week.
The four groups I follow - Hedgers (Producer/Merchant/Processor/User) Longs and Shorts, and Speculators (Money Managers) Longs and Shorts - are defined below:
Hedgers: A "producer/merchant/processor/user" is an entity that predominantly engages in the production, processing, packing or handling of a physical commodity and uses the futures markets to manage or hedge risks associated with those activities.
Speculators: A "money manager," for the purpose of this report, is a registered commodity trading advisor (CTA), a registered commodity pool operator (CPO) or an unregistered fund identified by CFTC. These traders are engaged in managing and conducting organized futures trading on behalf of clients.
The latest data are for the week ending October 4th and include data for both options and futures combined for the New York Mercantile Exchange (NYMEX). All comments below pertain to each group as a whole, on balance, noting there are exceptions among individuals.
Findings
Short speculators sold 16,311 contracts last week to end with 174,871 lots. This was a rare reversal of the trend among these traders who had been covering shorts. Since the beginning of March, when natural gas futures had bottomed, this group had closed nearly 200,000 contracts though the end of September.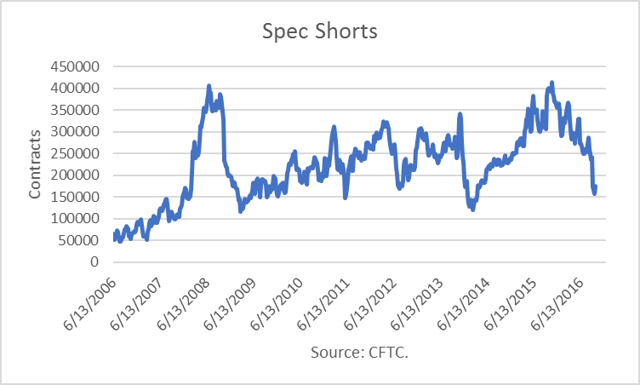 Click to enlarge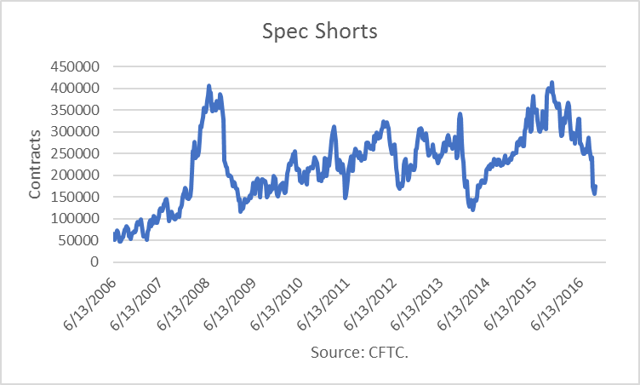 Click to enlarge
To illustrate the impact on prices, there is an 83% negative correlation in the change in cumulative shorts and the cumulative price change, as shown below.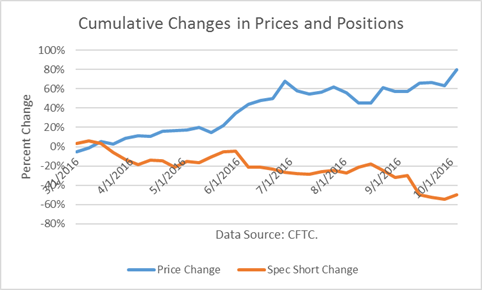 Long hedgers bought 14,108 contracts last week to end at 147,724 lots. In early August, they had one of the largest positions they have held post-Katrina (2006) but they had curbed their enthusiasm until last week.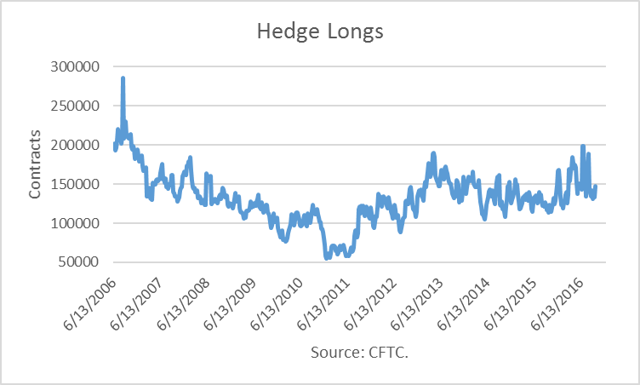 Click to enlarge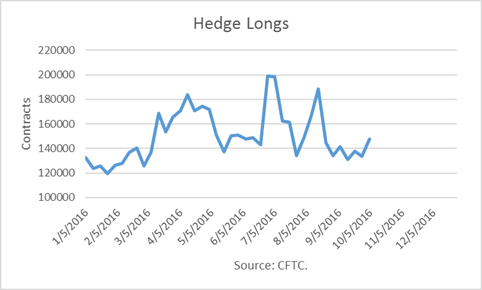 Long speculators sold 8,356 contracts last week, lightening up their position a bit. But with 274,269 lots, their position is close to the largest in two years.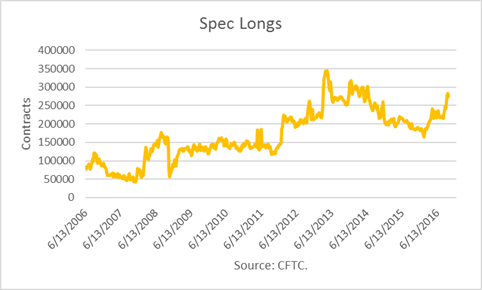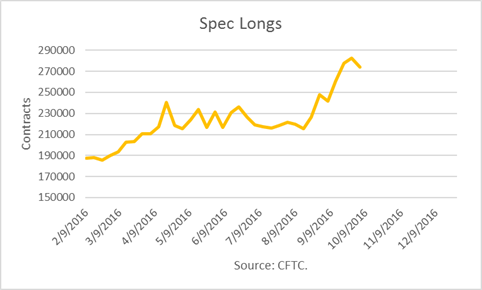 Short hedgers, primarily natural gas producers, added (sold) 1,157 contracts last week. With 190,080 lots, their hedge position is the highest in more than two years.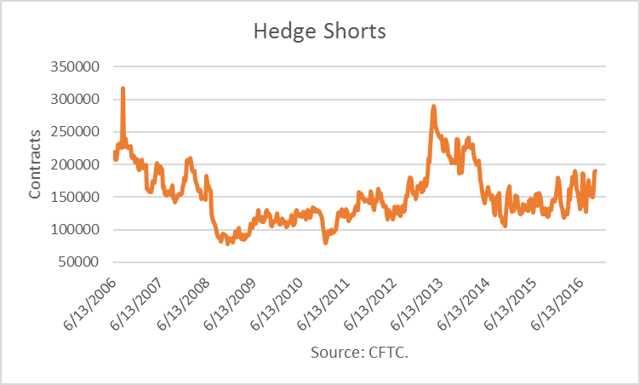 Click to enlarge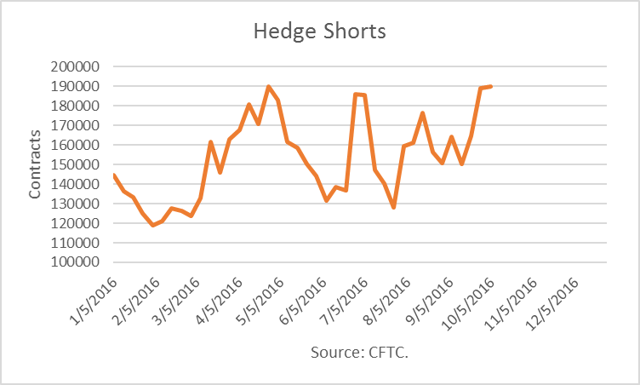 Click to enlarge
Baker-Hughes has reported that active rotary rigs have recovered some since early August, and producers are increasing hedges accordingly.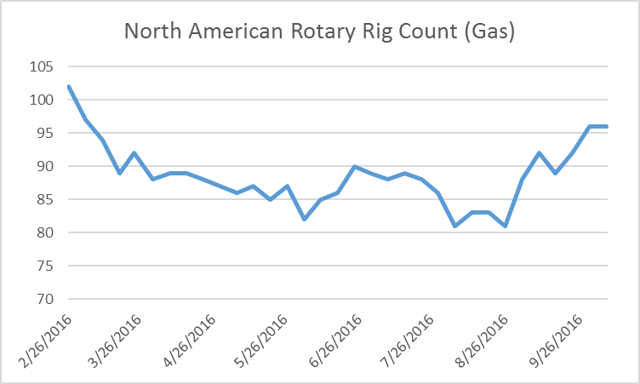 Click to enlarge
On balance, these four groups, taken together, sold 11,716 contracts last week, but they have built one of the largest long positions since 2006.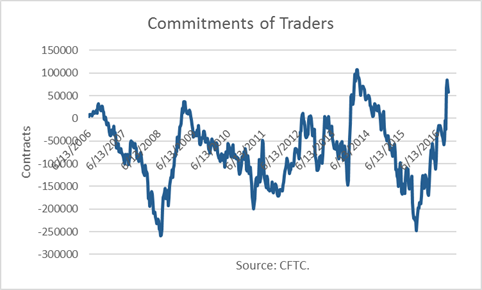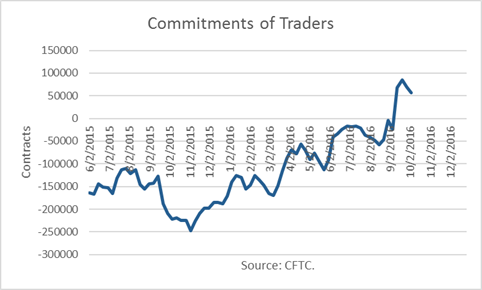 Conclusions
The market took a breather in the week ending October 4th from its buying binge. But it did not last long. Once the hurricane passed without severe impacts on Florida's power grid, buyers came in, pushing prices to a new high in more than two years.
Disclosure: I/we have no positions in any stocks mentioned, and no plans to initiate any positions within the next 72 hours.
I wrote this article myself, and it expresses my own opinions. I am not receiving compensation for it (other than from Seeking Alpha). I have no business relationship with any company whose stock is mentioned in this article.