Despite speculation about recessions the domestic equity market is near record highs. Even as the Federal Reserve looks to raise interest rates, the market remains high. The summer was relatively boring with exceptionally low volatility, but that seems to have cooled off. Now the market is a bit more temperamental, but prices are still only down by 1% to 2% for the market as a whole.
Given the relatively bullish nature of the stock market, an emphasis on quality companies seems reasonable. The Schwab U.S. Dividend Equity ETF (NYSEARCA:SCHD) is filled with those kinds of companies. They offer solid dividend yields and have strong track records. Because some investors will be using them for income, the shares could easily underperform if interest rates move materially higher. On the other hand, the fund offers a stronger dividend yield than most domestic ETFs and the more defensive allocation should perform better than the S&P 500 if the market entered a recession.
Holdings
The following chart demonstrates the holdings: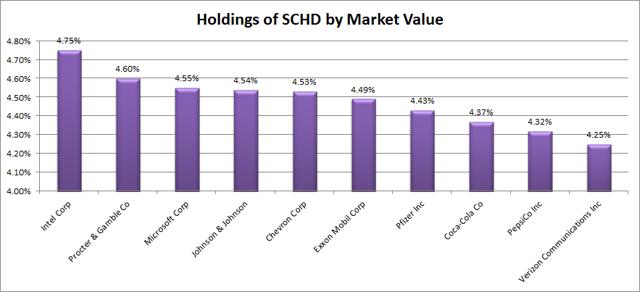 Click to enlarge
(Source: My image, data from Charles Schwab)
Intel (NASDAQ:INTC) was at the top of the list, which still feels a little bit strange for me. I like that as a top holding better than Microsoft (NASDAQ:MSFT), but it still feels weird to see tech companies on top. My theory on Intel is simple. As the war on ad blocking develops, I expect spyware and malware to proliferate in the near-term. Since many people struggle with computers, I believe computer sales could see a tailwind from users replacing compromised computers. Some analysts would rate this more favorably for companies producing software to combat viruses, but I'm not convinced.
Why do I question Microsoft as a top candidate? I decided to write most of this article using voice to text. I put on a upper-end headset designed specifically for voice-to-text and turned on Windows Speech Recognition. When it kept screwing up the text, I decided to hold my phone near my face and use the Android system to compose an e-mail to myself. I compared the output of the two systems and took the headset off. The phone was materially more accurate. I have to question Microsoft's ability to produce new quality software.
Procter & Gamble (NYSE:PG) is a perfect candidate for a spot in this portfolio. The company has plenty of product lines and their products should hold up even in a recession. PG will show up in almost any list of companies for investors that focus on dividend income.
Johnson & Johnson (NYSE:JNJ) comes in as the fourth company and is a natural fit for most dividend growth portfolio. They are a clear leader among the healthcare companies and also offer a diversified product line.
The last 2 paragraphs included only one correction. Google (NASDAQ:GOOG) (NASDAQ:GOOGL) is incredible at recognizing voice. If we are moving into a world where voice commands become a major aspect of controlling machines, then I have to think companies will seek the most effective software. I'm using voice-to-text far more often to reduce time spent sitting in a chair.
Chevron (NYSE:CVX) and Exxon Mobil (NYSE:XOM) are interesting as top holdings. They both have a great history with dividends and a solid dividend yield. However, their track record during 2016 is unique. Oil Futures contracts have not seen a material increase in price relative to the start of the year. They fell hard in January and remained low through February before returning to almost the exact same level they were at when 2015 came to a close. Despite the weakness in oil prices, Chevron is up about 13 to 14% on the year and Exxon Mobil is up between 11 and 12%. It is interesting to note that both companies are outperforming the S&P 500 despite oil prices remaining stubbornly low.
One company I would like to see higher is Altria Group (NYSE:MO). The tobacco industry is a subsector of the consumer staples sector. I feel prices on Altria Group are currently attractive. The biggest risk to Altria Group is the potential of negative legislation. California has ballot measures that would dramatically increase the tax on cigarettes. One potential way to avoid the California issue, would be Philip Morris International (NYSE:PM). Unfortunately Phillip Morris does not show up in the fund's Holdings. If an investor uses SCHD for their domestic equity allocation, the first company I would add to the portfolio is PM.
Conclusion
I believe SCHD follows an attractive index with a solid selection of dividend champions. The fund was a natural pick for a portion of my portfolio. While I'm individually selecting several companies for my portfolio, SCHD creates a diversified exposure to help round out the portfolio. The modification to the holdings looks appealing to me, but I'm not going to put out any bullish ratings when SCHD is trading only 1% to 2% from record highs. I'm not a momentum investor and I'm not getting into that game. I bought my shares of SCHD when they could be acquired for around $36 per share. Dividend reinvestment increased the position at higher prices, but I'm keeping more conservative price targets for buying in. My rating sits at "hold". If I could make it a little longer, it would be "hold and enjoy the dividends".
Disclosure: I am/we are long SCHD, MO, PM.
I wrote this article myself, and it expresses my own opinions. I am not receiving compensation for it (other than from Seeking Alpha). I have no business relationship with any company whose stock is mentioned in this article.
Additional disclosure: Information in this article represents the opinion of the analyst. All statements are represented as opinions, rather than facts, and should not be construed as advice to buy or sell a security. This article is prepared solely for publication on Seeking Alpha and any reproduction of it on other sites is unauthorized. Ratings of "outperform" and "underperform" reflect the analyst's estimation of a divergence between the market value for a security and the price that would be appropriate given the potential for risks and returns relative to other securities. The analyst does not know your particular objectives for returns or constraints upon investing. All investors are encouraged to do their own research before making any investment decision. Information is regularly obtained from Yahoo Finance, Google Finance, and SEC Database. If Yahoo, Google, or the SEC database contained faulty or old information it could be incorporated into my analysis. Tipranks: This is clearly a hold rating.