The Federal Open Market Committee (FOMC) is sticking to the status quo despite sufficient support from economic data for the policy rate hike this year. On November 8, 2016, citizens of the United States will vote for the next president, and now it seems unlikely that the Fed will raise interest rate in November meeting.
In an interview with CNBC, Cleveland Fed President Loretta Mester said;
"In terms of our two monetary goals, it makes sense to move up the rate another 25 basis points. I think all meetings are on the table, and we're an apolitical institution. We are technocrats. I go in thinking about what's best for the economy in my view, and that's what I base my decision on."
The Fed is not clear on the timeline of future hikes, but the bearish sentiment already has triggered a correction in utilities. The yield-starved investors remained utility buyers during the first half of 2016 and enabled the sector significantly outperformed the broader market. The second half, however, is likely to be a different story. PHLX Utility Sector (UTY) has lost approximately 11% value since the beginning of July, which reflects the cautious stance of the market.
A December interest rate hike might still be on the table, but some experts are thinking otherwise. Nevertheless, the recent sector-wide sell-off and a spread of 190 basis points against 10-Year U.S. Treasury yield depict that utilities still offer value to long-term shareholders. However, in my opinion, the investors should remain cautious as it is not worth taking more risk just for the yield. But picking high-quality stocks with improving cash flows would be a good idea.
Let's see how Dominion Resources (NYSE:D) stacks up against Duke Energy (NYSE:DUK) and Southern Company (NYSE:SO). All three utilities possess some notable advantages over each other, but primary risks they face are the same. These large-cap utilities are taking several initiatives to accelerate earnings growth, but Dominion Resources' strategy could be more fruitful.
Dominion Resources Could Feel Some Heat
A new report from Energy Information Administration (EIA) shows that the U.S. residential electricity prices tumbled 0.7% during the first half of 2016, as compared to $0.128/kWh in the same period last year. The annual average kWh prices for residential customers are expected to decline for the first time since 2002, which could hurt the revenue stream.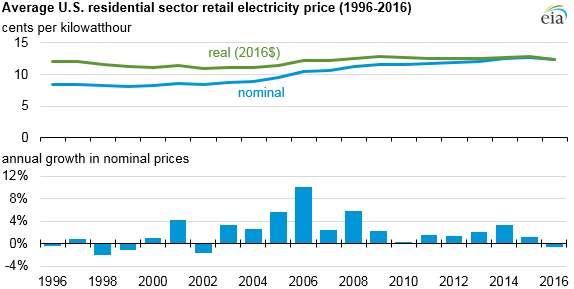 Source: EIA
Although national average has dipped a bit, Duke Energy is likely to witness revenue growth due to its presence in the Midwest region where residential customers have experienced 3% increase in average prices so far in 2016.
Southern Company and Dominion Resources, in comparison, could feel some heat due to approximately half a percentage point drop in kWh prices in the East South Central and the South Atlantic States. As Dominion Resources has generation facilities in Wisconsin, Indiana, Illinois, Connecticut, Rhode Island, and Massachusetts, residential electricity price decline of 6% in the New England region will put pressure on the electricity sales. However, the agency also estimates residential electricity prices will grow 3% in 2017 if the average cost of natural gas delivered increases further in the coming quarters.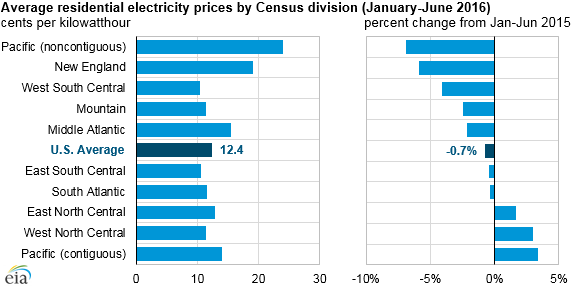 Source: EIA
The Advantage
Dominion Resources has built a sizeable advantage over Duke Energy and Southern Company, which will help it deliver better earnings growth in the future. Although Southern Company is now the parent company of one of the largest natural gas company in the U.S., Dominion Resources is aggressively investing in natural gas storage and distribution assets. Over the past one and a half decade, electricity consumption growth has slowed to 0.5% annually while natural gas demand has increased significantly.
Over the next two and a half decade, the industrial sector will generate 30% electricity growth - much higher than residential sector demand growth rate of just 9%. By 2030, electricity generation from coal will witness 28% decline due to Clean Power Plan (NYSE:CPP), while natural gas and renewables usage will continue to increase.
Dominion Resources is the owner of the largest natural gas storage facility in the U.S., and growing production of natural will give a boost to its storage business. In addition to that, Dominion Resources is the primary partner in 600-miles Atlantic Coast Pipeline with 48% share followed by Duke Energy while Southern Company Gas has just 5% share.
Dominion Resources will not be able to benefit from its investment in Atlantic Coast Pipeline until sometime in 2019, but Dominion Resources' free cash flows will improve considerably in 2018 with the of beginning commercial operations of Cove Point. The added advantage is that Cove Point is the only LNG export facility on the East Coast and Dominion Resources will conduct all the export business. Moreover, the cash flows from Cove Point will be secure with long-term take-or-pay contracts.
Some investors are ignoring the long-term growth catalyst from the acquisition of Questar Gas. The short-term earnings contribution will be small, but this acquisition will enhance earnings potential of Dominion Resources as utilities will become aggressive in replacing coal-fired power plants with natural gas-fired generation facilities.
The value creation for investors will be in the form of improved dividend growth. Over the past five years, Dominion has increased dividend payments at a compounded annual growth rate of 7.30% while Duke Energy and Southern Company lagged with 5-year CAGR of just 2.5% and 3.5%, respectively.

Source: Morningstar, SO, DUK, D
It's a valid expectation that Dominion Resources will utilize the new stream of free cash flows to accelerate dividend growth. The company has already achieved 8% dividend growth in the 2016 and 2015, and cash flows from Cove Point as well as Atlantic Coast Pipeline can enable Dominion Resources to increase annualized dividend growth rates beyond 2018.
Based on consensus estimates for the fiscal year 2016, Duke Energy and Dominion Resources pay the dividends at a payout ratio of approximately 74%. Southern Company's payout ratio of 78% is a bit higher, but still in a comfortable zone. All three utilities have the room to continue increasing future dividend payments, but the dividend profile of Dominion Resources is much better than Duke Energy and Southern Company.
Highly Leveraged, But Still A Better Play
Dominion Resources is putting a lot of money to work, but the debt burden is increasing as well. Investing cheaper money in growth projects to earn the sturdy return on equity of approximately 15% creates value for the shareholders, but it also makes the company risky in the increasing interest rates environment. Dominion Resources is the most leveraged company with debt to equity ratio of 1.91 times whereas Duke Energy is comparatively less risky due to its significantly lower debt to equity ratio of just 1.12 times. Similarly, Duke Energy has a much better cash flow to short-term debt ratio of 0.69 times, as compared to 0.42 times for Dominion Resources. Southern Company is in the middle with operating cash flows to short-term debt ratio of 0.52 times.
Duke Energy's shares have lost 10% over the past three months, and resultantly, its dividend yield has increased to 4.44%. The other two stocks have plunged 8% over the same period, but Southern Company's yield of 4.53% is considerably higher than 3.90% yield of Dominion Resources. From the surface, it seems Southern Company is a better dividend play. However, a deeper look reveals that Dominion Resources is well-poised to grow in the long-term period. Although a high debt burden makes Dominion Resources a bit risky, its best-in-class profit margins will enable the company to survive interest rates storm, and the new stream of cash flows will help it grow dividends faster than Duke Energy and Southern Company.

According to Yardeni, electric utilities are trading one-year forward price to earnings multiple of approximately 17x, just a bit higher than the long-term historical average of 15x - 16x. Dominion Resources is trading at forward price to earnings multiple of 18.5x as it has the strength to outpace dividend growth of Duke Energy and Southern Company, which are trading at forward price to earnings multiple of 16.2x and 16.5x, respectively. Thus, in my opinion, Dominion Resources is comparatively attractive dividend stock, and the investors should consider buying on further weakness for robust dividend growth of high-single-digit over the long-term.
Disclosure: I/we have no positions in any stocks mentioned, and no plans to initiate any positions within the next 72 hours.
I wrote this article myself, and it expresses my own opinions. I am not receiving compensation for it (other than from Seeking Alpha). I have no business relationship with any company whose stock is mentioned in this article.