Navidea (NYSEMKT:NAVB) has recently been embroiled in a trench war of litigation with its loan instrument Capital Royalty Group (CRG), which starting in the first part of 2016. CRG asserts a default on the loan due to technical issues, unrelated to NAVB never missing any payments. I'm not going into the details of litigation as that would be fruitless.
However, I will provide links to litigation documents for those interested. I will say that the sinews of litigation seem to be winding down, as each company has lobbed about as many shells as they can. There are still undetonated mines which may or may not be hit or detonated, and that's the topic of this article.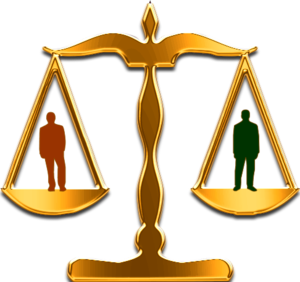 Also, please note that I'm not going to "deep dive" into NAVB's intellectual property. There are already many sources here at Seeking Alpha and other places that have that information. Let's just say that the product they already have marketed in the USA is set to launch in Europe Q4 2016, and it is the same molecule or backbone of the entire portfolio, including Macrophage Therapeutics, NAVB's subsidiary. Yes, I said that it had already been marketed. The potential is in using the molecule in expanding diagnostics and as a delivery system to cure diseases, such as cancer, and recently expanding into the diagnosis of rheumatoid arthritis with a Phase I trial underway.
What I want to discuss in this article is a quick overview of the short-term material events which represent risk and reward. In the short term, there are only two immediate catalysts. Those two catalysts are CRG litigation (taken as a whole) and Cardinal Health's (NYSE:CAH) Letter Of Intent to buy a specific part of NAVB intellectual property. If the deal closes, there will be enough cash to pay off CRG and operate for well into 2017 - even with no other income.
CRG litigation
CAH buying the North American Lymphoseek (LS) Cancer Diagnostic (only) product.
To simplify current events, I'll summarize current litigation, generally (not all pieces of the litigation puzzle are provided, but only the most relevant).
08/30/2016: The Harris Co. Texas court ruled in favor of CRG and granted an injunction that would make it possible for CRG to sweep all account money from NAVB operating accounts. Of course, NAVB cannot operate without money, so that was a huge kick in the litigation stomach for NAVB. NAVB appealed. TX Trial Court, Case 201622242
09/06/2016: NAVB announces a letter of intent that CAH will buy the North American Lymphoseek product for 80M in cash and payout of another 280M over 10 years, depending on sales, for a maximum not to exceed number of 310M.
DUBLIN, OH, September 6, 2016 - Navidea Biopharmaceuticals, Inc. (NYSE MKT: NAVB) today announced that it has executed a Letter of Intent ("LOI") with Cardinal Health, Inc. for the sale of all rights, title and interest to Navidea's Lymphoseek product for all FDA-approved, pending and future oncology diagnostic indications in North America, subject to certain limitations, as well as certain other related assets. Under the terms of the LOI, Navidea would receive $80 million at closing, with future consideration tied to annual sales of the Lymphoseek product and certain sales-based milestones. Total consideration to Navidea would be capped at $310 million.
09/20/2016: Back in Texas, the same judge who granted the infamous 08/30 injunction granted NAVB the right to protect NAVB accounts, but not suspend the 08/30 injunction, resulting in protection from any CRG account raids, pending the NAVB appeal of the injunction. Evidently, you don't mess with Texas. (See: ORDER ON DEFENDANTS/COUNTER-PLAINTIFFS' MOTION TO DISSOLVE OR MODIFY ORDER GRANTING PLAINTIFFS' APPLICATION FOR TEMPORARY INJUNCTION, OR IN THE ALTERNATIVE, MOTION TO STAY ENFORCEMENT OR SET SUPERSEDEAS BOND TX Trial Court)
Meanwhile, over in the Texas Appellate court, NAVB's appeal is moving forward with briefs due soon. No one knows how long this appeals process will take, but it was filed by NAVB to be "accelerated" which means it will move faster than normal appeals. I do not know why NAVB filed for accelerated status. (See: Texas Appellate Court Website:) Note: Briefs are due October 23rd, 2016.
After all of this, there is one more aspect of NAVB accounts that is seemingly a hurdle for CRG and that is with the Ohio Court Injunction that protects NAVB accounts from CRG. CAH is NAVB's revenue payment entity, since they do all distributions for the LS product. CRG wrote a letter to CAH demanding that they deposit revenues for NAVB into a CRG account.
CAH got right on that, filed their own litigation in Ohio, and instead of depositing NAVB revenues into a CRG account, CAH won an injunction prohibiting CRG from accessing NAVB accounts. Since the TX Court says that CRG does have that right, by the 08/30 injunction (now on hold), whereas the OH Court says CRG does not, no one knows how that would play out in a worst-case scenario. I offer it here for those interested. (See: Ohio Court Website Case "CV 005801") This effectively opened up a two-front war for CRG, one with NAVB and one with CAH. Please note also that CRG is a private 2B company, whereas CAH is a 103B company with a market cap of 25B.
Well, my friends, there is more from our pals over at CRG. CRG has stated in their Texas Trial Court document that they will not release Intellectual Property (they have a lien on it from the loan contract), regardless of NAVB paying them off in full, unless NAVB agrees to indemnify them of all future litigation (SEE TX Trial Court, 09/22/2016: PLATIFFS/COUNTER-DEFENDANTS' RESPONSE IN OPPOSITION TO DEFENDANTS/COUNTER-PLANTIFFS' MOTION TO DISSOLVE OR MODIFY ORDER GRANTING PLANTIFFS' APPLICATION FOR TEMPORARY INJUNCTION, OR IN THE ALTERNATIVE, MOTION TO STAY ENFORCEMENT OR SET SUPERSEDEAS BOND).
NAVB flatly refused to do that and currently says it will aggressively pursue CRG with future litigation. This is matter for the courts and no one knows how it will resolve. However, CAH cannot buy the LS product until the IP is released, obviously; so the IP situation is a material concern.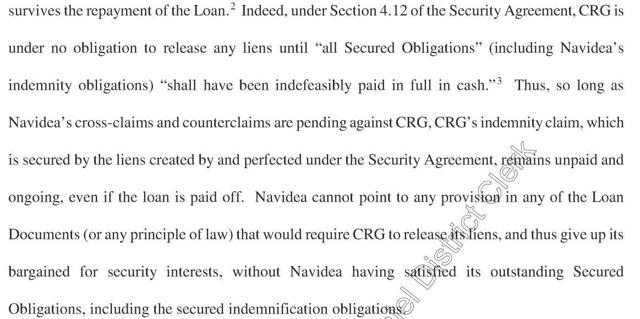 Click to enlarge
Those are the main material events I'm going to work with, and obviously, they do not account for catalysts that are unknown. For instance, no one saw the Letter of Intent coming from CAH, which caused the share price to go from .35 to over 1.14 at one point (currently support is around .90).
So let's do this little exercise in deduction:
First, no matter what CRG does, no short-term good is coming from a failed deal with CAH. However, there is every reason to believe the deal is on track for closing. CAH has stated in an affidavit to the court that they are currently conducting "typical due diligence" and are "working in good faith to close the transaction within 90 days of the date of the affidavit" which is 09/23/2016 (SEE: Texas Trial Court, 09/26/2016, EXHIBIT B). But in the spirit of taking all known and plausible outcomes into consideration, we must account for the chance that CAH backs out. It's a risk, although seemingly low, and thus must be accepted as such.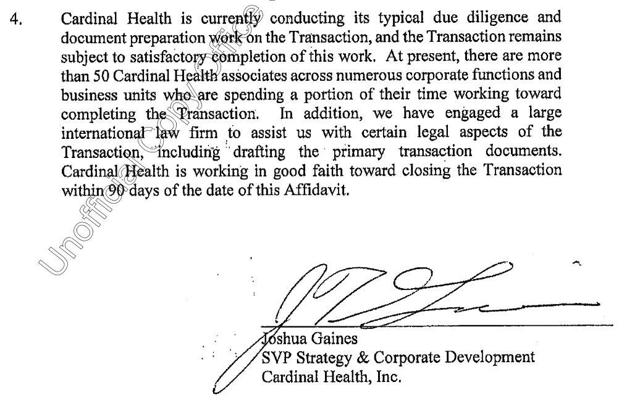 Click to enlarge
Second, The Texas ruling on the injunction, that CRG is prohibited from accessing any money in the account until after the appeals ruling, only protects NAVB until the appellate court rules on the appeal. If NAVB loses their appeal, then CRG immediately has access to NAVB accounts (SEE: Texas Trial Court, 9/28, Image Number 72101794, ORDER DENYING MTN TO DISSOLVE INJUNCTION SIGNED. ORDER SETTING BOND SIGNED). What we wish, of course, is for the CAH deal to be announced as moving forward (i.e., that all DD has been completed; CAH actually wants to purchase; and pending that sale, NAVB can offer to pay CRG before the Appellate Court rules).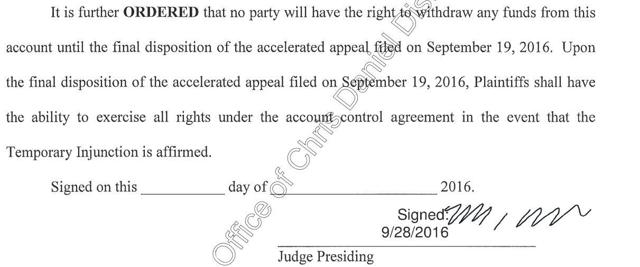 Click to enlarge
Third, after a CAH announcement to actually buy the LS product, we hark back to CRG stating they will not release any IP unless NAVB agrees to indemnify them, which is a fancy legal word that means NAVB can never take CRG to court in the future. That means the release of IP has to be figured out before CAH can seal the deal.
I think that about covers it generally, and I do mean very generally. So what are some plausible outcomes? I think the entire short-term outcome rests on two broad possibilities, again, discounting any unforeseen events:
(1) The CAH deal fails, for any reason, and it gets ugly, really ugly. This means just about everything short term is resting on the CAH deal concluding. Remember, the TX ruling only protects NAVB until the appeals process is finished, and if NAVB doesn't win the appeal, CRG then has the right to raid NAVB accounts. (If the CAH deal falls through, that could negatively impact both the appeals case and the injunction status in the OH Court.)
(2) CAH announces they have finished their DD and indeed want to purchase the LS product. It's not over at that point, but it is great news moving in NAVB's favor. For instance, before NAVB and CAH can close the transaction, CRG must either agree or be forced by the court to take payment and release IP. One possible outcome is that NAVB will do whatever it can to make sure they do not legally have to indemnify CRG from future legal challenges and if they cannot, they will then capitulate and close the deal. I have no reason to believe, given current information, that NAVB would decide to reject the CAH deal due to CRG indemnification.
In any event, on the announcement that CAH wants to close the transaction, NAVB and CRG will be back in court trying to force a court decision in their respective favors, except that NAVB now has the very real leverage of a payoff offer on the table, backed up by CAH cash. In other words, NAVB offers to pay the bill, and CRG refuses based on the fear of future litigation. Perhaps CRG should be fearful too - if they have made any illegal moves - since NAVB recently hired as co-counsel Dentons, which is the largest litigation firm in the world. In any event, that's for the lawyers to argue and for future court battles.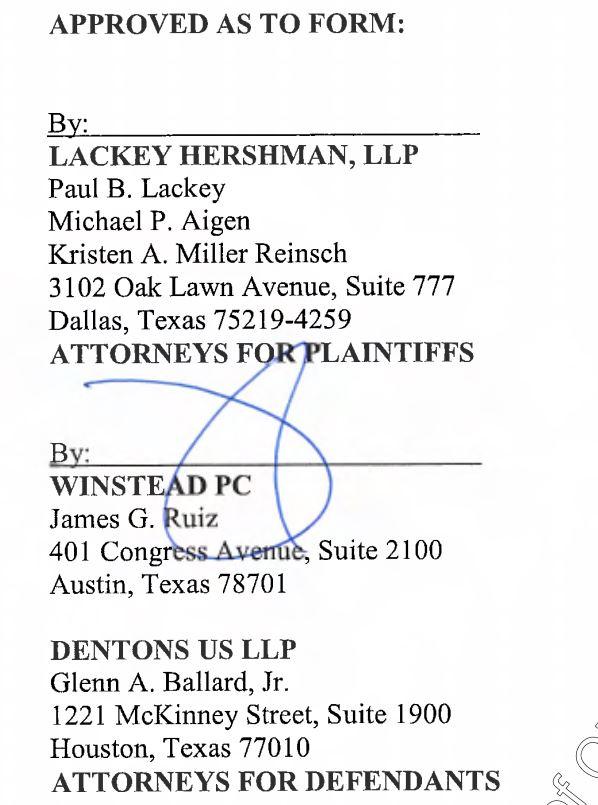 (See: Texas Trial Court, 09/27/2016, "Proposed Order on Defendants/Counter-Plaintiffs' Motion to Dissolve or Modify Order Granting..." bottom of document, included here as a clip image. Credit to "FIRAC" at Investor Village for that catch).
In the mean time, what we're looking at is the announcement that CAH has finished their DD and actually wants to purchase the product, or not. That is the material catalyst, barring any other unforeseen material events, that will start the price moving in one of two directions, and the price movement could be substantial, easily breaching the $1.50 mark (based on our analysis of the LS product from last year, here at Seeking Alpha). The opposite is also true with a failed deal.
However, remember that the CAH deal takes away revenue from North America. No one yet knows how much revenue will be coming from the pending European launch in Q4 of this year. Given somewhat similar sales, the price targets we did last year can be applied generally to the EU launch also (Even at half the US sales, the price target would still be over $1.50, which would be the very lower end of our analysis here at SA). Note also that our analysis' price targets DID NOT include ANY IP other than LS in North America, and absolutely nothing more. That is important to consider since there are now major differences in the NAVB pipeline.
For instance, the future IPOs of the MT subsidiary and the NAVB Lymphoseek rheumatoid arthritis clinical trial currently underway (Please note that NAVB retains the rheumatoid arthritis diagnostic, since the CAH deal only specifies "oncology" diagnostics.)
Summary
1. Currently, CRG is tied up by the court from interfering with NAVB accounts pending the appeals outcome.
2. CAH is doing due diligence to buy the NAVB LS product North American Diagnostics, stated in the court document is quoted as closing the deal "within 90 days" from 09/23/2016.
3. Appeals Court briefs are due October 23rd.
4. NAVB is now represented by the largest litigation firm in the world, Dentons.
5. Most everything short term is riding on the CAH transaction closing.
6. Upon a positive outcome, the price could breach $1.50, according to our analysis of LS only here at SA.
7. Upon the failure of the CAH deal, it's hard to speculate, but nothing good is coming from that, at least short term, or ever.
8. Pain or Gain? Leave comments below!
Disclosure: I am/we are long NAVB.
I wrote this article myself, and it expresses my own opinions. I am not receiving compensation for it (other than from Seeking Alpha). I have no business relationship with any company whose stock is mentioned in this article.
Additional disclosure: I am not a lawyer. Please seek your own legal counsel. I am not receiving any payment from Seeking Alpha or other sources.
Editor's Note: This article covers one or more stocks trading at less than $1 per share and/or with less than a $100 million market cap. Please be aware of the risks associated with these stocks.