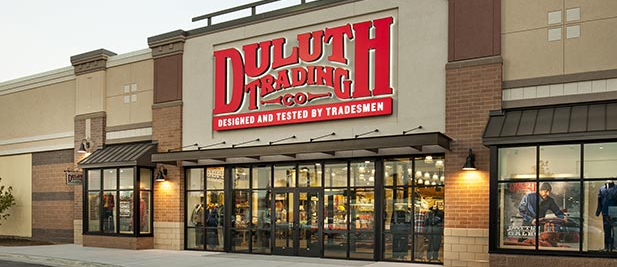 Since Duluth Trading (NASDAQ:DLTH) came public about 11 months ago, the stock has been flying. Its first trades printed around $13 and since that time, the stock has more than doubled. That's a pretty extraordinary IPO for a retailer and it has me wondering what investors see in DLTH. The stock is hot to be sure, but is has it come too far, too fast? Q2 earnings provide us with some clues about DLTH's long term direction and while the results were very strong, I wonder aloud if investors have gotten a little too excited.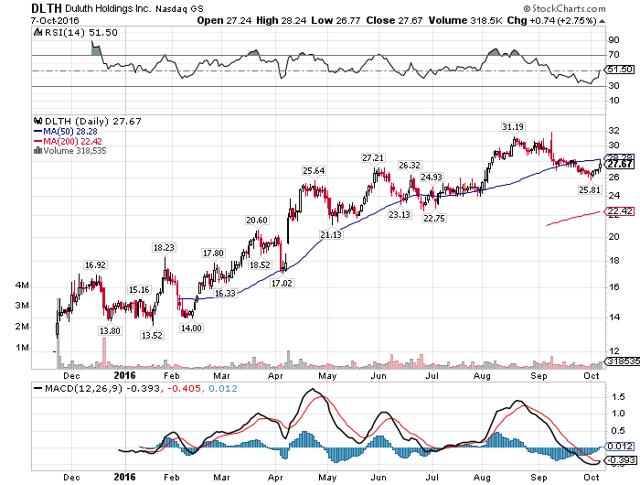 Click to enlarge
Duluth currently only has a handful of stores so as it continues to open more, its revenue growth is going to be huge. That was certainly true in Q2 as it produced a +27% top line number, blistering by any measure. That means that Duluth's stores are tremendously productive as it saw more than $65M in revenue in Q2 off of just 11 total stores and its website. That is surely part of the reason why investors are so keen to buy the stock but what about the rest of the business? DLTH continues to guide for 20%+ long term revenue growth but how much money is Duluth making on its terrific revenue growth?
Its gross margins are tremendous at nearly 60%, moving up 20bps over the comparable quarter last year. The thing is that as Duluth continues to grow and concentrates on some of its key markets, we should see gross margins move up over time. Things like distribution and shipping costs are high when there is a low number of stores but those things are scalable to more and more stores, meaning their costs can be shared across a higher and higher level of revenue as the company grows. DLTH has a very, very long way to go in terms of store openings and that means we should see gross margins creep up over time irrespective of any pricing or mix gains the company can muster. The gross margin outlook for DLTH is very bright indeed and I think this will be a positive data point for long time to come.
So revenue and gross margins are quite good but what about SG&A? That is where Duluth is struggling a bit as it spends very heavily to build its brand. Total SG&A costs were up 220bps over last year to an even 50%, meaning there is less than 10% of gross margins available for operating profits. That's a separate discussion but let's take a look at what DLTH is spending its money on.
Advertising and marketing costs were up 160bps to 20.8% in Q2 and if you consider the sheer level of spending here, it is quite astonishing. I've never seen another business that spends 20% of its revenue on marketing but Duluth has a goal in mind. For instance, I don't have a Duluth store anywhere close to where I live but we sporadically see ads for it. Duluth is taking a blanket approach to marketing and driving traffic to its website for those of us that don't have a store nearby and it is working; direct sales were up 24% in Q2. The cost is quite high and getting higher but Duluth does have something to show for it.
The rest of SG&A - administrative and selling costs - were up a combined 60bps in Q2 as Duluth continues to invest in store and support personnel. This line item is going to move higher at a rapid rate for a very long time to come as Duluth continues to add new stores and the people to support them. The fact that SG&A costs outpaced the 27% revenue gain is a little unnerving but just like with marketing spending, it is working.
Duluth has very high gross margins but at this point, isn't particularly profitable simply because it spends so much to achieve that revenue. At some point we should see Duluth slow down on the spending once it has achieved satisfactory brand recognition but that is likely years and years away. For now, shareholders will just have to be happy with adjusted EBITDA in the 11% area. As I said, I think Duluth will ultimately achieve perhaps double that level but it is going to take years and years to get there.
The thing is that with the stock doubling since it came public, it is now going for an eye-popping 40 times this year's earnings. I don't care how bullish you are or how strong a company's business is; that is an enormous multiple. Very few companies have the ability to sustain or even grow into a number like that and while I find Duluth to be an exceptional retailer, let's keep in mind that this is not a concept that is proven yet.
Having less than a dozen stores means that Duluth has thus far been able to handpick the best locations and concentrate resources on running each and every one of them as efficiently as possible. What happens when it moves towards 100 stores? Will they be as productive? Perhaps, but there is a very, very long way to go between here and there. While I won't dispute that DLTH is performing exceptionally well, I'll caution that succeeding with 11 stores is not the same as succeeding with ten times that amount.
I would love to own DLTH but I'm not going to pay 40 times earnings for it. This company has a very long runway of growth ahead of it and it will continue to do very well. But I will wait for a pullback because as I said, I've very rarely seen a stock go for 40 times earnings and it work out for buyers. DLTH either needs to trade sideways for a few quarters while earnings catch up some or it needs to pullback. If either of those things happen I'll be there but for me, I simply cannot pay that much for an unproven retailer.
Disclosure: I/we have no positions in any stocks mentioned, and no plans to initiate any positions within the next 72 hours.
I wrote this article myself, and it expresses my own opinions. I am not receiving compensation for it (other than from Seeking Alpha). I have no business relationship with any company whose stock is mentioned in this article.