The dollar (NYSEARCA:UUP) looks like it wants to go higher. The ETF UUP has a key level that looks like it is going topside. The reason for the move is probably driven by two factors: a flight to safety after the British pound meltdown and higher US interest rates.
Let's look at the dollar chart.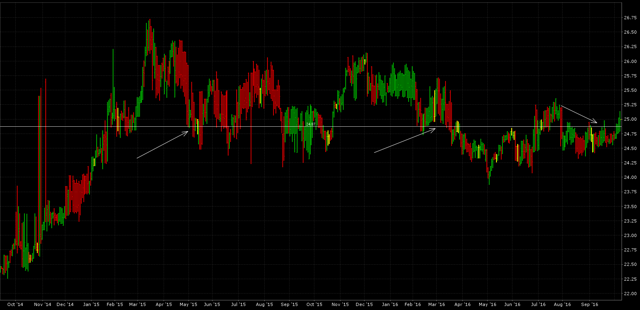 Click to enlargeSource: Interactive Brokers
We drew a line where we think had the most important trading action over the last two years. The price is just under $25 UUP. We put arrows to show you where this line was a key level to hold, breakout, or breakdown. Traders have used this line to determine trading decisions.
Now, as you see on the chart above it looks like UUP is starting to make a move above this line. It's done that before of course, but we wanted to take note.
Why Is The Dollar Strengthening?
There are two main reasons we think the dollar is going up:
1. The British Pound
2. US Relative Interest Rates
The British Pound
The British pound (NYSEARCA:FXB) disaster last week makes the dollar a safe haven. Many traders may have been trapped in the pound when it was hit fast and strong. After that traders probably pulled-in and got back in a "safe" currency. That helps the dollar.
Also when there is currency volatility in the world there is a need for safety. Currency volatility can typically be a prelude to market (NYSEARCA:SPY) volatility. So far we only really have the pound fluctuating in a big way but it could cause fear in other currencies. That would cause fear in markets and lead investors to buy safe-haven type assets like the dollar. We are not there yet but that may be some of the early strength in the dollar.
US Relative Interest Rates
Yields in the US and around the world have been moving up of late.
Here's the chart of US 10 year yield.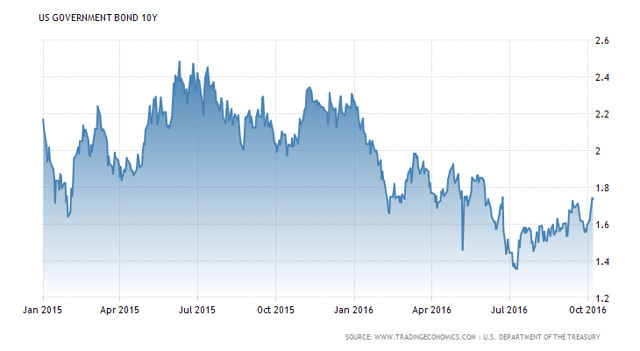 Click to enlarge
Source: Trading Economics
The 10 year yield in the US has been rising and is higher than most other developed countries' 10 year yields. This may be what's getting investors to buy dollars. They want that 1.7% yield on the 10 year and the higher yield on US notes and bonds (NYSEARCA:TLT).
We think it makes sense that yields are going up because we've said that we think the Fed is on hold through 2016.
If the Fed is on hold inflation risks increase which can drop bond prices. That was the move.
What's strange though is that the market appears to be increasingly expecting a US Federal Funds rate increase in December. A rate hike though would probably cause recession fears which would mean longer term yields would go down with recession fears.
The movement of the longer term yields tells us that bond investors don't believe a rate hike is in the offing.
That said the Fed Funds Futures are predicting a 60% chance for a rate hike in December.
If the street unwinds from that high expectation of a rate hike, bond yields could potentially get more of a lift which could attract more demand for dollars. We'll have to see how it plays out. We are not necessarily bearish on bonds here.
Stop Loss
Where would we say we're wrong? We'd guess that if UUP closes below $24.50 the market is telling us we're wrong on this move and it would be a reason to exit.
Dollar's Impact On Gold And Oil
The move up on the dollar could be a wind in the face for gold (NYSEARCA:GLD) and oil (NYSEARCA:USO). Obviously there are other factors driving these commodities but the dollar in isolation may turn to a headwind.
A close below our UUP stop loss of $24.50 would also be meaningful as a sign removing that headwind to gold, oil and other dollar-affected securities.
Conclusion
The dollar looks like it may be moving higher. It's probably being driven by safe-haven status after the pound's hit. US bond yields may also attract more investment dollars from reach-for-yield foreign investors. The dollar up move could also be one factor against oil and gold.
Follow Us Real-Time On Seeking Alpha
If you want Elazar's analysis on Seeking Alpha, scroll to the top of the article and hit "Follow." Elazar also writes real-time pieces as news is reported. If you want to be among the first updated check the box for "Real-time alerts on this author" under "Follow."
Catch Multi Week Moves
Your Trading Team is an Elazar premium service on Seeking Alpha that helps catch multi-week moves in SPY, GLD, Oil, TLT and more. We developed a simple trading gameplan that instills discipline to trading. Working together also helps avoid many trading pitfalls. We look forward for the chance to work together.
Share
We're excited about the feedback we get from readers. If you like our work please consider sharing it. There is a ton of noise out there on the internet and we think we offer something that slices through that noise. If you agree please consider sharing our work. Thank you.
Disclaimer: All investments have many risks and can lose principal in the short and long term. This article is for information purposes only. By reading this you agree, understand and accept that you take upon yourself all responsibility for all of your investment decisions and to do your own work and hold Elazar Advisors, LLC and their related parties harmless.
Disclosure: I/we have no positions in any stocks mentioned, and no plans to initiate any positions within the next 72 hours.
I wrote this article myself, and it expresses my own opinions. I am not receiving compensation for it (other than from Seeking Alpha). I have no business relationship with any company whose stock is mentioned in this article.