This review updates my initial look at Ares Management (NYSE:ARES) from my June 21, 2016, article, "Ares Management: Viewed Through The Eyes Of A Preferred Investor."
Though I hope you will read the original linked article in full, my bottom-line assessment and buy recommendation at the time were as follow
This substantiates what I have already learned from my admittedly limited investigation into this company: It's large, having lots of assets under management, but for the past two years, its common share value has consistently, although choppily, trended in the wrong direction. However, of late, along with most other financial, it has staged a mild recovery, which in my opinion, can resume its downward trend at any time.

As for a preferred investment, ARES-A is not my cup of tea, especially because its dividend is non-cumulative, which I, as a rule, steer clear of. However, given the size and scope of this company, I don't envision it going bankrupt, now or in the near future. Although I wouldn't invest, especially at this price, $25+, you might decide otherwise.
Let's see how ARES' commons have performed over the past quarter since I wrote the previous articles. Because of the greater volume of common shares traded as opposed to the limited liquidity of most preferreds, I find the commons to be a better indicator of a company's overall performance.
Click to enlarge
It appears that over the past three months, ARES' share price movement has trended upward nicely. On July 8, 2016, it traded at $15.37, now it's priced at $18.36. That's an $2.99 increase in three months. I'm impressed..
Now let's compare ARES' share price performance over the past three months in relation to a number of its peers. Chart provided by Yahoo Finance: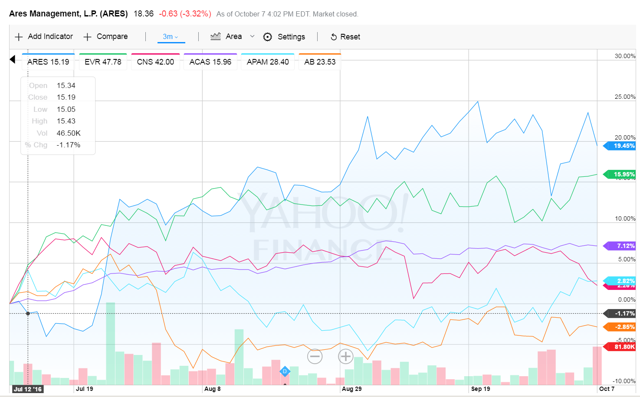 Click to enlarge
According to the chart above, ARES performed at the very top of its peer group. The peer comparisons charted above are: Evercore Partners (NYSE:EVR), Cohen & Steers (NYSE:CNS), American Capital Ltd.* (NASDAQ:ACAS), Artisan Partners Asset Management (NYSE:APAM), and AllianceBernstein Holding (NYSE:AB).
Before we discuss ARES' future prospects, let's see how its preferred has fared during the past three months. The following chart is provided by MarketWatch: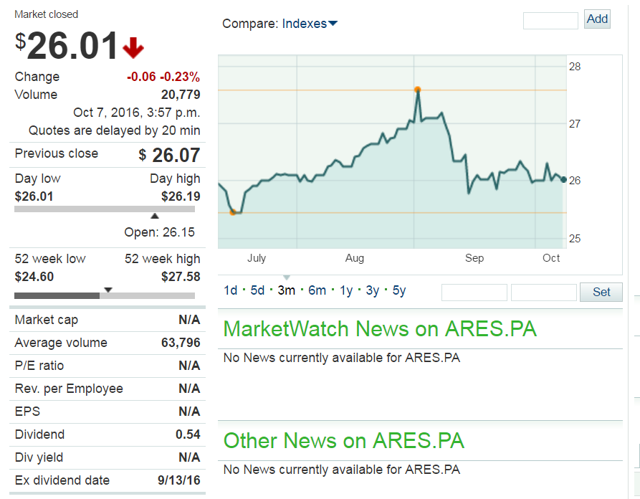 Click to enlarge
Although not quite as spectacular a performance as compared with its commons, ARES-A performed as best as could be expected considering its share price is currently $1.01 above par value (the natural glass ceiling of all preferreds) or $26.01, which is 0.97 above it $25.04 price when I first reported on it on June 21, 2016.
Now for that recommendation you have been eagerly awaiting. ARES-A is callable 6/30/21, which means that even if you purchase it at its current $1.01 above par you have five years of dividends to collect before ARES can call it away from you and you'd lose that $1.01. Of course if you are one of those trader kind of guys, you might not like its share price falling and you being stuck with it because you don't want to book a loss. For investors like myself, who usually hold until an issue is called, its price movement is of no real concern to me, because I don't expect it to move very much considering how large and solid a company ARES is.
However, being a bit of a yield hog, the effective yield ARES-A currently offers is not quite up to my lofty standards. By the numbers:
1.75 (yearly dividend) / 26.01 (current price) = 6.73%
Not shabby at all for a nice safe five year or more investment.
Now for a little forward guidance
Because as a long-term cumulative preferred investor, I am little concerned about quarterly financial reports and their attendant conference calls, which are liberally spun, I don't bother paying much attention to them unless the particular company is at risk of suffering some existential threat. Ares Management is no such company, as illustrated by the price of its preferreds and its common price performance these past three months.
For those few of you that might require a bit more, I'd like to direct you to my recently posted article that goes into detail explaining the previous paragraph and how well this approach has served me since I became a dedicated preferred investor.
Why This Preferred Investor Is More Concerned About External Forces Than Quarterly Financial Reports
Disclosure: I/we have no positions in any stocks mentioned, and no plans to initiate any positions within the next 72 hours.
I wrote this article myself, and it expresses my own opinions. I am not receiving compensation for it (other than from Seeking Alpha). I have no business relationship with any company whose stock is mentioned in this article.