The Reserve Bank of India cut policy rates by 25bps last week, in what proved to be a landmark monetary policy meeting in more ways than one. It was the new governor Urjit Patel's first policy meet, and also the first one of the newly constituted monetary policy committee (MPC).
In that context, it was surprising to note that the new committee voted unanimously in favor of a 25bps rate cut. However, even more surprising were the details that came out of the official release and press conference. One gets a strong sense that there is a shift in policy stance under the new regime in the RBI.
We had mentioned before that there were fundamental differences between the Indian government and the old regime of RBI as far as the trade-off between growth and inflation was concerned. We had also argued why and how the government will exercise significantly more clout in monetary policy decision making in the new regime. The latest policy meet gives an idea how all of that will be put to action.
Policy rate at 6-year low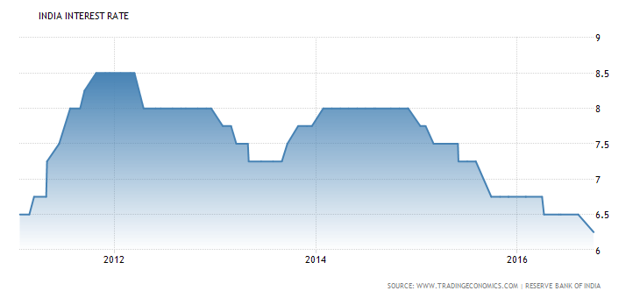 Click to enlarge
A new way of looking at inflation
The tone around inflation was distinctly more dovish than before. India's consumer price inflation fell to a five-month low of 5.05% in August, primarily driven by falling food prices. This drop in food prices surprised everyone, including the RBI. This drop is seen as a one-off inflation print, with favorable base effects at play. As a result, RBI still sees inflation falling in line with its near term target - and not contained within the target - and notes that risks are to the upside. Households' inflation expectations rose in September 2016 and the impending hike in salaries and pensions of government employees, along with a hike in minimum wages can feed into core inflation in the coming months and quarters, raising inflation expectations further. The favorable bases effects are also going to wear off in the coming months.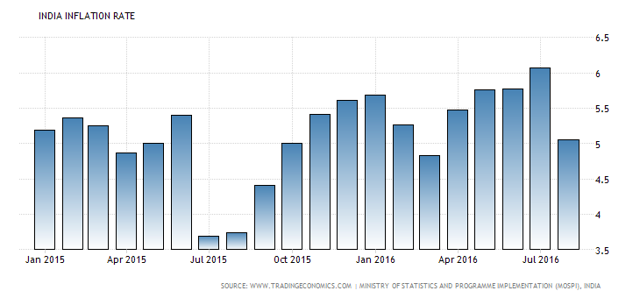 Click to enlarge
However, RBI seems confident that the improvement in food inflation seen in August will prove durable and have a positive influence on core inflation going forward. This is based on two assumptions: 1) strong monsoons this year will result in greater agricultural production and 2) the government's supply management measures will remove bottlenecks in the food supply chain. Combined with moderate fuel price inflation, the central bank believes these developments have opened up space for policy action.
In the RBI's words, "[the Committee] notes that the sharp drop in inflation reflects a downward shift in the momentum of food inflation - which holds the key to future inflation outcomes - rather than merely the statistical effects of a favourable base effect. The Government has announced several measures to cool food inflation pressures, especially with regard to pulses. These measures should help in moderating the momentum of food inflation in the months ahead. This has opened up space for policy action…".
One way to interpret this statement is while households' inflation expectations have risen, RBI's own expectations of future inflation is now lower, due to the expected improvement in food prices. And this expectation is despite the notable upside risks to inflation. Thus, embedded in the rate cut decision were expectations on the future path of a host of variables affecting monetary policy. It can hardly be termed as data dependent policy action as the RBI used to stress on in the past. Another way to look at it is there is limited space for policy action right now, with outlook on inflation still not particularly benign. Yet, the RBI had to give in under the new structure for monetary policy making, and therefore created some wiggle room to do so.
The biggest surprise was that the decision to cut rates was based on food and fuel price inflation- which are transient in nature - and not on core inflation. Most central banks of the world do the exact opposite, i.e. base their policy decisions on core inflation since it is a better gauge of underlying trends.
Lower real policy rate target
The RBI lowered its target for real policy rate, i.e. the repo rate and inflation from its earlier range of 1.5-2 percent to 1.25 percent. The central bank feels such a reduction is consistent with falling real rates across the world. However, real rates have been low for a long time now. So, it begs the question why the real policy rate target was lowered after such a long period of low interest rates globally. Perhaps because it is another way of creating space for rate cuts in future.
Some inconsistencies in macro projections
The central bank expects economic growth (GVA) to increase to 7.6% in FY17 (from 7.2% in FY16) and further to 7.8% in FY18. At the same time, core inflation is forecasted to moderate slightly from 4.8% in the second half of FY17 to 4.6% in the first half of FY18. We are not sure how the RBI expects core inflation to follow a downward trajectory when it expects economic growth to pick up, and when it draws attention to factors which will put upward pressure on inflation. A plausible explanation could be the considerable amount of slack in the economy (capacity utilization in the industrial sector is in the mid-70 percent area), which the government is trying to reduce through higher infrastructure spend and efforts to unclog cash flows in large projects. Nevertheless, it will be interesting to see if inflation follows the path that RBI expects. That will tell us if the RBI has cut rates too soon or if it was too late to act. Central bankers indeed have a difficult job.
That said, the inflation projections, lower real policy rate target and a distinctly more dovish tone indicate that there will be more rate cuts in the near future. We expect a further 25bps cut in the December meeting. Whether such a cut is necessary or even desirable is something we will know in the next one year.
Disclosure: I/we have no positions in any stocks mentioned, and no plans to initiate any positions within the next 72 hours.
I wrote this article myself, and it expresses my own opinions. I am not receiving compensation for it (other than from Seeking Alpha). I have no business relationship with any company whose stock is mentioned in this article.