The equity valuation of Ford (NYSE:F) reminds me that of a high-yield bond. Its forward yield at about 7% is attractive, but Ford is not a junk credit.
Firstly, the funding mix of its captive financing arm should not raise eyebrows, and comes with decent retail and lease credit ratios as well as strong credit loss metrics.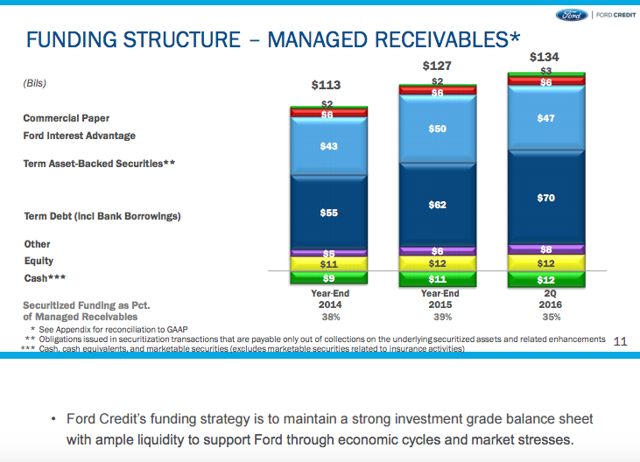 (Source: Ford Credit, Q216 results)
Secondly, the group's capital structure and gross cash position are certainly reassuring.
So, why are the shares trading at depressed levels -- some 22% below a 52-week high -- after a plunge of 12% so far this year?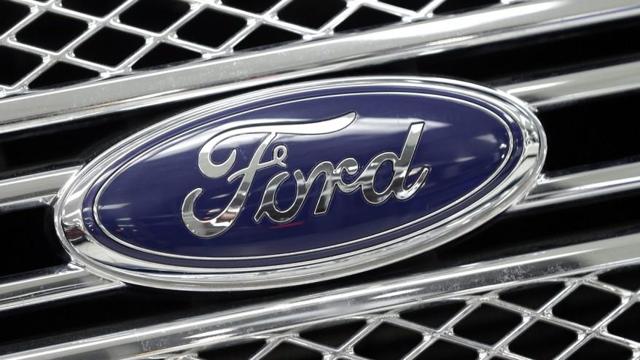 (Source: Logospike.com)
Weakness
Unfortunately, a higher payout has done little to shore up the equity valuation of the second-largest automaker in North America, which has enjoyed mixed fortunes since the turn of 2016, although good news also emerged with regard to its pension debts in January.
One of the most undervalued US stocks, Ford is at a crossroads as a pivotal third-quarter release approaches fast, and it runs the risk of falling behind its chief rival, General Motors (NYSE:GM), whose shares still trade at post-crisis IPO levels of $33 a share.
Ford is a highly liquid stock, and is constantly on the radar of value and income investors, who could also consider alternative, different investment strategies if they fancy a relatively risk-free trade -- although, most likely, with 'F' they will add volatility to their portfolios.
Just how risky, though, is Ford at this price based on its growth prospects?
Growth
On 7 January, I wrote:
Based on core cash flows and its payout ratio, you should feel safe at anywhere between $11 and $13, even though I'd rather embrace risk with another premium income stock that will likely be more defensive than Ford but offers similar upside over the medium term.
Exxon Mobil (NYSE: XOM), the value stock I sighted at the time, has rallied up to date, while the stock of Ford has traded in the range I predicted, and is currently changing hands at $12.3.
Crucially, investors do not seem to like its growth trajectory, which is shown in the table below.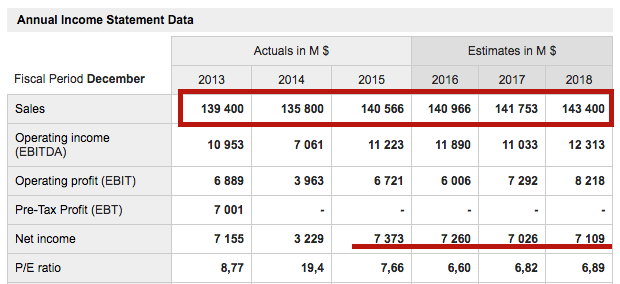 (Source: 4-traders.com, edited by this author)
Trends
However, it second-quarter results painted a rather different picture. Arguably, the biggest financial highlight of the year was the amount of cash being distributed to shareholders in the first half.
Not only, as expected, dividends per share almost doubled year-on-year, based on a constant share count, but also automotive sales were significantly higher on a comparable basis. Revenues growth outpaced the surge in cost of goods sold and SG&A year-on-year, although "financial services interest, operating and other expenses" were some $800m higher year-on-year.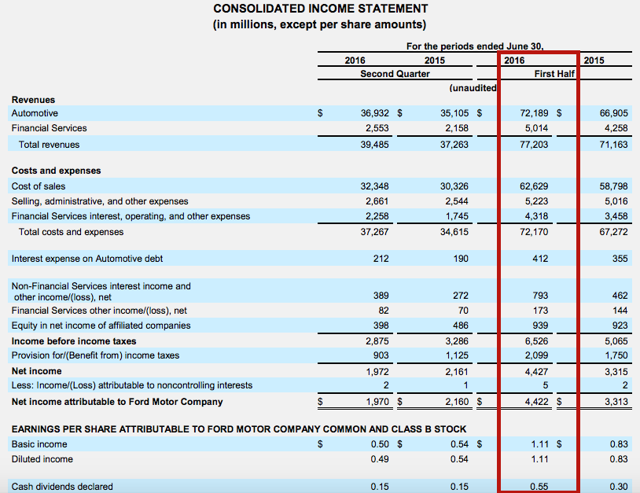 (Source: Ford Motor Co., edited by this author)
Notably, its core automotive business generated operating cash flow of $4.2bn, which represented "an all-time quarterly record", and fully covered capital requirements in the first half of the year, when capex fell 10% to $3.2bn.
This testifies to prudent cash flow management at a critical time; management is doing a good job but had to cut guidance for the year in September.

(Source: Morningstar.com)
Moreover, its debt profile is reassuring, as the chart above shows, and refinancing risk is lower than GM's through to 2025, as the table below indicates.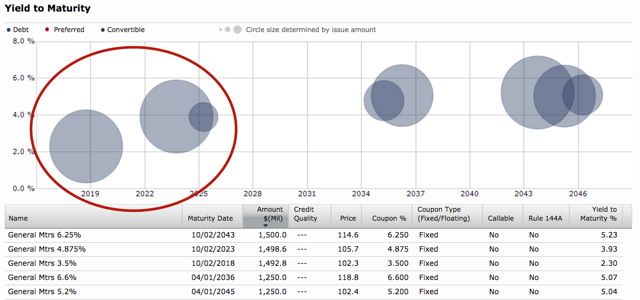 (Source: Morningstar.com, GM's debt maturity profile. Edited by this author)
Yet another recall recently hit Ford, so trailing trends for sales and cash flows might or might not be confirmed.
The financial community is eagerly waiting for third-quarter results to be released on 27 October as recent sales figures weren't great, to put it mildly, with the bears talking of an industry likely trading around record levels that could be hard to sustain in the near future, given the speed at which consumer spending in the US has risen of late, among other things.
Data
A recent headline from research house JD Power read:
September New-Vehicle Retail Sales Decline; Incentives Reach Highest Level Ever"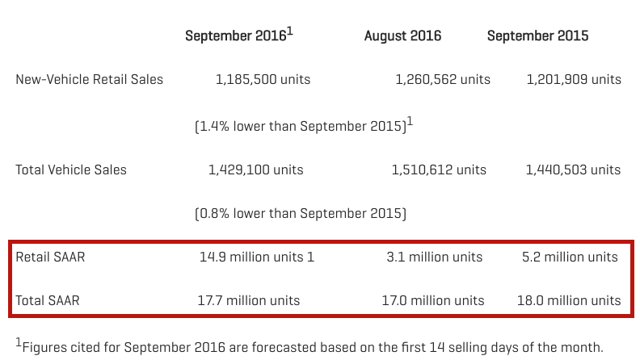 (Source: JP Power, edited by this author)
In October 2015, JD Power's monthly report was headed:
October New-Vehicle Retail Sales Strongest in 15 years," hence comparable figures may be particularly hard to beat later this month.
With this in mind, it's difficult to say how much risk is now embedded in consensus estimates, but what we know is that Ford shares should comfortably trade above current levels, according to most financial analysts. he good news here, in my view, is that not many of them have been bullish in the past 18 months, but nonetheless a few elements also indicate that the automaker could struggle to surprise investors in the near future.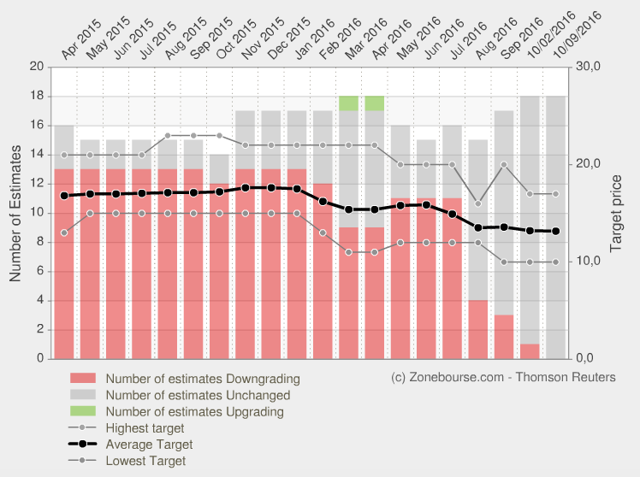 (Source: 4-traders.com, edited by this author)
Still, at just about 1.5x book value, its stock is not prohibitively priced, and it would make sense to add it to a properly diversified portfolio given a conservative payout ratio and decent prices at the long-end of its yield curve, which signals a good entry point for the equity.
Disclosure: I/we have no positions in any stocks mentioned, and no plans to initiate any positions within the next 72 hours.
I wrote this article myself, and it expresses my own opinions. I am not receiving compensation for it (other than from Seeking Alpha). I have no business relationship with any company whose stock is mentioned in this article.