Introduction
Dividend and income stocks have been under pressure since about the beginning of August. Several of my individual holdings hit their highs for the year during the first week of August, then began to roll over as the Fed began beating the drum for a September rate increase. Though the Fed ultimately voted overwhelmingly not to raise rates in September, they have held the door open to an increase in November and/or December. As a result, the possibility of an upcoming rate increase has spooked dividend and income investors enough to cause last week's 10%+ drop in valuations of dividend and income stocks.
Should the rout of last week be considered the start of a deeper and longer correction for dividend and income stocks or a temporary dip caused by an irrational fear that the Fed will begin to raise interest rates in November or December? Do we take advantage of the temporary dip to add to our portfolios or is it time to hunker down and wait for the balance of a coming bear market to manifest itself?
Economic Growth - Slowing or Accelerating?
Many of the latest metrics, including those that the Federal Reserve uses in making judgments about the health of the economy and as a gauge for inflation, are soft and getting softer. This is despite the administration's insistence that the economy is doing well. The two primary indicators that the Fed uses to gauge how fast the economy is growing are the US employment metrics and inflation. The administration likes to advertise that, under the Obama administration, the US has created over 14 million new jobs. However, a closer look at this metric shows a bit of labor engineering on the administration's part. The 14 million number only comes about if you start counting at the very low point of US employment in February 2010 (13 months after Obama took office). If you start counting the number of employed on January 20, 2009 when Obama was sworn in, the total is about 9 million versus the advertised 14 million.
Today, the official unemployment rate is 5% which is up from its low of 4.7% in May 2016. The chart below shows the unemployment rate with the periods of recession overlaid on the chart.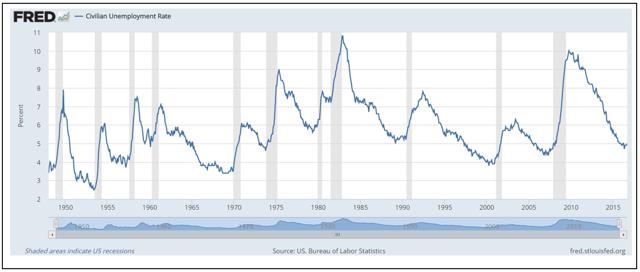 Click to enlarge
What is very difficult to see on the scale used in the chart above is the last few months of data which shows the curve flattening and actually turning up slightly since May. Readers are urged to go and visit the Federal Reserve Economic Data (FRED) website and study the curve in different time ranges. My bottom line on this metric is that the unemployment rate is either flat or very slowly rising. While the Fed could interpret the current 5% unemployment rate as "good enough" to justify a rate hike, the unemployment rate is currently headed in the wrong direction.
Consumer prices remain flat whether you look at the core CPI or you also include the volatile food and energy prices in the metric. The chart below shows both versions of the CPI metric.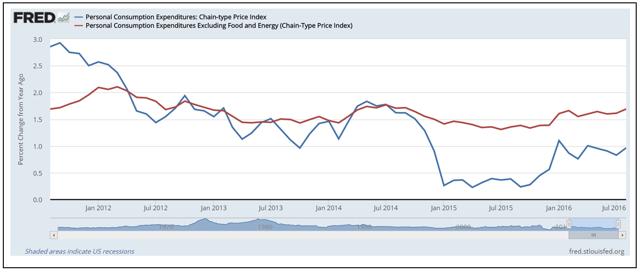 Click to enlarge
The chart shows us that the inflation index used by the Fed dipped below 2% roughly in June 2012 and has stubbornly stayed there through August 2016. Some readers might look at the data over the last year and conclude that inflation is on the upswing. You should note that there was a similar very slow upswing in the data from July 2013 through July 2014. My takeaway on this metric is that there might be some upward momentum on price inflation, but we really won't know for at least a couple more months and both measures are comfortably below the Fed's 2% target. What else might the Fed look at for hints about the strength of economic growth?
The purchasing manager index (PMI) is one set I always look at for clues about the direction and speed of the economy. The non-manufacturing PMI and the services PMI charts are provided below.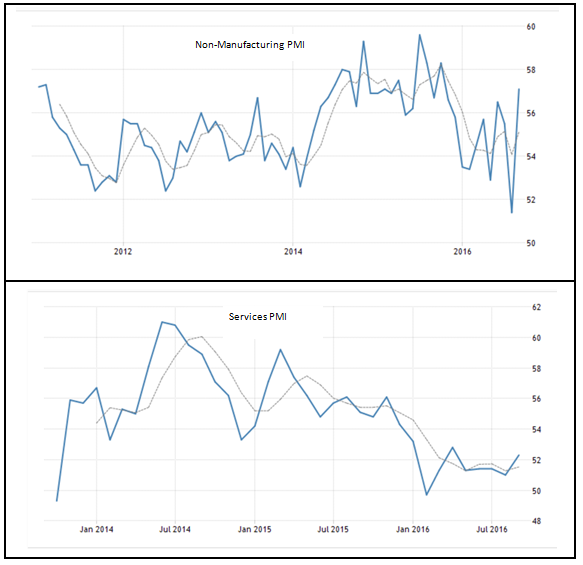 The non-manufacturing PMI showed a very large increase for the month of September, but if we look at data over the last 10 years, we will see that it is a fairly noisy metric and a one-month change does not make a trend. I include on both charts a 4-month moving average (black dotted line). The 4-month trend on both charts shows no real uptrend in either index and, if anything, the services index is continuing to trend downward. Neither of these would support a Fed rate hike at this time.
The Fed could also take a look at recent construction spending metrics, the chart of which is provided below.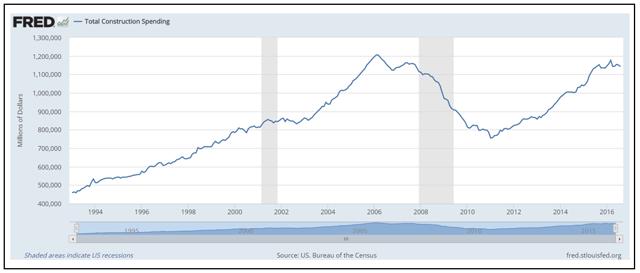 Click to enlarge
The chart shows us that construction spending, if anything, is essentially flat over the last few months. Readers should also note that flat or decreasing construction spending may portend a coming recession. The FRED construction spending data only goes back to 1993 so there are only two downturns in its past history. Clearly, construction spending would not support an interest rate increase by the Fed.
Another obvious indicator is US GDP growth and forecasted growth. Just a few days ago the Atlanta Fed reduced its third quarter GDPNow growth forecast for the US down to 2.1%. Prior to this latest reduction in forecasted growth, the second-quarter growth estimate was also lowered from a paltry 1.2% down to a miserly 1.1%. The reduction in third quarter 2016 growth has been pretty much continual. The chart below shows how the third-quarter growth forecast has been revised over time.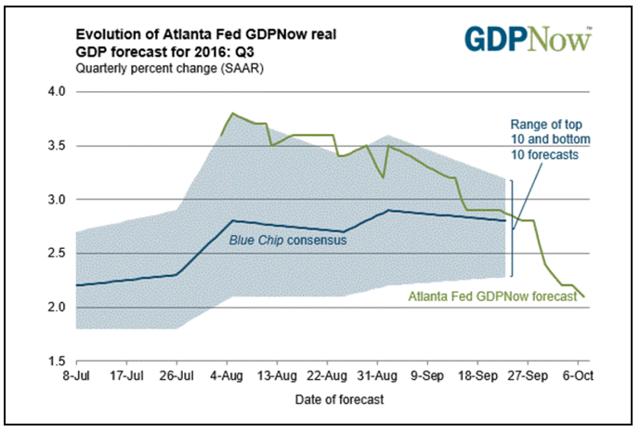 Click to enlarge
Given the 1.1% growth estimate of the second quarter and the nearly continuous downward revision of the third-quarter growth forecast now down to 2.1%, I'll be pleasantly surprised if the third-quarter estimate comes in at 2%. Slow and slowing economies typically warrant consideration of an interest rate reduction or other economic stimulus. What about global growth?
Technically, the Fed's focus is strictly on the US economy and employment. But, that is a holdover concept from the time prior to the development of our current interconnected global economy. US economic policy impacts global growth as well as growth of the US economy. The US really cannot aggressively change US monetary policy without other developed countries in lockstep. With essentially all of the other G-20 countries implementing a loose (lower rates and/or QE equivalent) monetary policy, the US Fed must consider the impact of raising interest rates in the US. For example, if the US were to raise interest rates in November and/or December, the US dollar would likely strengthen as investment dollars moved to the US. A higher dollar (relative to other currencies) makes US goods and services more expensive in the global market and both trade and US domestic company earnings would take a haircut. So, the bottom line of this paragraph is that the Fed must also consider the current economic conditions and economic trajectory of other countries. So, what does that look like?
As noted above, pretty much every other G-20 country's economic growth is worse than ours. We are the best looking and sweetest smelling hog in the pen. Most of the rest of the globe is still aggressively attempting to stimulate their economies and the results have been less than hoped for. The International Monetary Fund (IMF) just recently lowered its forecast for global economic growth down to 3.1% for 2016 and 3.4% for 2017, both down 0.1%. Readers can click here to read the full text of the IMF communiqué. With global growth forecasts slowing and most of the rest of the globe still working to stimulate their respective economies, the US Fed would have to think twice about raising interest rates in the US.
To summarize all the points above, I created a simple chart that indicates the direction of each metric from the standpoint of how I think the Fed members should interpret the metric.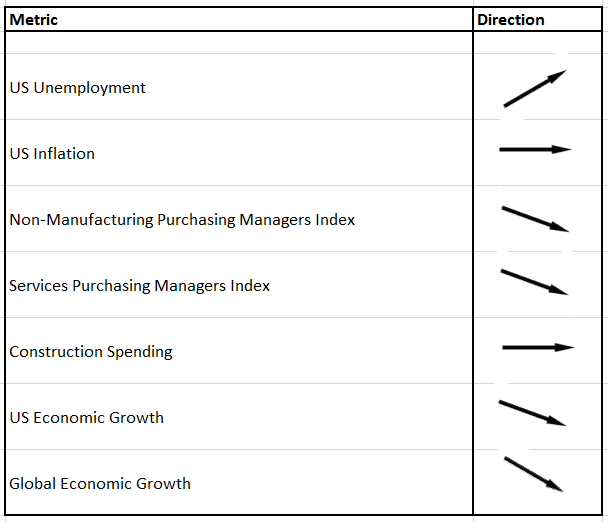 I don't think there is much in the chart that would support the Fed raising rates in the near term. Of course, that could change over the next month or two, but economic conditions typically don't change that quickly. My belief is that the Fed members will not vote to raise rates in November and likely will not do so in December as well. The economic conditions in the US and globally simply don't warrant a rate increase and any rate increase will result in slowing the pace of economic growth. This is exactly what we don't need.
Given that I'm of the opinion that there will not be a rate increase in November and very likely not in December of this year, what am I buying?
Dividend and Income Stocks
I usually keep handy lists of stocks that I would like to increase my holdings of or in which I'd like to initiate positions. Right now I have two separate lists. I have a list of oil and gas stocks that I'd like to add to my portfolio if we have another dip or correction in the price of crude oil. I also have a list of dividend and income stocks which I have provided below with current prices, target prices, and target yields.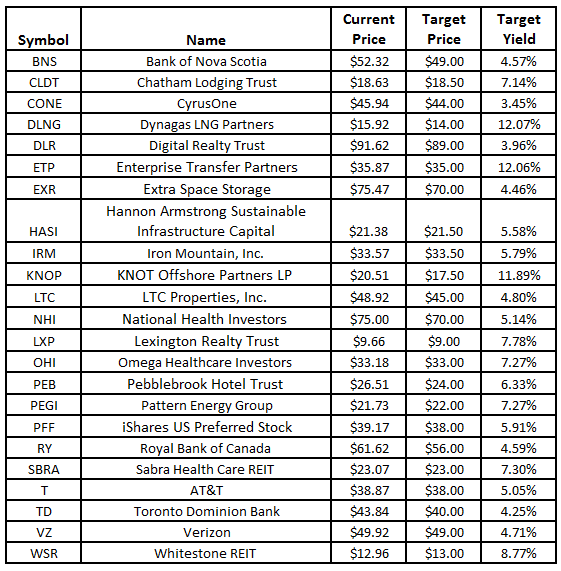 I update the list periodically adding or culling stocks that, for whatever reason, I decide I don't wish to own or to increase my holdings of. Wells Fargo (NYSE: WFC) is a good example. I had WFC on my buy list for some time and I currently have a couple of cash covered PUTs in WFC that I rolled out and down recently. I'll let them expire and just keep the premium. In order for the Seeking Alpha editor to pick up all the stocks listed, I need to include the list in the text of the article. The following list of stocks is exactly the same as the table above. The list includes Bank of Nova Scotia (NYSE: BNS), Chatham Lodging Trust (NYSE: CLDT), CyrusOne (NASDAQ: CONE), Dynagas LNG Partners (NYSE: DLNG), Digital Reality Trust (NYSE: DLR), Enterprise Transfer Partners (NYSE: ETP), Extra Space Storage (NYSE: EXR), Hannon Armstrong Sustainable Infrastructure Capital (NYSE: HASI), Iron Mountain Inc. (NYSE: IRM), KNOT Offshore Partners (NYSE: KNOP), LTC Properties (NYSE: LTC), National Health Investors (NYSE: NHI), Lexington Realty Trust (NYSE: LXP), Omega Healthcare Investors (NYSE: OHI), Pebblebrook Hotel Trust (NYSE: PEB), Pattern Energy Group (NASDAQ: PEGI), iShares U.S. Preferred Stock ETF (NYSE: PFF), Royal Bank of Canada (NYSE: RY), Sabra Health Care REIT (NASDAQ: SBRA), AT&T (NYSE: T), Toronto Dominion Bank (NYSE: TD), Verizon (NYSE: VZ), Whitestone REIT (NYSE: WSR).
Conclusion
Just before I finished this article, I took a break and read a couple of articles on Seeking Alpha. One of those articles was Peter Schiff's most recent, "The Next Recession Looms Large". I guess I fall into the delusional camp as defined by Peter that believes it is the wrong time for the Fed to raise rates because it will further tip our weak economy towards recession. While I enjoyed Peter's article and agree with many of his points, I don't agree that the next recession is looming or even a certainty at this time. The US economy has muddled along now for more than 7 years. While employment has improved, and wage growth has improved, inflation has remained subdued. Recessions (and depressions) are a necessary and normal part of our boom/bust/boom economy and it has been so for many decades. Recessions are necessary to wring out the economic excesses that occur during the economic boom portion of the business cycle. But we have had no boom in this most recent cycle and we've experienced neither price inflation nor wage inflation in the business cycle since 2008/2009. There is no apparent economic excess to wring out so why must there be a recession?
Time will certainly answer the question of whether we should expect a recession and/or a rate hike in the near term. I'm expecting neither and I'm adding those stocks to my portfolio that I believe will continue to grow and pay dividends over the long haul.
Disclaimer: This article is intended to provide my opinion to interested readers and to serve as a vehicle to generate informed discussion in the comment posting. I have no knowledge of individual investor circumstances, goals, portfolio concentration or diversification. Readers are strongly encouraged to complete their own due diligence on any stock, bond, fund or other investment mentioned in this article before investing.
Disclosure: I am/we are long BNS, IRM, TD, CLDT, PEB, VZ, PFF, ETP, OHI, RY, SBRA, DLNG, HASI, LXP, PEGI, WSR.
I wrote this article myself, and it expresses my own opinions. I am not receiving compensation for it (other than from Seeking Alpha). I have no business relationship with any company whose stock is mentioned in this article.
Additional disclosure: I may choose to add one or more of the listed stocks to my portfolio over the next 72 hours.