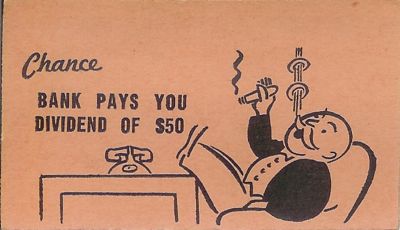 I warned in early July about the extreme valuations in the Utilities, Real Estate Investment Trusts, and Large-Cap Dividend Payers. In fact, I said that their valuations were entering into "bubble territory." You can read my article here.
You can't blame investors for chasing yield in a low yield world, but because of the outsized returns they were receiving, they were ignoring a very important factor in the market: VALUATION.
A vast majority of my clients are retirees that need income from their investments in the market. In recent years they have been forced out of the traditional havens of CD's, Fixed Annuities, and Government Treasuries because of Fed induced low interest rates of BIBLICAL proportions.
With extreme valuations in the aforementioned areas, low yields in the traditional income havens, and the potential for higher rates down the road, where can retirees turn in this environment for badly needed income?
Retirees seeking income face a wide array of problems in today's low interest rate environment.
Their biggest enemy over the last decade has been the FED.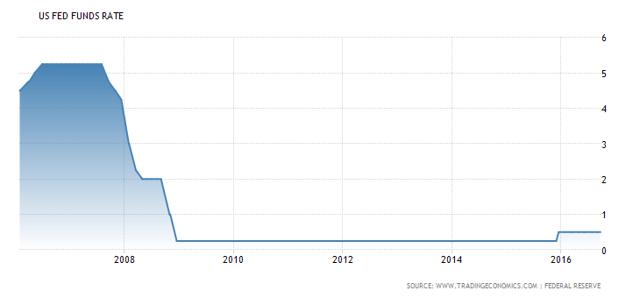 Click to enlarge
Currently the best one-year CD rate that I can find is a paltry 1.30%. If you extend that out to a five year CD, you might be able to get 2.25%. While CD's don't have the interest rate risk that bonds have, who can live on these paltry returns?
Speaking of bonds, the ten-year U.S. treasury currently sports a yield of 1.74%. You can hold it until maturity, but if you need to cash it out before then, you are at the mercy of interest rates.
Notice the recent 3 month sell-off in the following ETF (NYSEARCA:TLT) that invests in long-term U.S. bonds.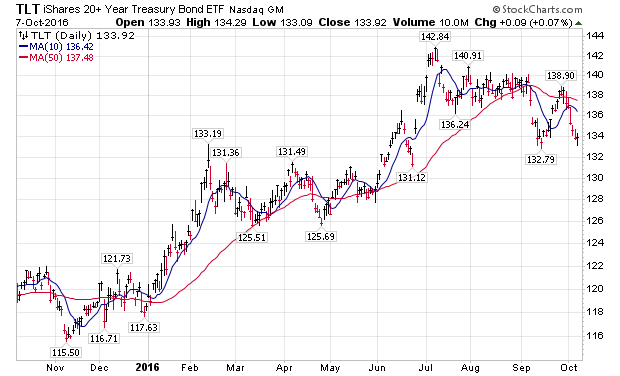 (Source: Stockcharts.com)
That is because interest rates have slowly been rising since they bottomed in early July.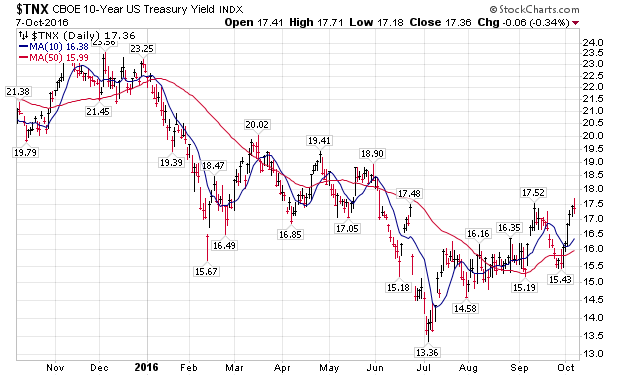 (Source: Stockcharts.com)
Almost every investor understands that when interest rates go up a little, bonds and bond funds go down a little. It is also true that when interest rates rise a lot, bond and bond funds go down a lot!
Here is a sobering thought. We currently still have the lowest interest rates in 5,000 years. What are the chances that they move lower? What are the chances that move higher?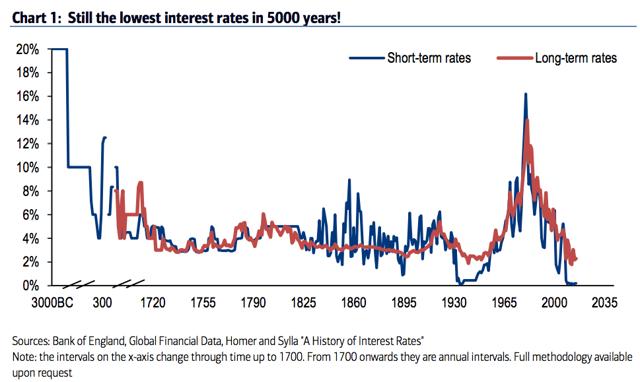 Click to enlarge
I strongly believe that there is currently unprecedented risk in the bond market. If we have unprecedented low rates, don't we also have unprecedented risk? I wrote about this precarious situation in a recent article.
It is mind boggling for me to think that traditional asset allocators are building in bond market assumptions that are built on historical returns. The fact of the matter is that bonds have given outsized returns over the last 1, 3, 5, and ten years.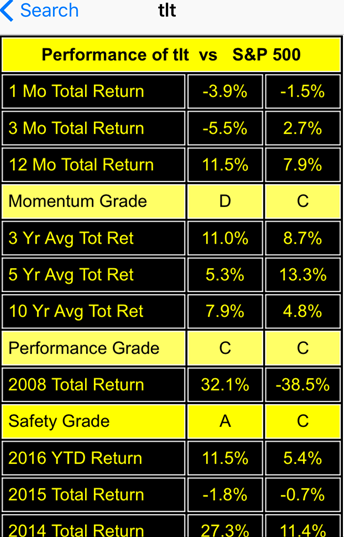 (Data from BestStocksNowApp.com)
This creates a very dangerous situation of complacency, as investors and advisors have greatly enjoyed, and in many cases are downright giddy over the returns of their bonds over the last few decades.
This is why I shun traditional asset allocation. Everything in life is cyclical. Economies are cyclical, interest rates are cyclical, bonds are cyclical, stocks are cyclical, and markets are cyclical.
There are times when I don't want to have ANY, or VERY little exposure to the stock market, especially when a recession approaches. Having said that, I put out a buy signal in my newsletter on the stock market back in late March of 2009, and it is still intact today.
But I remain vigilant on a daily basis watching for the signs of an economy that is turning negative. As of now, those signs are still not there as S&P 500 earnings continue to grow.
There are also times when I do not want to have ANY exposure to the bond market. Now is one of those rare times. It was reported by the IMF on Friday that governments around the world have racked up debt of $152 trillion! And you want to buy more?
With rates at 5,000 year lows, do you really think that those recent historic returns can continue? Today's complacency in the bond market reminds me of the complacency and unreasonable expectations in the stock market in the late nineties. That party ended in 2000 when Nasdaq valuations hit triple digits.
It has taken 16 years to get back to where the Nasdaq was in the year 2000. I was a professional money manager and an analyst during those heady days, and I probably will never see anything like it again in my lifetime.
I have seen some pretty nasty bubbles since then, however. Here in my home of San Diego, CA, back in 2006-2008, prospective buyers were camping out several days in advance to get a brand new home in the latest housing tract. Extremely easy money created unprecedented demand for homes that could be sold a few months later for a tidy profit.
This bubble lasted for a while, and everyone seemed to suddenly become an expert in real estate. Wrong! Once again that inconvenient truth of valuation once again reared its ugly head.
As I said earlier in this article, back in early July of this year I saw a similar complacency about utilities and REIT's. In my two decades in the market, I have never seen such ridiculous valuations in these two sectors.
They have corrected significantly since I put out those warnings. This Utility ETF is now down 10.7% since my warnings. That wipes out a lot of returns that investors, who were buying utilities back in July thought they would continue receiving.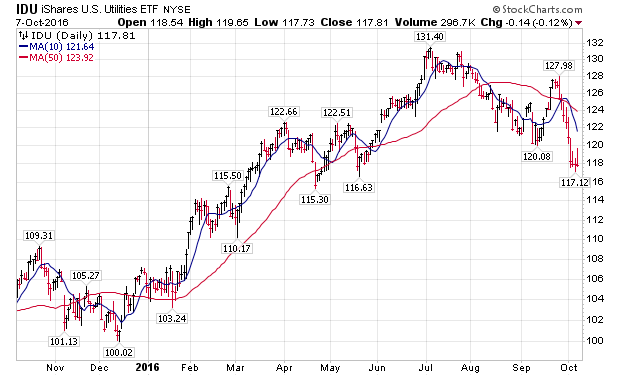 (Source: Stockcharts.com)
It seems that bubbles mostly all share the same characteristics. Outsized returns continue to attract investors who think that the ride will last forever. They COMPLETELY ignore valuations, and are instead sucked in by performance. I cannot emphasize enough how important VALUATION is, however/
It is always a good idea for investors to look at the long term historical price to earnings, price to sales, price to cash-flow, and price to book value ratios before plunking down their money. It makes much more sense to pay a low or reasonable valuation than a high or extreme valuation. You want the risk to reward ratio in your favor.
If you don't follow this procedure, you will have a lot of hard lessons to learn going forward. As an analyst, if I could not justify a much higher price based on valuation, then I could not recommend the stock.
Back in July of this year, I also saw EXTREME complacency in the REIT sector. As usual, Standard Poor's was getting ready to reward them with their own sector at right about their top. Maybe this one of the reasons for the extreme run up, but I think that investors chasing dividend yield were an even bigger reason.
REIT's were also attracting investors because of the "out-sized" returns that they had been dishing up over the last five years.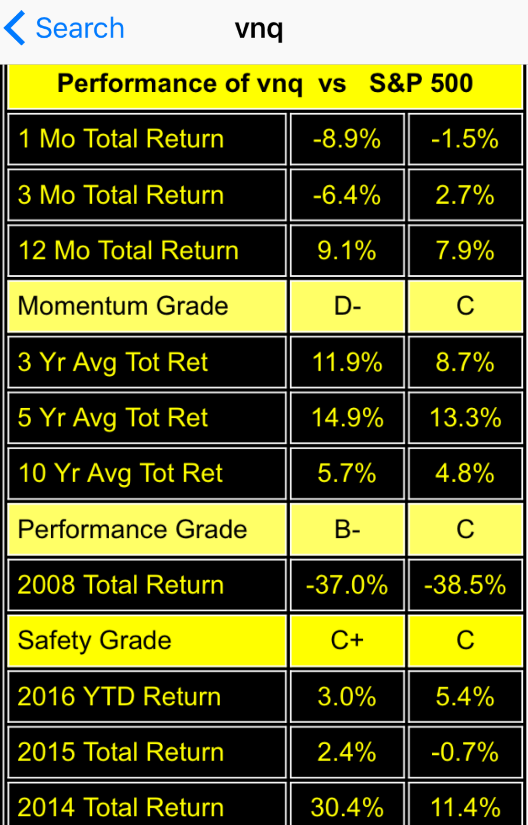 (Data from BestStocksNowApp.com)
Here, the bubble scenario plays out all over again. Outsized returns attract investors who eventually ignore valuations, and then the selling begins when more value oriented investors begin to sell for big profits.
In my August article, I gave several specific examples of REIT's that I cashed in for big, outsized gains back in July, when I took the time to examine their rising valuations. I find the REIT's and utilities to still be overvalued, yet I continue to see buy recommendations all the way down.
Now add in the recent rise in interest rates and the prospects for rates to continue to rise, and they just make little sense at the current time. Don't expect anywhere near the returns that you have received in the past. As interest rates continue to rise, REITs and Utilities become less and less attractive.
So now what is an income investor to do?
My growth and Income portfolio currently contains 26 positions. The average dividend yield is 7.6%. Here are three of my current favorites from that portfolio.
I have been writing about British Petroleum (NYSE:BP) for quite some time. It currently sports a dividend yield of 6.6%. The yield was over 7% when I bought it. BP is being helped by rising oil prices, a sinking pound, and the possibility of rising interest rates.
I continue to be bullish on the oil patch both for income and growth. Last week, I wrote about my two favorite energy stocks. They continue to break out to new highs.
I believe that BP still has plenty of upside potential along with its dividend yield.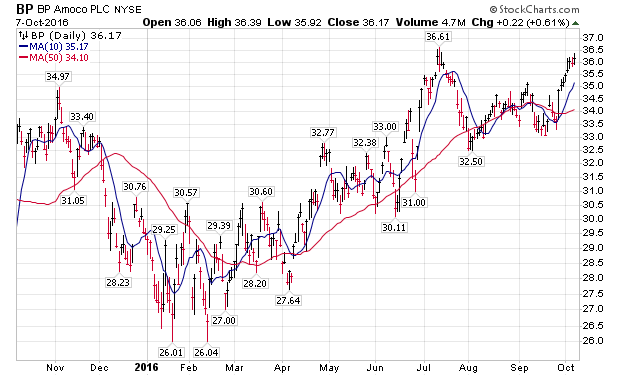 (Source: Stockcharts.com)
Banks also like rising rates. Brazil is also the top performing market in the world this year, and Banco Santander currently sports a dividend yield of 5.7%. My numbers show that the stock also has good upside potential in addition to the dividend.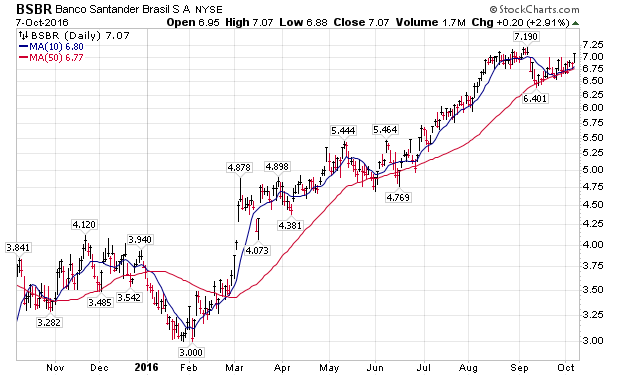 (Source: Stockcharts.com)
Floating Rate funds also benefit from rising rates. The BlackRock Floating Rate Income Trust Fund (NYSE:BGT) currently sports a dividend yield of 5.1% and could also deliver capital appreciation if rates continue to rise.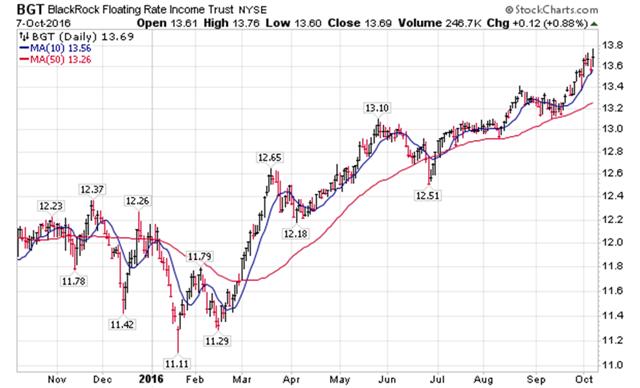 Click to enlarge
(Source: Stockcharts.com)
This is a very, very tricky environment indeed for income investors. Traditional Asset Allocation that leans heavily on bonds looks downright dangerous to me. What will the robots do when bonds start to come unraveled? In addition this, other traditional income sectors like utilities and REIT's continue to have very unfavorable risk to reward ratios.
Fortunately, with a little common sense and judgement, there are still plenty of opportunities to build an income and growth portfolio that can deliver a decent monthly check to retirees.
You can follow me on StockTwits.com: @BillGunderson or listen to my daily, national radio show on the Salem Wall St. Network.
Disclosure: I am/we are long BP, BSBR, BGT.
I wrote this article myself, and it expresses my own opinions. I am not receiving compensation for it (other than from Seeking Alpha). I have no business relationship with any company whose stock is mentioned in this article.