There is life in coal yet, or so it seems. The shares of CNX Coal Resources (NYSE:CNXC), a spin-off of Consol Energy (NYSE:CNX) have really been on a tear lately: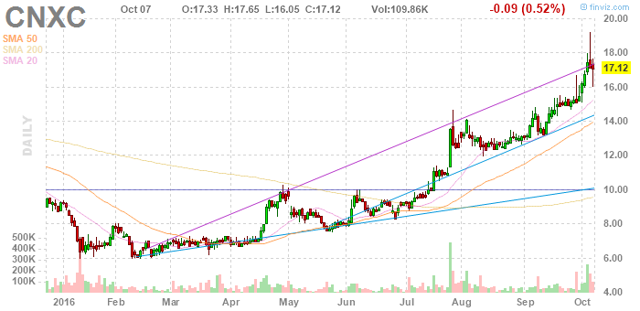 Click to enlarge
Can this bull run last? At first sight it is somewhat surprising. US coal doesn't seem to be a growth industry, with all the attention going to the spectacular growth and price declines of renewables and the inexorable rise of shale gas.
Together with tougher environmental regulation this seems to have eaten coal's lunch. So when a stock price basically triples in little over half a year, we take notice.
There are actually more depressing tidbits in the Q2 conference call, such as:
April's coal burn came in below 40 million tons for the first time since 1979. Coal accounted for only 24.6% of the generation mix that month compared with 34.1% for gas and domestic demand for coal shipments fell sharply
And recent company revenues seem to reflect the state of the coal industry.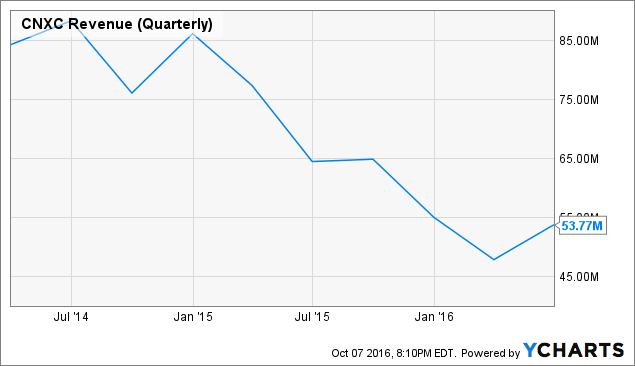 EBITDA points an equally declining picture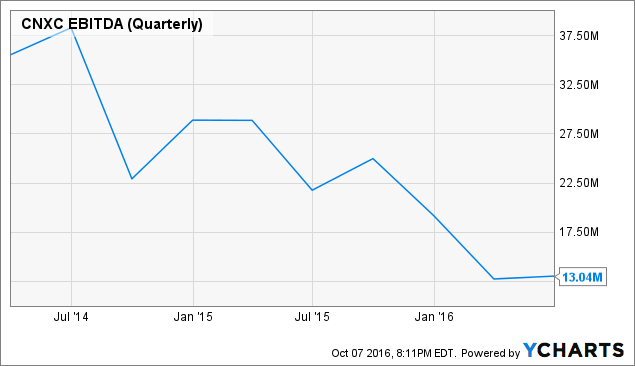 However, earnings look better, not in the past, but in the future.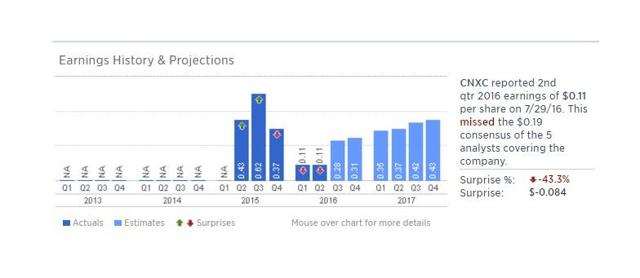 Click to enlarge
These are expected earnings, but it seems that, despite a substantial Q2 (and Q1) miss, investors are already heavily factoring these into the stock price. Indeed, this is what the company said (Q2 CC):
Coal pricing has been historically cyclical and we are seeing a number of indicators pointing towards rebalancing and strengthening the coal markets as we enter the back half of 2016 and move towards 2017. Domestically, hot summer temperatures bring the first real opportunity for the industry to work through the coal inventory overhang. Gas prices, which are a major driver of coal's competitiveness in the generation mix have persistently trend upward.
Further reasons for the optimism is strengthening overseas demand, which enabled the company to increase its foreign sales to 35%, from 26% in Q1.
Perhaps more importantly is the $10 per ton increase in netback price. Risings sales and prices is always an interesting feature in cyclical industries.
But there is a third leg in this:
The total cost of coal sold was $42.5 million for 2Q16 or $7.6 million lower than the $50.1 million for Q2 2015. The decrease in the total cost of coal sold was driven by the significant cost reduction efforts we have undertaken since the initial public offering. Average total cost per ton sold were $34.46 per ton for the current quarter, compared to $44.15 per ton for the prior-year quarter. Unit costs benefited from lower labor costs, productivity improvements, vendor concessions, and reduced discretionary spending on maintenance projects and mine supply. As noted in our last conference call, the sequential increase in cost per ton was driven by four longwall moves during the second quarter.
When rising revenue and prices meet declining cost, it's time for a party, and indeed that is what you see in the graph of the share price.
Will the party last? Well, analysts, on average, expect revenues of $226M this year, rising a whopping 48% to $315M next year.
The export boom isn't going to last though, in the second half the company expect exports to be just 10% of its sales. But this isn't a problem, far from it, once again from the Q2 CC:
I am very pleased to announce that we are now completely sold out for the second half of the year while running at a full production schedule. We also have a strong contracted position of 79% for 2017. The demand pool from our domestic customers is considerably stronger than it has been at any time in the last 14 months. This gives us confidence that our second half's domestic volume as a percentage of total sales will increase to 90% from approximately 69% in the first half. We have full expectations that our domestic customers will be taking their contracted tons and this will result in an improved pricing across the portfolio of 8% to 10% compared to Q2.
Because of previous weak quarters, the company has decided against the ($0.51 per share) pay-out of a distribution to CONSOL Energy (basically the parent company), underscoring the support they have from CONSOL.
At least some optimism has returned in the coal market, here is The Wall Street Journal:
Coal prices have soared this summer, after new mining restrictions curbed production in China, the world's biggest producer and consumer. Benchmark prices for thermal coal in Asia, Europe and the U.S. have climbed by more than a third since April, while the price of coal used in steelmaking is up 20% from its 2016 nadir in May. The rally is a stark reversal for the coal market, which has been in a protracted slide for much of the past five years.
One of the reasons is consolidation in China, were coal miners are limited to work 276 days (down from 330 previously). This has sent production declining by 14% and imports rising by 17%.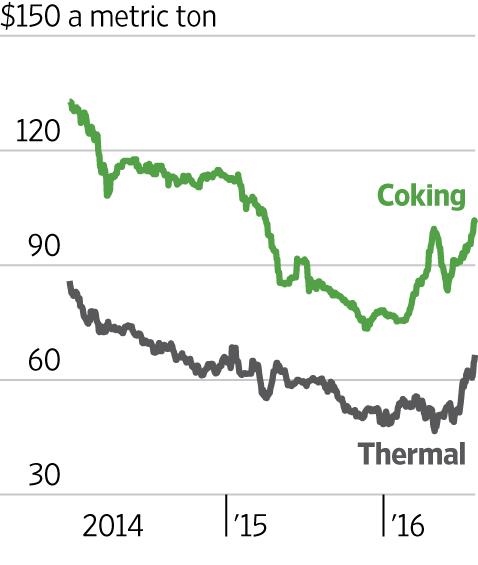 Structural headwinds
However, the same WSJ article noticed that the party might not last:
Despite their recent lift, analysts say several forces are likely to keep prices in check. China, like other big coal consumers, is trying to reduce its coal dependency and has imposed limits on new coal-fired plant construction. India, another top coal user, is boosting domestic production with the long-term goal of phasing out coal imports.
Coal suffers from two fundamental problems. It produces twice the amount of CO2 per thermal unit compared to natural gas, making it very inefficient from a climate point of view.
Secondly, and this is often left out, it adds significant to fine particle and other pollutants, which are really big silent killers.
Given these problems, it has to compete with cleaner alternatives like natural gas and solar and wind energy. It's not doing a good job:
Developers installed 16 gigawatts of clean energy in 2015, or 68 percent of all new capacity, Bloomberg New Energy Finance said in its Sustainable Energy in America Factbook released Thursday with the Business Council for Sustainable Energy. That was the second straight year that clean power eclipsed fossil fuels.
Basically, coal plants are not added, but closed in the US. While elsewhere, things might look a bit brighter, but not by a whole lot. And then there is simply this:

Click to enlarge
These price falls are ongoing. Indeed, the price declines in solar is accelerating at the moment because there is a bit of a glut in the market.
While the immediate future of the coal business in the US looks a bit brighter, this is unlikely to amount to a more prolonged, structural upturn.
This could be the case if natural gas prices were going to trend up significantly, and indeed that is what some people predict, including Senior Vice President Jim McCaffrey on the Q2 CC.
Much natural gas production is a by-product of oil in the US, and since so many rigs have been sidelined, there could be something in this.
But we've heard predictions of higher natural gas prices for years on end so we're not convinced. Besides, another side effect of the oil price crash is that shale has become considerably more efficient and lowered cost significantly.
The company has $181M in debt, not something to be terribly worried about. The shares have absorbed a good deal of the improvement though: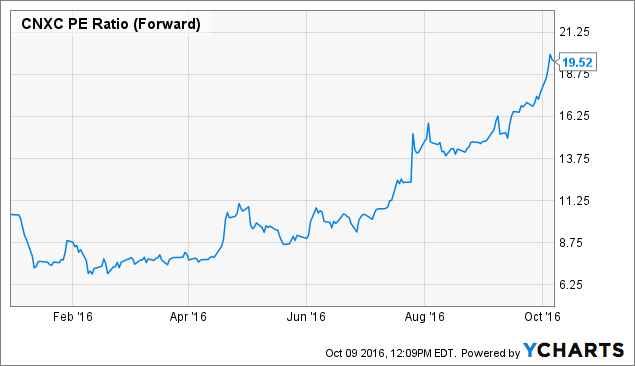 They are also overbought and need to consolidate for a while.
Conclusion
The share price has been depressed by the unprecedented fall of the prices of gas and coal, and because of coal's structural problems.
However a cyclical rebound is in sight and the share price has already factored much of this in. This could last a bit. However, after a cyclical upturn normally comes a downturn, and more importantly, there are important structural headwinds which are hard to beat.
The most important metric would be the natural gas price. If that keeps on climbing, there could be upside left in the shares. If not, we think most of the gains are already priced in.
Disclosure: I/we have no positions in any stocks mentioned, and no plans to initiate any positions within the next 72 hours.
I wrote this article myself, and it expresses my own opinions. I am not receiving compensation for it (other than from Seeking Alpha). I have no business relationship with any company whose stock is mentioned in this article.