Introduction
In this article, we firstly look at the stocks that have the highest ratio of upside capture over downside capture compared to the Nasdaq-100 (NASDAQ:QQQ). While history is no guarantee of future results, we believe the stocks presented based on the screening herein warrant further analysis and may complement an existing portfolio well. The second step then is to look at the growth story and fundamental business model behind each of the top 10 stocks and draw conclusions if the quantitative price behavior is likely to continue into the future.
For the initial screening, we chose the ratio of upside over downside capture as opposed to return over standard deviation as it is one of the lesser-known approaches and as we believe it gives a more complete picture of benchmarked investing. For instance, the standard deviation metric has shortcomings for it sometimes gives us no direct information on the direction of the price trend, and the return metric tells us little to nothing about how a stock behaves when the benchmark suffers losses. As such, we believe we can gauge more effectively the historic positive and negative co-momentum with the metrics we chose.
To achieve the outcome below, we firstly gathered return data on all stocks in the Nasdaq-100, starting on January 1st 2007. As of 10/7/2016, the most rewarding stocks as measured by upside over downside capture are then listed below. We will see a diverse picture of industries represented, and all of the stocks have technical setups that look encouraging, either because of the solid stock trend or because of a medium-term bottom forming setup.
As an example of the ratio we used to preliminarily screen stocks, let's highlight the upside/downside capture tradeoff with the example of Facebook (NASDAQ:FB):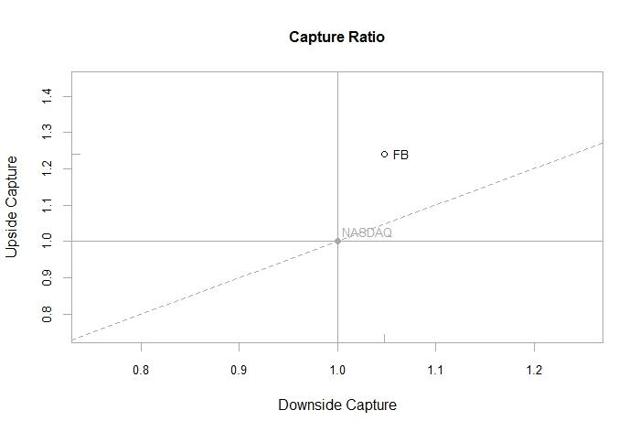 Click to enlarge
In the chart above, we see the amplification Facebook captures when the Nasdaq trades positively, in this case 1.24, meaning Facebook returns a positive factor of 1.24 when the Nasdaq is up. On the other hand, when the Nasdaq is down, Facebook amplifies the losses by a factor of 1.047. The interesting aspect is how both measures relate to each other, so by dividing the two we get an understanding of how rewarding the stock, Facebook, is. In this case, it is 1.18.
Getting into our screening, we can highlight this trade-off for all stocks in the Nasdaq-100: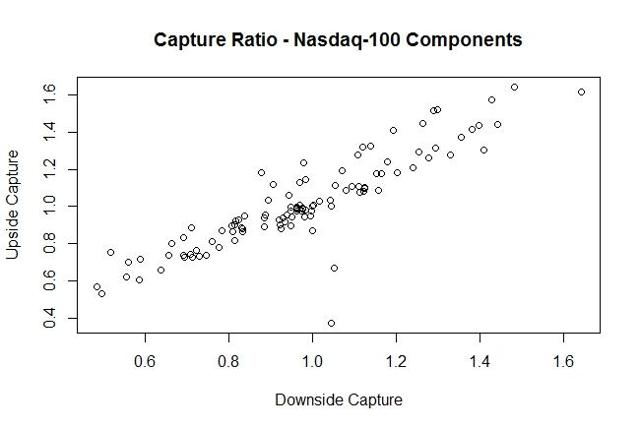 Click to enlarge
We get a pretty diverse picture, but generally the upside capture relates linearly to the downside capture and while we have a few outliers, generally the picture is consistent.
As mentioned above, the interesting thing is which ones had the best upside over downside capture tradeoff. In order to do this, find below those that have an upside/downside capture ratio of over 1. By that, we can plot visually those that generally are more rewarding on the upside over the downside. Blue are those that have an upside/downside capture ratio of over 1, those that have one below 1 are colored red.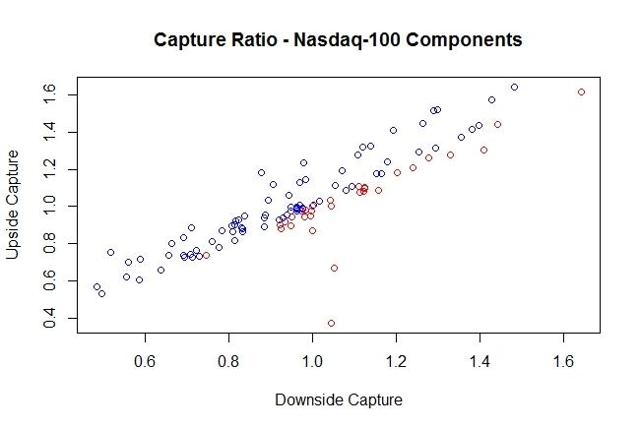 Click to enlarge
Now, this is pretty good, but for the large number of residuals, that won't give us an actionable portfolio of investable securities, so we reasonably reduce the potential candidates to the top 10: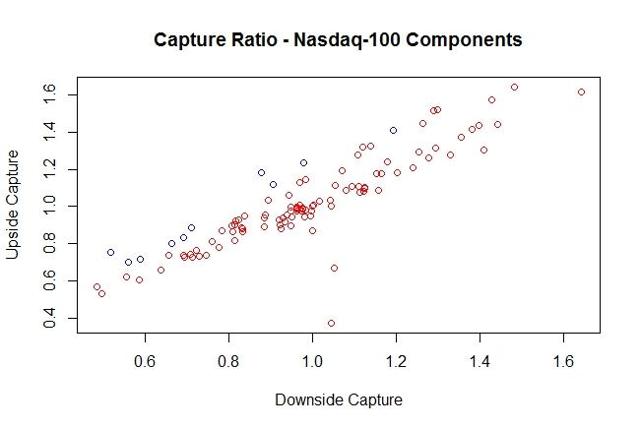 Click to enlarge
We can see that those that have the highest upside over downside capture are generally found in the mid- to bottom-left area of the scatterplot, meaning they tend not to move particularly more intense than the Nasdaq on both positive and negative days, but have a tradeoff that is the most favorable among all Nasdaq-100 components.
The Top 10 based on Upside / Downside Capture Historical Tradeoff
Number 10 - Regeneron Pharmaceuticals (NASDAQ:REGN)
Regeneron, the only pharmaceutical company in our top 10, has a P/E of 62, a remarkable yearly revenue growth of 37% and a gross margin of 89.4%. Return-on-Equity and Return-on-Assets speak for it with ratios of 19.6% and 13.6%, respectively. Additionally, the pipeline looks strong beyond 2016 with strong focus on R&D development. While it has seen a heavy price retreat YTD, the technical picture has stabilized amid a sharpe ratio of 0.70 and the potential blockbuster drugs Dupixent and Eylea. The upside over downside capture is 1.18, the upside capture is 1.41 while the downside capture is 1.19.
Number 9 - O'Reilly Automotive (NASDAQ:ORLY)
O'Reilly Automotive, an automotive aftermarket retailer, trades at a trailing P/E of 27 and has a market cap of around 26 billion USD. It has consistently beat earnings expectations and trades near its all-time highs. Revenue of O'Reilly has consistently climbed, with no declines even amid the 2007 financial crisis. It captures the factor of .80 on the upside, and the factor of 0.67 on the downside, yielding a capture ratio of 1.20, which places it at rank number 9 in our quantitative screening with a sharpe of 0.86. While I consider O'Reilly a good addition to the portfolio, investors should watch closely the debt development of the company, which with a debt/equity ratio of 111% is not yet a major concern, but may play out to be if the company keeps raising debt at a fast pace.
Number 8 - Ross Stores Inc. (NASDAQ:ROST)
Ross Stores is an apparel and home accessories retailer. It has a strong institutional investor base with 94% of the shares held. Additionally, Ross Stores has a consistent track record of beating expectations and has recently seen a YoY revenue growth of 6.6%. With a gross margin of 28% amid a ROE of 42%, the headline fundamentals are intact for this diversified retailer. The price chart also looks encouraging, with little drawdowns and a solid upward trajectory. While there are concerns about the continued earnings growth power of the company, it is an interesting stock worth of further analysis. With a dividend yield of 0.84% and a P/E of 24, I consider it not overvalued in light of its earnings outlook. Ross Stores has since 2007 captured the factor of 0.84 on the upside over a factor of 0.69 on the downside, yielding a upside/downside ratio of 1.20.
Number 7 - Kraft Heinz (NASDAQ:KHC)
Kraft Heinz, a dinosaur in the food and beverages industry, posts a trailing P/E of 66, sparking concerns about its high valuation. However, Kraft Heinz has a solid track record of growing revenue consistently, and has the highest expected earnings growth rate among its peers. While the strong growth may very well play out to be true, and while it certainly is true that Kraft Heinz has exhibited strong innovation potential, the elevated valuation is not for value-oriented investors. Kraft Heinz has captured the factor of 0.72 and 0.59 on the upside and downside over the Nasdaq, respectively.
Number 6 - Liberty Ventures (NASDAQ:LVNTA)
Liberty Ventures, among my favorites, is predominantly active in the video and online business. Among their interests are LendingTree, Expedia and QVC. A mere 0.65% of shares are short, and 0.6% of the stock is held by insiders. The latest yearly revenue growth came in at 5.5% amid a P/E ratio of 27 and a ROE (ROA) of 14.7% (4.8%). The strong diversification and the solid management of the conglomerate additionally speak for it. Liberty Ventures came in number 6 with a historic upside capture of 1.12 and a downside capture of 0.91, putting the ratio at 1.23. I would consider Liberty Ventures as a solid amendment to a portfolio.
Number 5 - Monster Beverage (NASDAQ: MNST)
Monster Beverage makes the mid of our list with an upside capture of 0.88 and a downside capture of 0.71. It has posted an annualized gain of 24.7% amid a volatility of 43%. The upside/downside capture ratio is 1.24. On track for a strong international expansion, it is valued much richer than its peers at a P/E of 45.6 and a forward P/E of around 30. The business' gross margin comes in at around 61% and efficiency measures such as ROE (16.4%) and ROA (13.5%) both indicate the solid fundamentals behind the stock. Catalysts for the stock include the decreasing distribution costs as a result of the partnership with Coca-Cola, its expected yearly earnings growth of around 22% (industry average: 10.3%) and its strong focus on product innovation.
Number 4 - Dollar Tree (NASDAQ:DLTR)
Dollar Tree, one of the largest discount store operators in the US, comes in number 4 by having posted an upside/downside capture ratio of 1.26. The company has recently retreated in share price amid increasing competition and declining profitability metrics, including margins. Additionally, the online-retailing advance and price offensives led by Wal-Mart (NYSE:WMT) pose concerns as well. While number 4 on historic capture ratios and having a current earnings yield of around 6%, I would refrain from opening positions in this company and I would wait for further catalysts, including a sign of improving margins, before going long this company.
Number 3 - The Priceline Group (NASDAQ:PCLN)
The Priceline Group has been one of the most rewarding stocks in recent history, averaging an annualized gain of 43.4% since 2007. Set in the online travel industry, it has recently posted a YoY revenue growth of 11.5% amid a P/E of 28. While the market cap of 73 billion USD amid a less than 10 billion USD revenue speaks for ambitious valuation, there are also increasing threats to its business model. Ranked number 3 with an upside capture of 1.23 and a downside capture of 0.98. The Priceline stock is not among my favorites in this list.
Number 2 - Netflix Inc. (NASDAQ:NFLX)
Netflix comes in number 2 in the quantitative screening with an upside capture of 1.18 and a downside capture of .88. Netflix certainly is a stock that polarizes among a high P/E of over 300 and worries about its subscription growth rates. Additionally, an increasing number of observers are casting doubts about Netflix's strong focus on original content, a step that was and is still widely considered a genius move of Netflix. Even if Netflix comes in number 2 based on these sole quantitative measures, I for my part try to avoid Netflix for its high valuation, uncertain outlook and the theatric of a potential take-over.
Number 1 - Charter Communications (NASDAQ:CHTR)
Charter Communications, providing broadband communication services, is a stock that has seen a low-volatility upwards trajectory for several years. At a trailing P/E of 21.50 it is not outright cheap, but has exhibited recent strength and an intensification of its price advance. With 78% of shares held by institutional investors and 20% held by insiders, it shows a solid shareholder structure. The most recent YoY revenue growth was 44.6% and Charter posts a gross margin of 29.4%. On positive days, it captures the factor of 0.75 over the Nasdaq, but only the factor of 0.52 on negative days, resulting in an upside/downside capture ratio of 1.45, the best among all stocks in the Nasdaq. Additionally, the sharpe ratio of Charter is 1.28. Based on the video subscriber outlook and the efficient management behind the company, I would consider Charter a good addition to my portfolio.
Conclusion
In this article, we came from a solely quantitative screening to a set of the top 10 values based on upside and downside capture over the Nasdaq. However, not all stocks that were originally in the top 10 also make good fundamental cases in my opinion. Some have shown recent fundamental weakness amid increasing business model threats, while others have become increasingly overvalued. However, there are also a few names that are worth taking a closer look at. From the list above, I am both fundamentally and technically most convinced by Charter Communications, Monster Beverage, Liberty Ventures, Ross Stores, O'Reilly Automotive and Regeneron Pharmaceuticals. Before making an investment decision, interested readers and investors are encouraged to do further in-depth analysis on the stocks presented herein.
Disclosure: I am/we are long FB AND MAY INITIATE LONG POSITIONS IN ALL STOCKS MENTIONED OVER THE NEXT 72 HOURS.
I wrote this article myself, and it expresses my own opinions. I am not receiving compensation for it (other than from Seeking Alpha). I have no business relationship with any company whose stock is mentioned in this article.