Performance and Valuation Prime™ Chart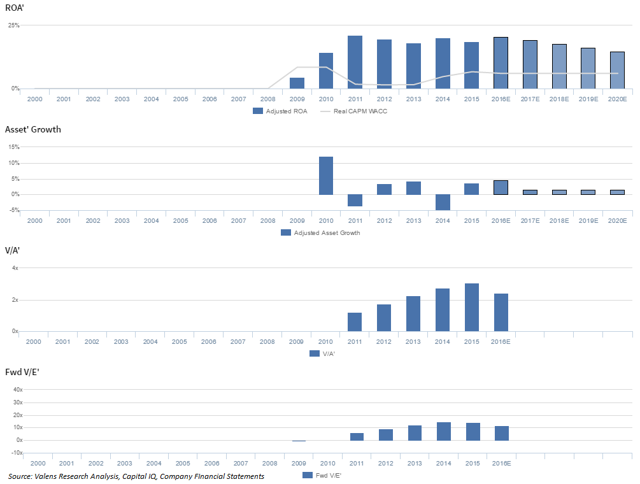 Click to enlarge Since 2009, when Delphi Automotive (NYSE:DLPH) relisted post-bankruptcy, it has seen robust profitability, with Adjusted ROA (ROA') increasing from 4% in 2009 to a peak of 21% in 2011, stabilizing at 18-20% levels since. Meanwhile, Adjusted Asset (Asset') growth has been somewhat volatile, positive in four of the past six years, ranging from -5% to 12%.
For context, the PVP chart above reflects the real, economic performance and valuation measures of DLPH after making many major adjustments to the as-reported financials. This chart, along with all of the charts included in this article, as well as the detail behind the graphics, can be found here.
The four panels explain the company's historical corporate performance and valuation levels plus consensus estimates for forecast years as well as what the market is currently pricing in, in terms of expectations for profitability and growth.
The apostrophe after ROA', Asset', V/A', and V/E' is the symbol for "prime" which means "adjusted." These calculations have been modified with comprehensive adjustments to remove as-reported earnings, asset, liability, and cash flow statement inconsistencies and distortions. To better understand the PVP chart and the following discussion, please refer to our guide here.
Performance Drivers - Sales, Margins, and Turns
It can be helpful to break down ROA' into its DuPont formula parts, Adjusted Earnings Margin (Earnings' Margin) and Adjusted Asset Turnover (Asset' Turns), which are the cleaned up margins and turns metrics used to calculate ROA'. The chart below details both Earnings' Margin and Asset' Turns historically to help us better understand the drivers of the firm's profitability and performance. The detail behind the chart can be found here.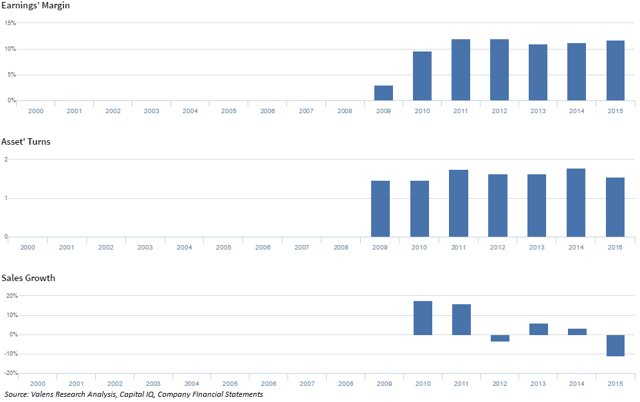 Click to enlarge
Since 2009, the trend in ROA' has been driven by strengthening Earnings' Margins and stability in Asset' Turns. Earnings' Margins increased from 3% in 2009 to 12% in 2011, and have stabilized at 11-12% levels since. Meanwhile, Asset' Turns have ranged from 1.5-1.8x since 2009. The company's ability to expand profitability while growing the business, as seen by its sales growth, which was robustly positive for four of the past six years, helps highlight how well the company has executed.
Embedded Expectations Analysis
As investors, understanding what the market is embedding in the stock price in terms of expectations is paramount to making good decisions. Without understanding what the market is pricing in, it is impossible to claim that the market is wrong. We derive market expectations for the firm from valuations and historical performance trends to give a clearer picture into what the market is projecting for the firm.
DLPH is trading at a 12.0x V/E', near historical averages. However, it is at the low-end of valuations since 2014. At these levels, the market is pricing in expectations for a declining ROA' from 18% in 2015 to 15% in 2020, accompanied by 2% Asset' growth. These expectations appear low considering the company has had very stable 18-20% ROA' since 2011, and has had multiple years of growth above these rates over the past seven years.
Analyst and Management Expectations and Alignment
Analysts have bullish expectations relative to the market, projecting ROA' to remain at current 19-20% levels, accompanied by 5% Asset' growth.
Moreover, qualitative analysis of the firm's Q2 2016 earnings call highlights that management is confident about overall bookings growth and about its ability to achieve increased earnings per share guidance. Moreover, it is confident that the 48-volt mild hybrids deliver a roughly 70% reduction in CO2 emissions compared to full hybrids at about 30% of the cost.
Peer Analysis
A major benefit of adjusting as-reported financial statements is to clear away accounting distortions, to allow for more accurate peer-to-peer comparisons. To this end, we have included ROA' and Asset' growth charts for two of DLPH's peers, Visteon Corporation (NYSE:VC) and Lear Corp. (NYSE:LEA), in order to compare historical profitability and growth with the context of current management expectations.
VC Historical ROA' and Asset' Growth

Click to enlarge
Historically, VC was a below-cost-of-capital business with ROA' declining from 5% in 2000 to 0-1% levels from 2002-2005, before declining into negative territory from 2006-2009. If we could see DLPH's pre-bankruptcy profitability, to be fair, we would likely see similar profitability.
While the firm continued its aggressive improvement plan, started in 2005, by focusing on cost cutting and divesting from non-core and unprofitable businesses, it was unable to drive ROA' back to positive levels until 2010, when ROA' reached 5% once more. However, this was short-lived as ROA' quickly declined back to 0% in 2012.
In 2014, ROA' jumped to 10% levels, where it remained in 2015, as the firm finally began to benefit from their strategic focus on vehicle climate control and cockpit electronics, while continuing to exit non-core businesses. As previously mentioned, the firm has historically focused on shrinking its Asset' base, as it has in 11 of the past 16 years, which included the sale of Halla Visteon Climate Control in 2015.
While VC has made operational improvements the last several years, it has not been able to maintain the strong profitability that DLPH has, or to invest for growth as DLPH has, as both ROA' and Asset' growth rates have trailed DLPH. Also, even with VC's weaker and more volatile earnings, markets do not appear to be expecting any more ROA' compression for it than they are for DLPH, only expecting ROA' to decline from 10% to 8% over the next several years.
Additionally, qualitative analysis of the VC's Q2 2016 earnings call highlights that management appears concerned about the sustainability of EBITDA, EPS, margin, free cash flow, and backlog growth. Furthermore, it appears concerned about the sustainability of light vehicle volume growth in China, and may lack confidence in its projection for sales in China to outpace domestic production growth. Additionally, it appears concerned about the sustainability of new business growth, as well as the impact of Brexit on European production volumes.
LEA Historical ROA' and Asset' Growth

Click to enlarge
While VC has clearly consistently underperformed relative to DLPH, LEA has been a stronger competitor. Prior to 2010, LEA had seen declining ROA', falling from a peak of 25% in 2000 to a low of -7% in 2009. However, in 2010, ROA' rebounded to 11% before ranging from 13-18% through 2015. This is below DLPH levels, but with similar level of consistency through this cycle. Meanwhile, Asset' growth has been volatile, both materially positive and negative over the past 15 years.
While LEA has performed closer to DLPH in recent years, qualitative analysis of the firm's Q2 2016 earnings call highlights that management appears concerned about the sustainability of new business growth, and the impact of currency fluctuations on its guidance and results. LEA also appears to be exaggerating the benefits of its most recent acquisitions.
Considering LEA management's concerns about its outlook for the business, market expectations for ROA' to trend back slightly below the lower end of the recent range appears warranted, with market expectations for ROA' to fade to 11% levels.
Market expectations for DLPH and its peers is for all three companies to have ROA' compression going forward. This may be warranted for VC and LEA, with more volatile ROA' over the past 5+ years than DLPH, and management concerns from both about its outlook for its business. However, DLPH's stronger, stable historical profitability and management confidence about its outlook and operations points to reasons why market expectations for DLPH may be too pessimistic.
Valuation Matrix - ROA' and Asset' Growth as Drivers of Valuation
When valuing a company, it is important to consider more than a singular target price, and instead the potential value of a firm at various levels of performance. The below matrix highlights potential prices for DLPH at various levels of profitability (in terms of ROA') and growth (Asset' growth). Prices that are in excess of 10% equity upside are highlighted in black, and prices representing an excess of 10% equity downside are highlighted in red. To see more about the below chart, and also to be able to input your own scenarios to understand how it impacts valuations, please click here.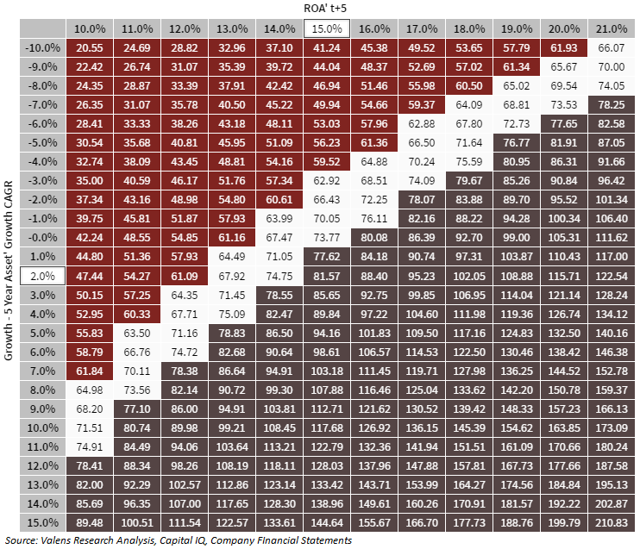 Click to enlarge
To justify current prices, DLPH would need to see ROA' fall to 15% levels last seen in 2010, accompanied by 2% Asset' growth, which would be below historical averages. If the firm were to see ROA' remain at current 18-20% levels, accompanied by 5% Asset' growth, as projected by analysts, equity upside would be material.
Considering management's confidence around overall bookings growth and about its ability to achieve increased earnings per share guidance, there is a good chance that the firm will be able to maintain or even improve its ROA' levels with modest Asset' growth. As a result, equity upside may be warranted going forward.
To find out more about Delphi Automotive plc and how its performance and market expectations compare to peers, click here to access the open beta of the Valens Research database.
Our Chief Investment Strategist, Joel Litman, chairs the Valens Equities and Credit Research Committees, which are responsible for this article along with the lead analyst, Cheska Pablico. Professor Litman is regarded around the world for his expertise in forensic accounting and "forensic fundamental" analysis, particularly in corporate performance and valuation.
Disclosure: I/we have no positions in any stocks mentioned, and no plans to initiate any positions within the next 72 hours.
I wrote this article myself, and it expresses my own opinions. I am not receiving compensation for it (other than from Seeking Alpha). I have no business relationship with any company whose stock is mentioned in this article.