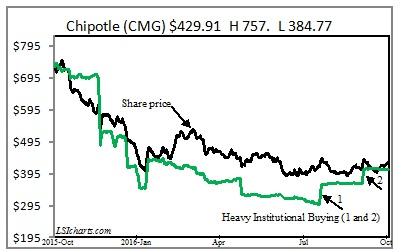 Chipotle (NYSE:CMG) shares are experiencing institutional buying for the first time since the E. coli outbreak in the fourth quarter of 2015. Two periods of heavy institutional buying are visible on the institutional LSI chart and the line has once again returned to a positive trajectory, indicated in green. The LSI chart of Chipotle reveals that the stock supply overhang as a result of institutional selling has dissipated to offer a more favorable environment for investors. A return to profitability and improving customer traffic at Chipotle appear to be the main catalysts for the recent institutional buying in anticipation of an overall return to growth.
LSI charts provide a real-time glimpse of institutional forces driving share prices. These charts create a visible representation of volume's influence on share price change to reveal the underlying supply and demand characteristics of stocks. Investors can directly correlate the movement of share price against institutional activity represented along the LSI line. LSI charts are created by an algorithmic process that analyzes changes in both volume and price to generate the LSI line. Given the rise in activity for Chipotle, it appears that a more favorable institutional environment has returned to the stock.
To be sure, Chipotle continues to face significant headwinds in restoring customer trust and driving traffic back to its stores. Key metrics such as customer frequency and average check size continue to lag in step with the plunge in comp sales since Q4 of 2015. Food costs are also trending at an elevated 34% of total revenue as Chipotle implements food safety measures and wage inflation continues to increase, particularly on the West Coast. Third quarter 2016 results to be released on October 25 will come against a tough comparable from last year coupled with elevated marketing spend, which includes its Chiptopia customer incentive initiative, in an attempt to win back customers.
More positively, however, we are seeing continuing improvement in customer traffic trends in Q3 versus Q2 from our channel checks. Based on our calls, the improvement appeared most prominently at store locations in the Northeast and Midwest. Customer traffic gains were largely incentive driven, implying that the stickiness of higher customer traffic could be a challenge. While average check size continues to lag, increased traffic should translate into higher store revenue, strengthening the probability of Q3 comp declines coming in under 20%. Chipotle will also begin facing easier, post E. coli, comps starting in the fourth quarter. The company's easiest comp will come with results in April as first quarter 2017 earnings come against comp sales that included a 36% swoon in January 2016 alone.
Conclusion
The institutional chart of Chipotle indicates the likelihood now of a more favorable environment for investors over the coming quarters. The shift in line trajectory to positive in July reveals the return of institutional buyers and provides the most compelling evidence to-date of investor support for the stock near the $400 level. This institutional buying appears to be based on improving fundamentals as our checks would indicate and that the worst is likely over for Chipotle.
Disclosure: I/we have no positions in any stocks mentioned, and no plans to initiate any positions within the next 72 hours.
I wrote this article myself, and it expresses my own opinions. I am not receiving compensation for it (other than from Seeking Alpha). I have no business relationship with any company whose stock is mentioned in this article.