BlackRock (NYSE:BLK) and Schwab (NYSE:SCHW) are engaging in a price war. Why do they continuously lower fees and where does this lead? Because they can and because it works. ETFs don't require expensive managers adept at security selection as they mechanically allocate capital according to a set of rules. The capital allocating decision is made by the person buying the ETF who presumably knows and understands the rules.
If a mutual fund manager starts racking up an outstanding track record, he or she will often demand higher pay, but an ETF isn't actively managed at all. An ETF that does well starts generating a lot of cash flow and all incremental cash flow comes at no additional cost. It follows you can cut fees once you get big and BlackRock and Schwab are big.
Because any additional inflows come at no additional cost you might as well lower fees, draw more money towards your funds, and take away some cash flow from your competitors. They also expect lower fees will ultimately result in better net performance. An important selling point.
In theory, all of this is a good thing for investors. In fact, I've cheerleaded the advance of ETFs for many years.
Too much of a good thing
It is getting to a point where ETF flows have a strong influence on pricing. Low fees are drawing investors, and at first, they were drawing investors away primarily from actively managed funds. As these need a much higher level of fees to be sustained it has been easy pickings. For the most part, deservedly so, as many of them were closet-indexers anyway. But with ETFs now starting to make up a serious slice of U.S. assets under management, increasingly they combat each other.

It will be extremely hard for them to differentiate forcing competition on price and performance.
Competing on price, the players with the most scale will win.
The low-cost provider also benefits from tailwinds in performance.
The rule sets by which ETFs are governed are transparent and therefore any innovation that would advance performance can be easily copied by competitors.
It follows that the end game is a few huge ETF providers will dominate. I don't know whether that's going to be BlackRock or Vanguard or another firm but that's the logical consequence.
Security selection by liquidity
If an ETF is successful, it can attract an enormous amount of assets. An active portfolio manager may shut the doors because he can't handle the inflows, but an ETF just goes out and starts buying whatever the rule set that governs it says it needs to buy.
That immediately triggers concerns of driving up prices, and it's a valid concern. ETF providers try to circumvent the problem by avoiding securities with limited liquidity. Even the smallest weighting within the ETF needs to have a lot of shares traded on a daily basis, or at times, a successful ETF will dislocate its price wildly. That's something traders would be/are on the lookout for and it would hurt performance. Which isn't great for gathering assets, and therefore, ETF providers will want to avoid it.
Practical example
The result are ETFs that are devoid of interesting securities with little float. It's nice to pay no or only very small fees, but you are getting what you pay for.
Overstock (NASDAQ:OSTK) is a micro cap with 36% of shares held by insiders. I just ran it through ETFdb's database and the result came up empty:

Click to enlarge
Source: The result indicates OSTK isn't a top 10 holding in any ETF.
Mega cap retailer Amazon (NASDAQ:AMZN) is a top 10 holding in 85 ETFs including the Industrial Innovation ETF (NYSEARCA:ARKQ), Diamond Hill Valuation-Weighted (NYSEARCA:DHVW), iShares U.S. Consumer Services (NYSEARCA:IYC), VanEck Vectors Retail ETF (NYSEARCA:RTH), iShares North American Tech ETF (NYSEARCA:IGM), iShares Morningstar Large-cap growth ETF (NYSEARCA:JKE), PowerShares S&P 500 Momentum Portfolio ETF (NYSEARCA:SPMO), AlphaClone Alternative Alpha ETF (NYSEARCA:ALFA), First Trust ISE Cloud Computing Index Fund (NASDAQ:SKYY), S&P 500 Ex-Technology ETF (NYSEARCA:SPXT) and the Global X S&P 500 catholic values ETF (NASDAQ:CATH).
It looks like Amazon is an important value, a growth and a momentum stock. It also looks like an important consumer services company, a tech company, NOT a tech company, a cloud computing company, a retailer, an industrial innovator and it does all that while maintaining catholic values.
Amazon and Overstock are both at their heart online retailers. Neither is very profitable and for similar reasons. Amazon is investing in future growth and Overstock is investing in future growth. Because they aren't very profitable, distorting P/E and similar metrics, let's compare them on an EV/Sales basis and P/B value: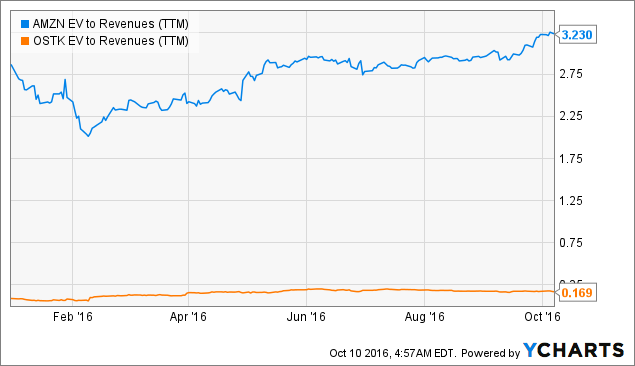 AMZN EV to Revenues (TTM) data by YCharts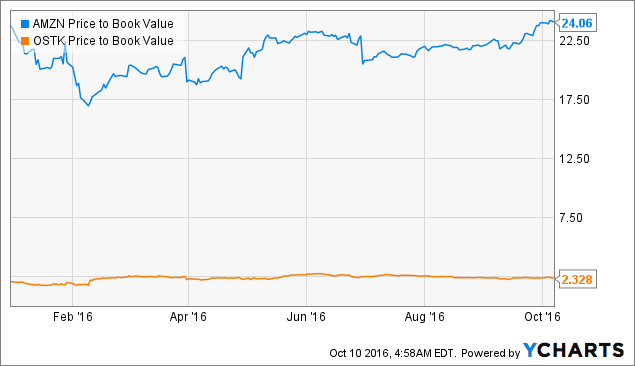 AMZN Price to Book Value data by YCharts
I've been thinking how to best describe the valuation disparity and the monkey says it best: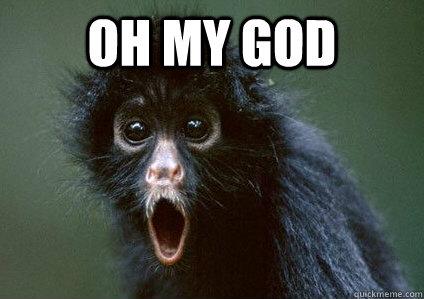 Go window shopping on Overstock and tell me it makes sense its sales are worth only a fraction of Amazon's sales.
If you are buying ETFs, you are buying the Amazons of the stock market. If you think for yourself, you are buying Overstock.
Disclosure: I am/we are long OSTK.
I wrote this article myself, and it expresses my own opinions. I am not receiving compensation for it (other than from Seeking Alpha). I have no business relationship with any company whose stock is mentioned in this article.