The situation in Libya remains difficult. For an introduction, please read this article about the situation in this North African country and my previous article about the Libyan oil situation in September. To be brief, Libya is divided into West and East, and currently there is a struggle between them. The battle in Sirte still has not come to an end. This city is in the West with the four oil ports that were previously captured by Hifter (or Haftar), a general from the East.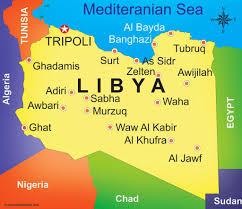 In regard to oil, Reuters recently reported that the output has been restored. My the tanker tracking data indicates the following:
1) Since Sept. 10 through the 30th, only one tanker left for the Netherlands (on Sept. 17) from ports of As Sidra, Ras Lanuf, Marsa el Brega, and Zueitina. This is important because some media outlets recently reported that production from Libya was restored back to 500kbbl/d from 200-300 in the summer, because Hifter opened terminals.
2) Also, during the last week of September, all the tankers leaving Libya came from west of Sirte. I do not see any contribution from the East toward the country's oil output. The possible explanation is that currently oil is being extracted and delivered to ports, but tankers are not yet flowing (as of Sept. 30). When I update my tanker data (which I currently do at the end of each week), perhaps we will see some progress of oil flowing from the eastern and central parts of Libya's coast during October.
3) Most sources do not have conclusive data for Libyan's September oil exports yet, but my tanker data shows that it is premature to talk about "restoration" of production.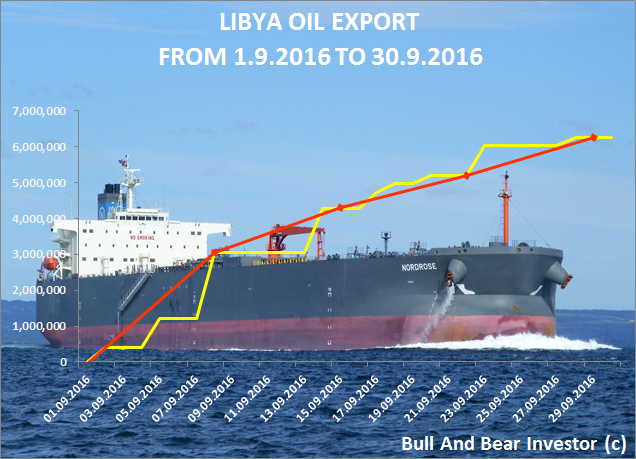 Source: Tanker tracking data, author calculations.
The invasion of Hifter on Sept. 10 is clearly seen on the chart above. There was one speed of production before Sept. 10, but it slowed down after that. The last week of September, despite one major tanker sent to Singapore on Sept. 23, did not change the entire picture.
Now, let's look at a structural picture of Libya's exports.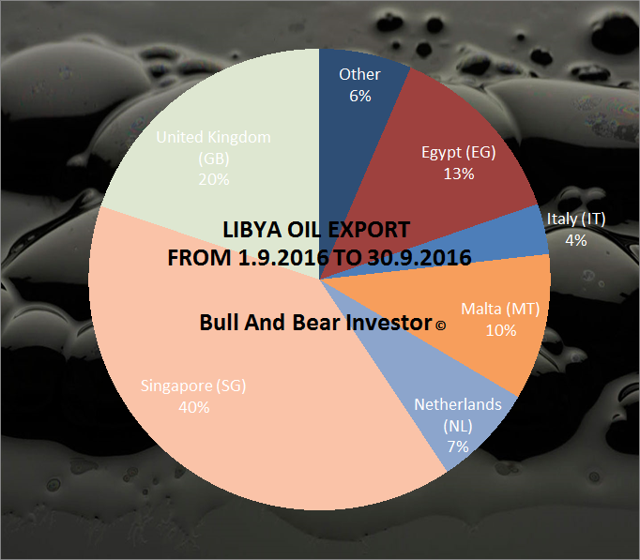 The exports are balanced with Europe and Asia. If exports resume, then I don't think selling to other countries would be a major problem. Overall, we can see that the situation in Libya is far from being solved. September taught us that civil war and oil production cannot be decoupled. As oil data is highly speculative and rather dependent on expectations, changes in Libya alone can move oil prices by several dollars per barrel in either direction. The prolonged battle in Sirte shows that the war is far from over.
However, I believe that the bets on the winner in the conflict should shift from the internationally backed West to a more independent East. As the East is gaining territory and strength, it is less likely to negotiate. So the probability of settlement becomes lower. The more the struggle goes on, the less likely it is that the East would want the West to control oil cash flows from "its" territories. All that would mean increased oil volatility.
In October, we will have a clearer picture whether all these "export restorations" actually work. I will keep readers updated about Libya. In my articles you can find tanker tracking data, which, as far as I know, is not available for free from anywhere else.
If you want to receive notifications on when my articles are published, please go to the top of this page next to my profile, click the "Follow" button and then click on "real-time alerts on this author."
Disclosure: I/we have no positions in any stocks mentioned, and no plans to initiate any positions within the next 72 hours.
I wrote this article myself, and it expresses my own opinions. I am not receiving compensation for it (other than from Seeking Alpha). I have no business relationship with any company whose stock is mentioned in this article.
Additional disclosure: The material presented in this article is provided for informational purposes only and is based upon information that is considered to be reliable.