The State Street Investor Confidence Index (SSICI) is a quantitative measure of institutional investor confidence which is based on whether institutions are increasing or decreasing their allocations to equities - 100 is the neutral point.
As State Street note:
The idea is simple: the more of their portfolios that sophisticated investors are willing to devote to riskier as opposed to safer investments, the greater their risk appetite or confidence. When risk appetite increases, investors move to increase, in the same proportion, their holdings of each risky investment. This process may occur when there is good news and prices are up, but could also happen over a period of bad news and falling prices. As a result, the risk appetite of institutional investors is a separate and distinct measure from the behavior of prices. Actual investor holdings and recent purchases provide a solid foundation on which to base a measure of investor confidence.
The last 3 readings of the index fell below the 100 point (being driven by North American and European investors) suggesting that institutional investors are pulling their horns in. Looking at the history of this indicator it's gone below 100 only a handful of times, and in each case the bullish signal or pattern was that the index would go below 100 into a risk-off episode and then turn up around the bottom. Thus it's worth noting that while the index went below 100 in July, it turned up in September (to 95.5 from 89.7), thus the indicator appears to have put in a bullish signal for global equities.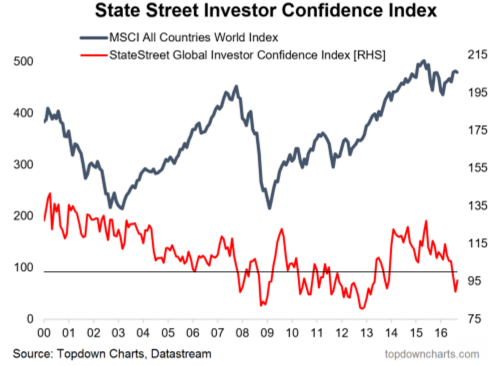 The other interesting part is the regional indexes. European investors are the least confident since the sovereign debt crisis. The drop off there has been remarkable, and looking at the last few times it dropped it seems to have functioned as a leading indicator to weakness. So it seems for European equities the indicator is presenting a non-contrarian signal i.e. go with the flow.
At the same time, Asian institutional investors have lifted their allocations to the highest point on record. Again the Asian SSICI seems to act as a leading indicator, so perhaps we could be in for another Asian stock bubble?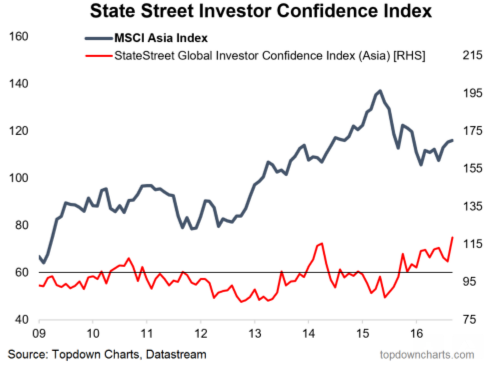 Summary
The State Street Investor Confidence Index is a relatively little known index that tracks investor sentiment quantitatively. The global index has put in a pattern that historically is a positive sign for global equities. Regionally, the indexes for Asia and Europe seem to act as leading indicators. So it's important to note that the Europe index is at the lowest point since the sovereign debt crisis, and the Asian index is at the highest point on record. So regional equity allocation differentiation would likely favor Asia over Europe going on these indicators alone.
Bottom line: The SSICI went negative and then turned up, historically a bullish sign. Regionally Europe and Asia are at polar extremes, suggesting regional differentiation is likely to favor Asia vs. Europe.
Disclosure: I/we have no positions in any stocks mentioned, and no plans to initiate any positions within the next 72 hours.
I wrote this article myself, and it expresses my own opinions. I am not receiving compensation for it (other than from Seeking Alpha). I have no business relationship with any company whose stock is mentioned in this article.