Quick Take
CRISPR Therapeutics (Pending:CRSP) intends to raise $75 million in its IPO,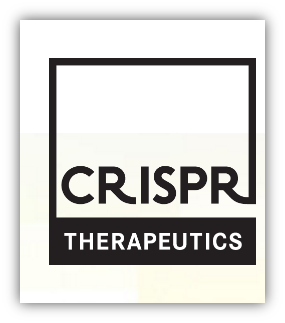 according to an S-1 filing.
The company has tremendous future potential but has equally high regulatory and execution risks.
I'm not in favor of such early stage, ultra-high-risk IPOs.
My opinion is to AVOID the IPO.

---
Company
CRISPR Therapeutics provides gene-editing technologies using its CRISPR/Cas9 gene-editing platform.
The company was founded in October 2013 by a scientific team of co-founders located both in Europe and the United States.
CRISPR has raised institutional funding from a number of top-tier venture capital firms, corporate investors, and late stage private equity firms.
The company is headquartered in Basel, Switzerland and has R&D operations in Cambridge, Massachusetts.
Technology
CRISPR/Cas9 is an estate of patents (CRISPR: Clustered Regularly Interspaced Short Palindromic Repeats) that enable the 'editing' of DNA, a groundbreaking and potentially far-reaching development in genetic science.
The technology is revolutionary when combined with the ability to sequence a genome, because it allows researchers and clinicians to replace a bad set of genetic code with a corrected set, thus correcting the genetic abnormality at its source.
The following video is a short overview of the technology:
(Source: Innovative Genomics Initiative YouTube)
The company has licensed the foundational technology from the University of California and continues to develop it in-house.
There is some controversy about who owns the rights to the foundational technology, as MIT's Broad Institute is disputing the University of California's sole claim to the patent estate.
CRISPR wants to treat a large set of diseases via a "two-pronged strategy using both ex vivo and in vivo approaches."
The graphic below shows the company's pipeline of treatment candidates and the status: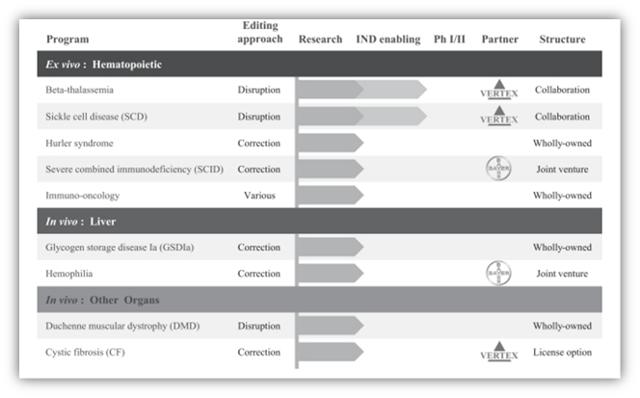 Click to enlarge
(Source: CRISPR S-1 Filing)
Note that two candidates are close to Phase 1 trials, and those are a function of the company's development collaboration with Vertex.
Another two candidates still in pre-development stage are being jointly developed with Bayer AG.
The remaining four candidates/classes are wholly-owned by CRISPR at this time.
Market
It is difficult to ascertain the total market size for CRISPR's development candidates and other treatment options that may be impacted by the CRISPR/Cas9 technology.
The reason for this is that the gene editing technology that the company is developing has such a wide range of applications since so many diseases have a genetic component.
The limitation of the company's technology is a function of understanding which genes are defective, because once that is known the proper edits can be performed.
Suffice it to say the markets for the range of development candidates in the company's existing pipeline are in the many billions of dollars.
To that end, CRISPR has taken a collaboration approach by accepting investments from development partners Bayer (BAYR) who has invested $35 million and Vertex (NASDAQ:VRTX) who has invested $30 million.
These collaborations promise to provide over $400 million based on milestones, with the possibility of additional royalty payments beyond that amount assuming commercial success in the future.
The company is also developing candidates in-house, although I suspect that it will ultimately collaborate with others on these candidates as well.
Competition
The development of commercialized CRISPR technologies is still in its early stage.
There are a number of laboratories in the US, China, and the UK that are performing ongoing research in human embryos.
Editas Medicine (NASDAQ:EDIT) is also developing a proprietary genome editing platform. The company was founded in 2013 and has been working in collaboration with Adverum Biotechnologies (NASDAQ:ADVM) to develop a treatment for inherited retinal diseases.
Thermo Fisher Scientific (NYSE:TMO) has licensed the CRISPR/Cas9 portfolio from South Korea-based ToolGen (KONEX:199800) to "develop and market new CRISPR reagent kits, bringing new tools to researchers working in the rapidly growing field."
So while there are other entities developing various competing or complementary technologies, the field is very early and wide open.
As CRISPR/Cas9 shows more promise, it's reasonable to assume that more competitors will emerge.
Financials
CRISPR's recent financials present a picture best summarized as:
Very little revenue, all of it from collaboration sources
Substantial R&D and G&A expenditures consistent with an early-stage development company
Below are the company's operational results for the past 2 ½ years (2014/2015 Audited GAAP, 2016 unaudited):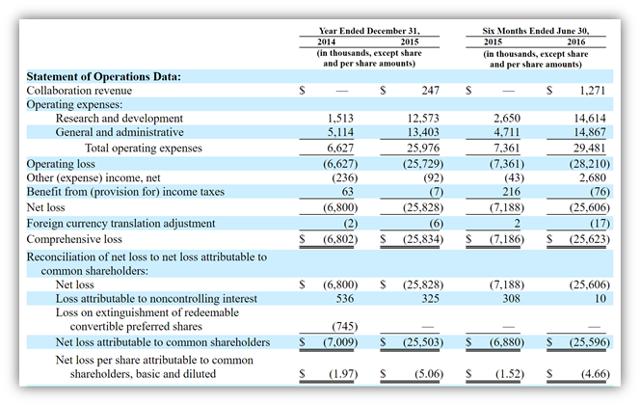 Click to enlarge
(Source: CRISPR S-1 filing)
Revenue
H1 2016: $1.3 million
2015: $247,000
2014: $0
Operating Loss
H1 2016: $28.2 million
2015: $25.7 million
2014: $6.6 million
As of June 30, 2016, the company had $247 million in cash.
IPO Details
CRISPR wants to raise up to $75 million in its IPO.
The company intends to sell 4.7 million shares at a midpoint price of $16 per share, for an expected post-IPO market cap of $636 million.
Existing investor and collaboration partner Bayer BV has indicated an interest to purchase $35 million of its common shares in a private placement concurrent with the offering.
This 'support' of sorts for the IPO is not uncommon in life science companies.
After a successful offering, the company indicates that there will be approximately 39.75 million common shares outstanding, excluding stock options under its incentive plan and employee stock purchase plan.
Citigroup is the lead left underwriter for the offering.
Commentary
CRISPR is focusing its development efforts on its platform, and its top two candidates are designed to treat a group of inherited blood disorders from variations in the synthesis or structure of hemoglobin.
The company has taken a hybrid approach to development, actively creating collaboration partnerships with leading firms.
This makes sense from a risk management standpoint and time-to-market, with the trade-off being lower potential reward due to sharing revenues with partners.
There are significant risks for the company on the regulatory side of the business.
As the company says in its S-1 filing:
The FDA, the NIH and the EMA have demonstrated caution in the regulation of gene therapy treatments, and ethical and legal concerns about gene therapy and genetic testing may result in additional regulations or restrictions on the development and commercialization of our product candidates, which may be difficult to predict.
Notably, the FDA has not approved a genetic treatment for any disease, although there are many companies that have submitted approval requests or are in late-stage clinical trials.
So, it is only a matter of time, but the FDA and other regulatory bodies are taking a very cautious approach to genetic treatments.
This uncertainty and regulatory caution will impact companies such as CRISPR.
While the continued investment from industry heavyweights such as Bayer is a promising signal, and CRISPR has tremendous future potential, I fear that its potential may not be realized for many years down the road.
I'm disinclined to recommend the purchase of shares of such an early-stage company due to the extremely high level of risk and potential long time-frame before monetization.
Accordingly, my opinion is to AVOID the IPO.
---
I write about IPOs and tech 'unicorns'. If you want to receive future articles automatically, click the +Follow link next to my name at the top of this article.
Disclosure: I/we have no positions in any stocks mentioned, and no plans to initiate any positions within the next 72 hours.
I wrote this article myself, and it expresses my own opinions. I am not receiving compensation for it (other than from Seeking Alpha). I have no business relationship with any company whose stock is mentioned in this article.