Survey data indicate that Apple's (NASDAQ:AAPL) iPhone 7 Plus now makes up 30% of iPhone 7 sales, the highest percentage ever for the Plus models. The ratio may go even higher for the December quarter. This could push iPhone ASP for the quarter to an all time high above $700.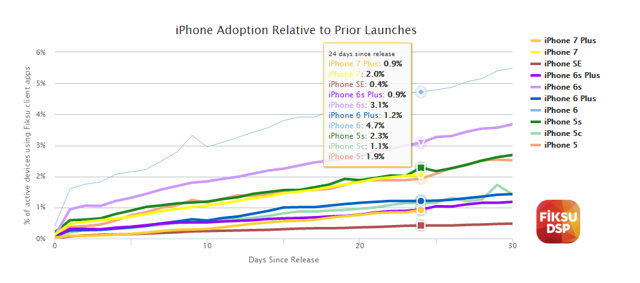 Click to enlarge
Source: Fiksu
Shifting Preferences
Fiksu provides market data on iOS and iPhone model adoption through customers' apps that users install on their phones. Fiksu data can't be used by itself to estimate absolute numbers of iPhone sales, since it amounts to a survey of a subset of all iPhones.
However, it's probably a reasonable indicator of relative sales for the new iPhone 7 and 7 Plus models compared to launches for the iPhone 6 and iPhone 6s models. In the chart above, Fiksu shows the launch of new models versus days after launch as a percentage of all iPhones in use. More properly, this is a percentage of all iPhones in which Fiksu enabled apps are installed.
Because the total installed base of iPhones keeps growing every year, the percentage of iPhones for a new launch keeps getting smaller with each successive generation. This is not an indicator of declining sales, as some have claimed. But it is difficult to estimate absolute sales from the Fiksu data since you have to make some assumption about the size of the current installed base.
In this article I focus instead on the ratio of the percentages for the Plus models for the past three model introductions. This is summarized in the chart below.
Based on the Fiksu data above, sales of iPhone 7 Plus have jumped compared to previous generations and now constitute over 30% of total iPhone 7 sales. This jump has also been noted by RBC analyst Amit Daryanani, whose survey of buying intentions in the December quarter indicates that 46% of respondents plan to buy the Plus models of either the iP7 or iP6s.
The mix shift, based on Fiksu data, can be expected to push the iPhone 7 models ASP to a much higher level than for the previous generations, as shown in the chart below.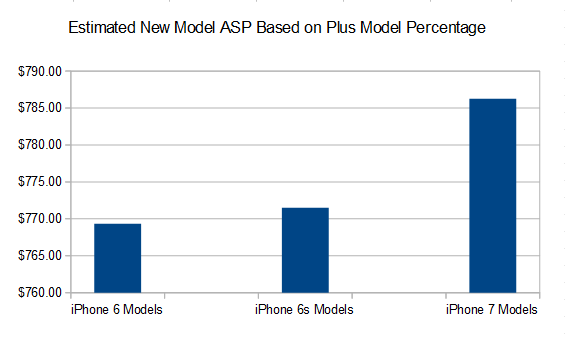 The impact on overall iPhone ASP is more difficult to predict since it depends on assumptions about overall mix between new and old models in iPhone sales. However, a simplified model that assumes that new models are about one-third of total iPhone sales in the December quarter provides a good fit to past data. The simplified model predicts overall iPhone ASP will exceed $700 in the December 2016 quarter.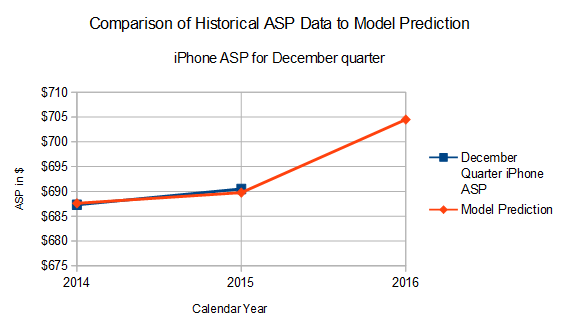 Marketing Lesson
I think there are two factors at work in the shift to Plus models. The first is simply a shift in overall consumer preference toward larger screen phones. That shift seems to keep pushing the envelope towards larger and larger phones. If Apple thought it was "done" by introducing the 5.5 inch screen iPhones, it probably isn't seeing the market trend.
The other factor is the dual camera of the iPhone 7 Plus. Not only does this provide for better photography using the phone, but it constitutes a very visible external change that telegraphs that the owner has the very latest and best iPhone.
I'll leave it to the reader to decide which factor is more important, but I consider the popularity of the iPhone 7 Plus, as well as the Jet Black versions of the phones, to be an important clue. Both the Jet Black model of iPhone 7 as well as any color of the 7 Plus are showing over three weeks shipping time. A Jet Black model of the 7 Plus ships in 6-8 weeks.
There's a marketing lesson here that other consumer products companies (especially the automobile industry) have long understood. If you're representing a product as a "new model" then it needs to look different from previous models.
For good or ill, this expectation has become ingrained in the psyches of US consumers through decades of product marketing. So much so that when rumors first surfaced that the iPhone 7 wouldn't look much different from the 6s, many journalists chose to represent that it wouldn't be much different.
Investor Takeaway
Assuming that Apple can start to catch up with consumer demand, the December quarter is shaping up to be significantly better than last year. Daryanani is predicting 79 million iPhone unit sales. I'm not ready to make a prediction on unit sales partly because I'm concerned that Apple may have difficulty meeting demand for the Jet Black and Plus iPhone 7 models. But based on higher predicted ASPs, this will probably be Apple's best quarter ever in terms of iPhone revenue.
There's also a clear opportunity contained within the consumer preference shift as well as Samsung's (OTC:SSNLF) on-going Galaxy Note 7 fiasco. At the risk of blurring model distinctions, a larger iPhone phablet with iPad Pro capabilities (Pencil and multitasking) looks like a huge win for Apple. I hope we see this sooner rather than later. Rumors suggesting that Apple will unveil a Pro version of the iPad Mini suggest that Apple is moving in this direction.
I fully expect iPhone 7 along with refreshes in iPad and Mac to drive revenue and profits to record breaking levels for the December quarter. I remain long Apple and recommend it as a buy.
Disclosure: I am/we are long AAPL.
I wrote this article myself, and it expresses my own opinions. I am not receiving compensation for it (other than from Seeking Alpha). I have no business relationship with any company whose stock is mentioned in this article.
Editor's Note: This article discusses one or more securities that do not trade on a major U.S. exchange. Please be aware of the risks associated with these stocks.