It has been over a month since I last published my sector rotations guide. Since then the markets (SPY) have continued to go sideways and currently trade around 1% below the levels when I wrote my article. Yawn.
But individual sectors have had plenty of movement. This is precisely my point when I wrote my original article. I don't always look to the sectors for movement, but when the index is clearly stuck in mud, sectors and stocks must be your focus for swing trading.
Note the term "swing trading." I'm writing this with a holding period of several weeks to months. I don't think good positional trades exist in this mature market any more. Not in the sectors, anyway.
I should also add my approach in this article is technical. I'm buying oversold sectors on support and avoiding overbought sectors at resistance with an eye on cycles and Elliott Wave (learn more here).
A Review
This is how the sectors have performed over the last month: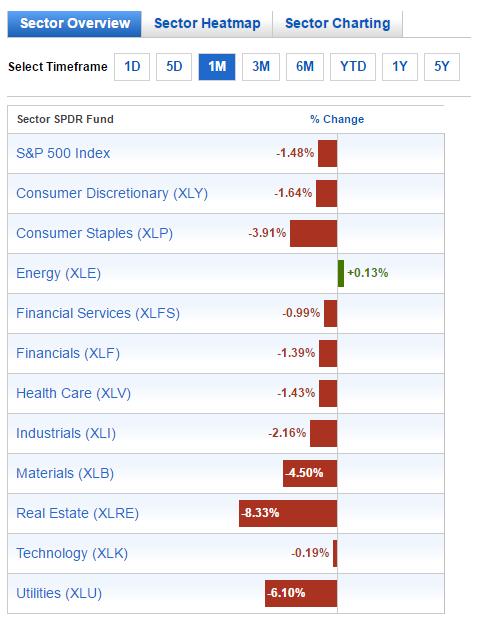 I'm surprised the S&P 500 is down only 1.48% as there are some pretty nasty moves in specific sectors, notably Real Estate (XLRE) and Utilities (XLU). This was due to a combination of these sectors being overbought and the sell off in bonds (TLT).
Utilities
My recommendation to buy Utilities in my last article looks like an egg in your face moment. But as I said,
Clearly, there is a case for not only buying the right sectors, but making timed entry and exits.
When using a sector rotation approach, timing is everything.

Click to enlarge
You can see on this chart the part of the move I caught.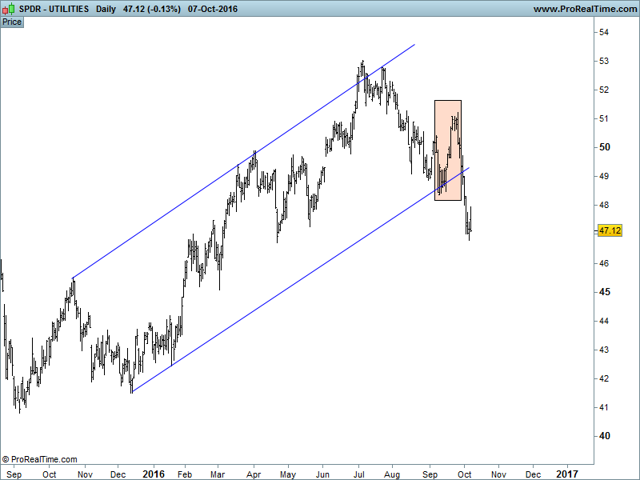 Click to enlarge
To be completely honest, my target of $51.5 was missed by $0.3 and I ended up exiting around $50.5. This is still a gain of 3.5%, and means I have already beaten the index by 5% over the same period.
Looking forward, Utilities again look like a buy around $46.7 as the two stages of the decline are equal at this price. New highs do look slightly ambitious given valuations and rate hike concerns, but I think they are possible this time around. I am a buyer and will hold for the next month or so.
The most bearish scenario for Utilities is a weak bounce back to around $49 and new lows below $46. If this were the case I'd stop out and not try longs again for a very long time.
Consumer Staples
I suggested to wait to buy Consumer Staples (XLP) on the channel, which was about 4% lower at the time. The channel I drew was tested at $52.9 (Staples currently trade $52.3), so it wasn't the perfect entry, but it did save me from buying too early.
Actually the formations created during the decline were quite clear and suggested there could be more downside. For anyone interested in Elliott Wave, the decline can be counted as the formation below. The completion of five waves should lead to a very trade-able bounce over the coming weeks.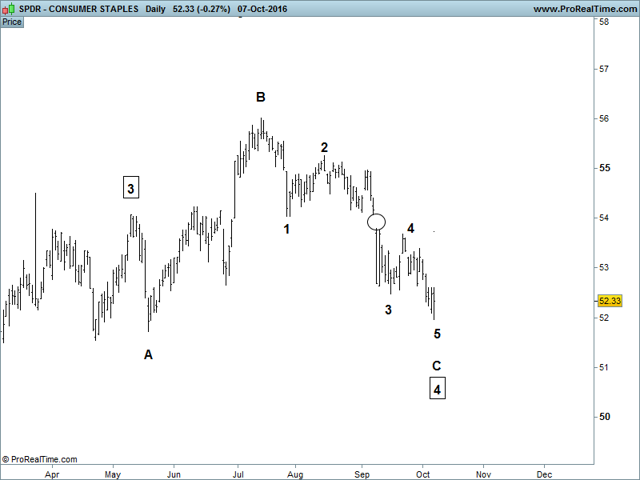 Click to enlarge
I bought at $52.7 and again yesterday at $52.1. At the moment I see this as a corrective decline, but there is the same risk as I see in Utilities - a weak bounce followed by new lows changes the picture and is long-term bearish. I currently have some "room" on my stop to around $51, but I will move it higher if and when I see a move up.
Healthcare and Technology
I suggested Healthcare (XLV) was a more compelling buy than Technology (XLK). This wasn't a great call as Healthcare is 1.5% down from where I bought it at $72.9. Potential support has led to weak bounces and I will try and exit this position for breakeven or a loss below $71.
However, I did also say I would wait for a Technology pullback and "I would buy XLK under $46." This strategy worked as Technology eventually declined and made a low of $45.86. It is currently trading 3.85% higher.
Again, I wouldn't buy Technology here - that ship has sailed and the sector still looks stretched. I will exit my position in favor of the sectors above.
Financials
I suggested to avoid Financials (XLF). I also provided the below chart and commentary.
I would expect a re-test of the broken trendline in the coming weeks.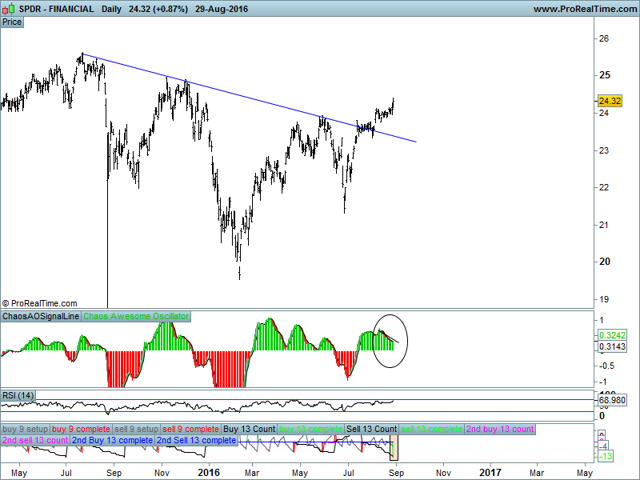 Click to enlarge
Financials topped two days later and did this: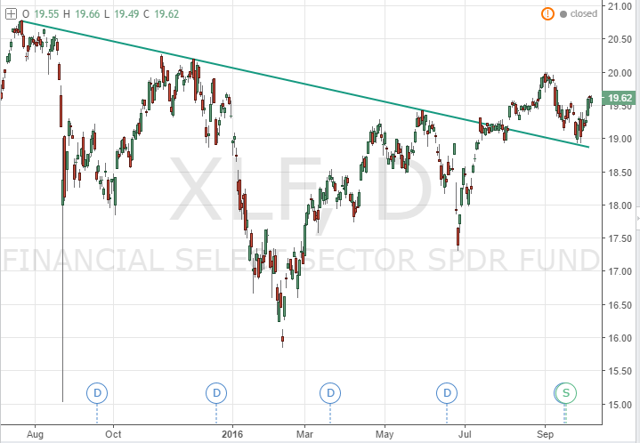 Click to enlarge
(Note my usual chart provider has still not adjusted for the XLRE re-balancing in XLF on the 19th September so I have had to use Tradingview for the above chart.)
This was a beautiful technical move and a call I'm pretty happy with. The advice not only saved readers from a steep decline but also made them nearly 3.8% (so far) from buying the trendline re-test.
I am personally not holding Financials for new highs as I already hold several financial stocks and I don't want to be too concentrated in one sector.
Conclusions
Timing entries and exits using technical analysis can be profitable. Over the last month I had profitable trades in Utilities (+3.5%), Financials (3.6%) and Technology (3.6%) and a small loss in Healthcare (-1.5%). One thing for sure is I beat the index.
I'm holding longs in Utilities and Staples as they are testing support. I can't recommend any other sectors as they are either too far away from the ideal entry points or look vulnerable to further declines. Industrials (XLI) and Real Estate (NYSEARCA:XLRE) could be coming into buying points. I will update again in a month's time.
Disclosure: I am/we are long XLU, XLF, XLP, XLV AND XLK.
I wrote this article myself, and it expresses my own opinions. I am not receiving compensation for it (other than from Seeking Alpha). I have no business relationship with any company whose stock is mentioned in this article.
Additional disclosure: I will exit XLF, XLV and XLK this week