As I've written previously, I worry about the basic investability of banks in China due to the ever shrinking credit multiplier and growing stock of debt in relation to GDP. Just as importantly, there appears to be no commitment to the structural reform that would result in better visibility for bank investors anytime soon. And by "structural reform" I mean something beyond the debt-equity swaps that have been revisited in the press today.
Globally, the contrast is with the U.S. where since 2008 much tighter regulation and household deleveraging has led to improved visibility for investors, allowing confidence in the current reasonably strong level of bank credit growth (~9%).
I first became alarmed about the credit dependency of China's growth in 2012 when an attempt to reign in the expansion of bank credit so that it did not outpace nominal GDP growth morphed into an explosion of trust finance products that served exactly the same purpose as bank credit within the Chinese economy - namely maintaining very high levels of fixed asset investment in the economy.
This year, after a period of decline, China has again stabilized its growth rate by means of another bank credit binge. As the chart below shows, the annual issuance of new credit is now approaching the absolute levels of the 2008/9 stimulus. The data "rolls up" the figures for quarterly new credit issuance to present an annual trailing credit growth number.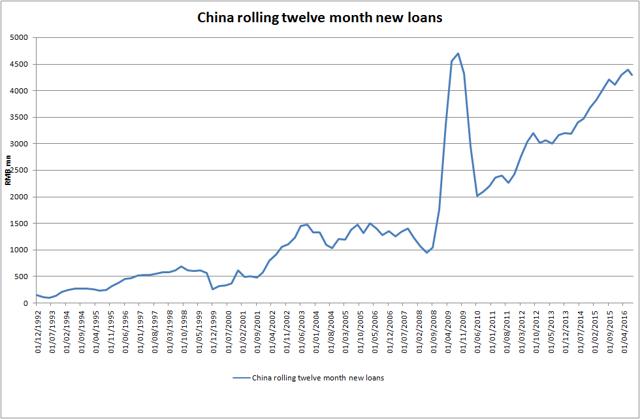 Click to enlarge
Source: Bloomberg
Recent new work by Ecstrat, a consultancy advising global equity investors on country-based asset allocation, reinforces the concerns that most investors would recognize from this basic credit growth chart. Below are a couple of charts from the latest Ecstrat China report "Living on Borrowed Time" and I urge you to give the website a close look.
Chart 1: While debt metrics have slowed their deterioration, the overall deterioration has not stopped for a large number of industrial groups. The data in the chart below compares change in debt as a percent of cash from operations across industries YoY for 2Q 2016.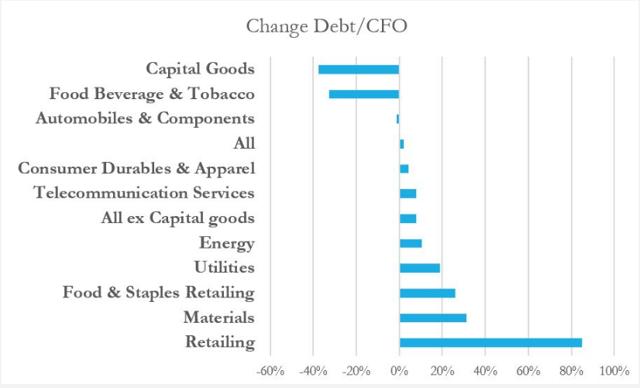 Click to enlarge
Source: Ecstrat
Chart 2: This shows how working capital requirements continue to grow despite a significant rise in payables (2Q16 YoY).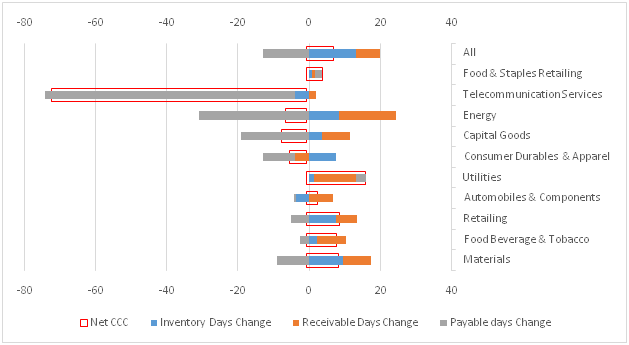 Source: Ecstrat
As Ecstrat observes:
"The rise in both working capital and debt ratios appears to be a secular trend which has not been much impacted by the successive cycles of stimulus and easing since 2010. Earnings were growing at a reasonable lick in 2009, 2010 and 2011 and also at the end of 2012 into the middle of the following year, but in all these years both debt levels and working capital requirements continued to rise."
The implication of this observation is that Chinese firms to not pay down a whole lot of debt, even when their cash-flow and earnings improve.
The chart below shows Chinese bank lending as a percent of GDP (the yellow line) it reaches 212% on the right of the chart from 120% in 2005, and real GDP growth, which falls from 12% in 2010 to 6.7% by 2Q 2016 (the white line).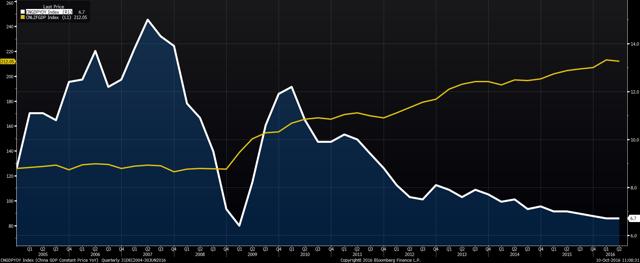 Click to enlarge
Source: Bloomberg
The chief strategist of Ecstrat, John-Paul Smith, has called many of the key economic events and major turning points for equities globally over the last two decades including the Russia default of 1998, and more recently the China, EM and commodity bear markets from December 2010. The Ecstrat charts confirm the picture of rising financial strain that one would infer intuitively from the credit and GDP data in the chart above. JP was onto this theme in China a long time before I recognised its gravity and investors should reflect on its meaning when thinking globally, especially as the talk again turns to Fed normalization.
Finally, the chart of ICBC, which is typical for the sector, shows it usually works to sell Chinese banks after steep rises above the 200DMA. I would have no qualms about selling Chinese banks here and no long term investors should touch them.

Click to enlarge Source: Bloomberg
Disclosure: I/we have no positions in any stocks mentioned, and no plans to initiate any positions within the next 72 hours.
I wrote this article myself, and it expresses my own opinions. I am not receiving compensation for it (other than from Seeking Alpha). I have no business relationship with any company whose stock is mentioned in this article.