Russian President Vladimir Putin sent oil (NYSEARCA:USO) prices higher as he promised that Russia is ready to cooperate with OPEC to curb petroleum output. His statement comes at an energy conference in Istanbul where he said, "we believe freezing or even reducing oil production is the only way to save the stability of the energy sector."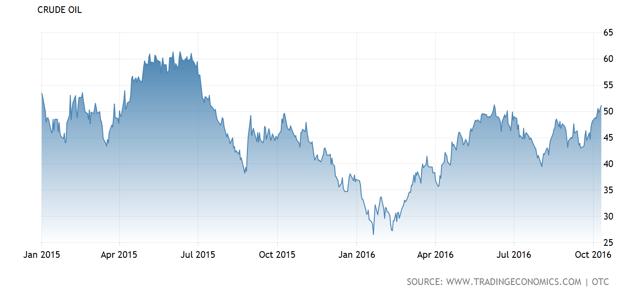 Click to enlarge
Putin's comments came on the back of skepticism over OPEC's announced deal to curb oil production output. As we shared in our last week's OMD, an OPEC deal would only accelerate the current rebalancing that's taking place. Contrary to the consensus belief that the oil market is still in oversupply, our analysis points to an under-supply in the market around 400k b/d and Rystad is currently seeing ~300k b/d of undersupply. The resulting effect is that global oil storage has been in steady decline since March this year. Unless there are some data points that we aren't aware of, the oversupply has completely vanished.
Looking ahead at some of the comments recently made by the Saudi Energy Minister, Khalid al-Falih, it's evident to us that Saudi Arabia's intention is for oil prices to move considerably higher by 2018. The timing of this OPEC deal couldn't have been better. As global capex waned, new supplies that would've been online by 2018-2020 have been completely thrown out. We see Saudi filling that supply gap by increasing oil production. We have detailed in a report to premium subscribers as to why we think Saudi Arabia's strategy paid off.
Current consensus continues to be skeptical, yet oil prices and technicals continue to prove the consensus wrong. We see more short covering ahead as the market is still too bearish. We also think the current geopolitical setup is prime for a deal at the end of November, and our Sunday's weekly oil markets outlook details what we see as the predecessor to a successful OPEC deal.
We currently see a lot of similar psychological biases from the oil bulls that went long oil at $60 and the oil bears that don't think oil would go back above $60. The oil bulls that originally thought production would fall ended up being disappointed, while the oil bears today that anticipate global production to rise because of a move above $50 will be equally disappointed. We do not see a swift rebound to global oil production even if oil prices climb to $70.
Current fundamentals, sentiment and technicals point us to $60 by year-end. Oil bears that remain focused on surplus storage will be punished. Under-supply is already in market, and global storage will continue to decrease going forward.
We will be writing a weekly outlook this weekend on our thoughts on where global oil storage will be headed in 2017. If you are interested, please consider signing up here. Thank you for reading Oil Markets Daily.
Disclosure: I/we have no positions in any stocks mentioned, and no plans to initiate any positions within the next 72 hours.
I wrote this article myself, and it expresses my own opinions. I am not receiving compensation for it (other than from Seeking Alpha). I have no business relationship with any company whose stock is mentioned in this article.