AstraZeneca (NYSE:AZN) is in the news these days due to its failed drug trials and the decision to offer a two drug treatment for lung cancer. The company has seen some sharp declines in revenues during the last five years. However, the stock price performance has been robust. There are still going to be some headwinds for AstraZeneca in the short term, but the long-term prospects are looking good. The two drug treatment idea came from Bristol-Myers-Squibb's (NYSE:BMY) failed drug. Opdivo failed to deliver the desired results. AstraZeneca is now looking to take advantage of Bristol's failure by changing some parameters. This opens up an interesting market for the company which can help it achieve its growth plan for 2023.
Rather bad news came in the form of a failed trial for Brilinta. Moody's is terming this as a credit negative event for the company. However, they also highlight that the pipeline remains strong and future growth will come from these drug candidates. Moody's sees these developments from a credit ratings perspective and their focus is on the credit metrics. This does not necessarily mean the stock price will be negatively affected. AstraZeneca had earmarked Brilinta for $3.5 billion in sales by 2023 and it was a key component in their growth projections. This target seems difficult now but Moody's' analysts believe the drug will still achieve over $1 billion in sales by 2017.
AstraZeneca has a number of drug candidates in phase III trials and some of these have shown promising results. An analysis of the financials shows that the company has been working hard to amass this pipeline in order to replace its expiring patents. The research and development budget has been over $5 billion despite falling revenues. It is also true that the company has stretched its leverage metrics in order to expand its pipeline. Let me explain what I mean by stretched debt metrics. The table below shows the trend in the last five years. Data was taken from the annual reports and SEC filings.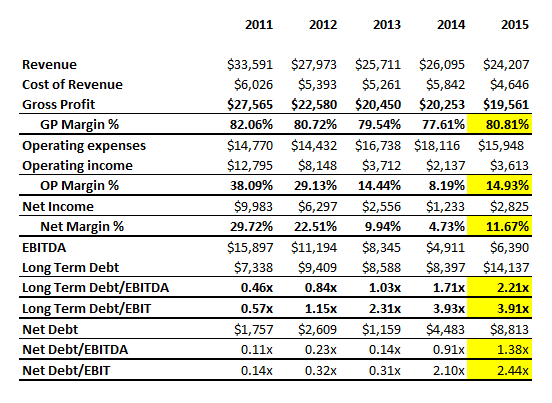 When credit rating agencies talk about debt metrics, they take into account a number of elements. However, the key metrics are EBITDA and EBIT coverage for debt. I also added the profitability metrics in order to show how much AZN's profitability has been affected. This decline has resulted in lower cash flows and deeper need for financing from debt markets. It is a key consideration while analyzing a company's debt and debt metrics.
Gross profit has not declined substantially which shows that the company has a firm control on its production costs. However, the operating margin has deteriorated quite badly. It is interesting to note that the operating margin did not just come down due to the falling revenue. Operating expenses, mainly sales and admin expenses, went up from 2012 to 2014. Current operating margin of just under 15% is poor when the industry average is close to 19%. Same trend can be seen in net margin.
Long-term debt almost doubled by the end of 2015. The most recent numbers are even higher (over $16.5 billion). Long-term debt/EBITDA ratio has gone up to 2.21x from just 0.46x. In the line below it you can see that long-term debt/EBIT has deteriorated even more. Debt/EBIT ratio reaching 4x is considered quite high and you can see why ratings companies are calling AZN's debt metrics stretched. These have deteriorated further as the long-term debt has gone over $16.5 billion. Based on last year's EBITDA, the ratio of long-term debt to EBITDA has now crossed 2.5x and the ratio of EBIT has gone over 5x.
Net debt ratios also are showing the same trend. These ratios have had a double impact as the debt has been growing and the cash balances have come down. It is understandable why the ratings agencies are showing concern when one of the key drug candidate has failed to deliver. Further EBITDA and cash flows should be adjusted downwards in the cash flows projections for AZN valuation. However, this is not a cause of concern as the stock price movement has shown in the last five years that shareholders are showing confidence in the management.
Without a doubt, AstraZeneca has a strong pipeline with a large number of late stage drug candidates. These will surely bring a new wave of growth. For now, the company can bear the burden of rising debt. Despite more than doubling its debt, AZN's debt metrics are not too alarming. Its bonds still carry an A3 rating. The biggest risk for the company is the competition from generic manufacturers due to the patent expiry. The debt should not be an issue as the future growth plan is laid out nicely and the pipeline should support it.
Stock price is down from its high of $40 in 2014 and it looks like a good time to consider AZN. Its strong pipeline should bring in considerable growth over the next five years, and the stock price will respond to the improving fundamentals. If the company is able to go anywhere near its target of $45 billion in revenues by 2023, then the current price will look like a bargain. It means that revenues will go up by more than 87% in the next six years. Since AZN has a GP margin of over 80%, operating and net margins will rise substantially. Rising EBITDA and EBIT figures should also bring down its debt metrics.
Disclosure: I/we have no positions in any stocks mentioned, and no plans to initiate any positions within the next 72 hours.
I wrote this article myself, and it expresses my own opinions. I am not receiving compensation for it (other than from Seeking Alpha). I have no business relationship with any company whose stock is mentioned in this article.