Let Financial and Bank ETF Funds Do the Heavy Lifting to Ease Rate Hike Fears.
One of the easiest and effective ways to partially hedge a portfolio from rising rates is to add some financial focused assets to your portfolio. Banks love high rates, they are the lifeblood of that industry where they can "borrow cheap and loan dear" in a normal economic climate of a non inverted yield curve (shorter duration lower yields than longer duration). Let's examine correlations and performance of some banking and financial ETFs together with the S&P 500 and a popular long bond ETF during two recent rate scares where investors thought Fed rate hikes were imminent to illustrate. The iShares 20+ Year Treasury Bond ETF (NYSEARCA:TLT) was chosen because longer duration bonds are the most sensitive to rate jitters.
Chart of June 2013 thru October 2013 "Taper Tantrum"
Click to enlarge
(Chart from Google Finance)
The financial and bank sectors often outperform the broad stock market during these rate scare periods rather handedly. The pure play ETFs holding banks will generally outperform the diversified financial ETFs as the pure bank plays will be even more interest rate sensitive as reflected by the market discounting those potential interest rate hikes. Common sectors that underperform are bonds, utilities, and consumer staples. These plays will often dramatically underperform as illustrated earlier with long duration bonds.
Correlation Matrix for "Taper Tantrum" May thru October 2013
Below is a correlation and bank ETFs. Note that correlations are not static and will change with time period used, economic cycles and market conditions.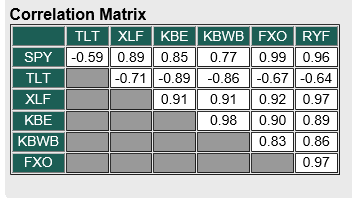 (Matrix from low-risk-investing.com)
Sector And Sub-Sector Valuations:
| | |
| --- | --- |
| Sector/Sub-Sector | Forward PE RATIO |
| Diversified Financials | 12.1 |
| Diversified Banks | 10.7 |
| Regional Banks | 12.3 |
Forward PE Ratio of S&P 500 = 17.
(Source: yardeni.com)
Selected Financial and Bank ETFs:
The hand picked list by this author and brief descriptions below is far from comprehensive - but is a good mix of popular diversified financial ETFs as well as two pure play banking ETFs. All five funds below have at least acceptable liquidity and volume. Note that because of the recent GICS classification addition of real estate, REITS will no longer be lumped into financial ETFs. Therefore, some holdings have been tweaked for some of these ETFs to spin off the REIT holdings into other REIT ETFs.
Guggenheim S&P 500 Equal Weight Financials ETF (NYSEARCA:RYF)
This four star rated Morningstar fund seeks to replicate as closely as possible, before fees and expenses, the performance of the S&P 500 Equal Weight Index Financials. It holds about 64 financial stocks equally weighted with an expense ratio of 0.4% with an acceptable AUM of about 110 million. The equally weighted nature of the fund may appeal to some investors who want more diversification that is not based on the dominance of the largest holdings by market cap.
Top 5 Holdings:
Financial Select Sector SPDR ETF (NYSEARCA:XLF)
This is perhaps the oldest and most well known financial ETF with assets of 12 billion and excellent liquidity. This 3 star Morningstar rated ETF is very inexpensive with an expense ratio of only 0.14%. Its holdings contains 64 stocks with an average market cap of 40 billion. Because of the superior liquidity, this ETF is very popular with traders.
Top 5 Holdings:
First Trust Financials AlphaDEX ETF (NYSEARCA:FXO)
This ETF is another 4 star Morningstar rated ETF that seeks to replicate "investment results that correspond generally to the price and yield, before fees and expenses, of an equity index called the StrataQuant Financials Index." This essentially is a smart beta sector ETF that has a good track record albeit pricey expenses of 0.64%. It is broadly diversified with about 176 stock holdings which is considerably more than the two ETFs previously mentioned. Total AUM is a very healthy 805 million.
Top 5 Holdings:
Endurance Specialty Holdings L (NYSE:ENH)
Santander Consumer USA Holding (NYSE:SC)
Aspen Insurance Holdings Ltd. (NYSE:AHL)
Citigroup
Western Alliance Bancorp (NYSE:WAL)
SPDR S&P Bank ETF (NYSEARCA:KBE)
For a narrower focus with potentially more gains (and potentially better hedging) in a rising rate environment then a pure play bank ETF could be the better option. This ETF " seeks to provide investment results that, before fees and expenses, correspond generally to the total return performance of the S&P® Banks Select Industry Index." This ETF has about 66 stock holdings and has an AUM of around 2.4 billion. It has a Morningstar rating of two stars mainly because of the concentration risk and increased volatility. The expenses are a reasonable 0.35%.
Top 5 Holdings:
PowerShares KBW Bank Portfolio ETF (KBWB)
This three star Morningstar rated ETF seeks to track before fees and expenses the KBW Nasdaq Bank Index. This very concentrated fund only has 24 stock holdings of mainly large cap and mid cap national banks and some regional banks as well. The ETF has a healthy AUM of 510 million. It has a reasonable expense ratio of 0.35%.
Top 5 Holdings:
Citigroup
JPMorgan Chase Inc.
Bank of America Corp.
US Bancorp (NYSE:USB)
Wells Fargo & Co.
Conclusions and Caveats:
Any of the three financial ETFs listed above should provide nice broad diversification to financial sector as well as some alpha during a bona fide rate hike environment. If more alpha is desired, a pure play banking ETF like KBE, KBWB, or the SPDR S&P Regional Banking ETF (NYSEARCA:KRE) should provide the added horsepower and non correlation to vulnerable bond holdings and other sectors (such as utilities) in a rising rate environment. Note again with the more concentrated pure play bank portfolios - then more risk, volatility, and sensitivity to rates should be expected.
All of these ETFs have had a healthy run up lately from anticipation of earnings season and the tailwind from the Federal Reserve potentially raising rates this December or even (but not likely) this November. Therefore, waiting for a pullback before diving in may be warranted for this sector. This very dovish Fed may finally be conditioning the market to the reality that near zero interest rate policy will be slowly coming to an end. If this comes to fruition, then financials and banks should strongly outperform.
Always read fund prospectuses, fact sheets and other related literature before investing.
Disclosure: I/we have no positions in any stocks mentioned, and no plans to initiate any positions within the next 72 hours.
I wrote this article myself, and it expresses my own opinions. I am not receiving compensation for it (other than from Seeking Alpha). I have no business relationship with any company whose stock is mentioned in this article.