October 10 has always been a strange day in the markets. I remember 2008 when there were so many indications and imbalances on that day, that made it historical for arbitrage traders. Now is not that time, but these 2 stocks caught my attention:
Bank of America, Floating Rate Dep Shares Non-cumul Preferred Stock, Series E (BAC-E) and Bank of America, Floating Rate Dep Shares Non-cumul Pfd Stock Series 2 (BML-H)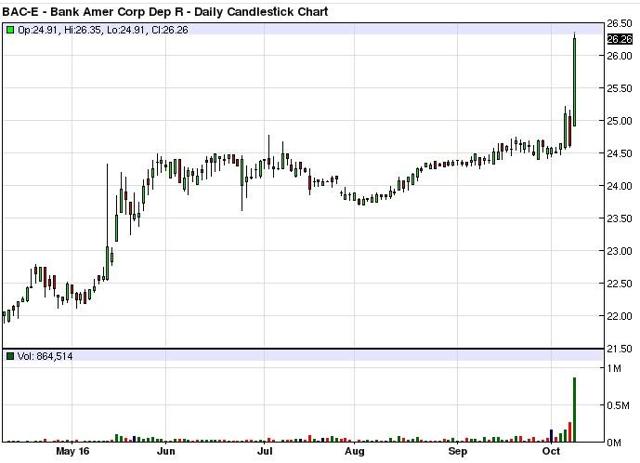 Click to enlarge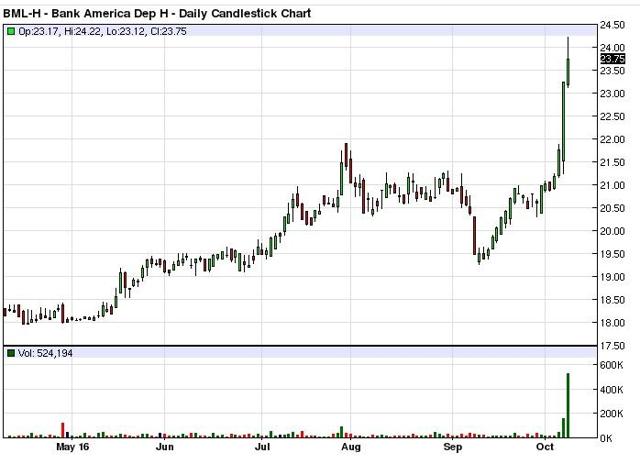 Click to enlarge
source: barchart.com
There is logic for these two stocks to have a high correlation and to have similar charts. The problem here is that they have 3 more brother stocks (BML-L, BML-J, BML-G) that are supposed to move with them and to be treated equally by the unfair market. It is good that they do not have feelings otherwise they would be deeply emotionally depressed. There is no such large buying in these other 3 floating preferred stocks of Bank of America (NYSE:BAC) unless for some people like me trying to arbitrate. Before starting with the comparisons there is a very important thing to consider and it is that all BAC's preferreds are equal in ranking even though the ones that have BML in the name are leftovers from Merrill Lynch.
Comparisons
I tried to make it easier for reader to see all the metrics of the 5 floating rate securities of BAC. Currently they are fixed rate securities that will become floating once their floating rate is higher than their minimum fixed rate. Yield metrics and last price is colored in red:

Click to enlarge
I view this securities as a pair of younger twins BML-H, BML-G, and the older brothers, BML-L, BML-J, BAC-E (triplets). Theoretically they should trade at the same yield to worst, which in the last 7-8 years was their current yield. They should also trade at equal price with some small deviation based on their low volume. Even statistically this was the case, before today. BML-H and BML-G have always trade with no more than $0.20-0.40 spread. The other three securities have had bigger deviations, but nothing compared to what happened today.
Spread and current yield comparison for the last 60 days.
BML-H vs BML-L: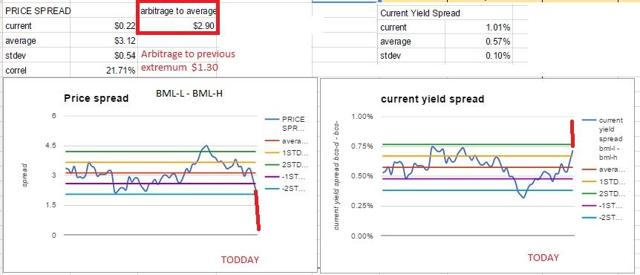 Click to enlarge
This is the arbitrage that I like the most fundamentally and statistically. There was a moment of the day that you could actually buy BML-L cheaper than BML-H. This was a clear 1% current yield spread and almost more than $3 fundamental and statistical arbitrage. This happens very rare in this couple. I encourage you to run this spread analyses for a longer period. I am having problems with my database and can not show the long term charts. There is one big fundamental risk in this pair trade and it is that it will be a small loser if BAC decides to redeem both securities. This may sound crazy, but UBS redeemed UBS-D, HUSI-F and HUSI-G also got redeemed, so even if it sounds crazy to redeem a 3% nominal payer, it may happen. The next pair eliminates that risk.
BML-L vs BAC-E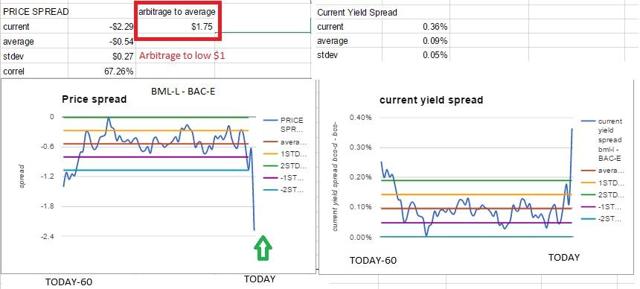 Click to enlarge
In this pair the arbitrage is smaller, but even if the two securities get redeemed the arbitrage will work. Believe it or not BAC-E the 4% nominal yielder is trading $1 above par and has a negative yield to call. I am writing this and can not believe it. This is a BB+ rated preferred stock that has current yield of which is yield to best at that point lower than 4% and a negative yield to call. To make things even more absurd BAC-E is trading higher than BAC-A which has a fixed dividend of 6%. You will not see this very often. The funny thing is that even if we wake up tomorrow and the LIBOR is at 10% with no change in treasury yield you will still loose money by holding BAC-E, because it will get redeemed.
What actually happened?
There is no drastic change in LIBOR rates. The 3 month LIBOR is at 0.86%. The only thing I find that can explain this inefficiency is the S&P preferred stock index rabalancing: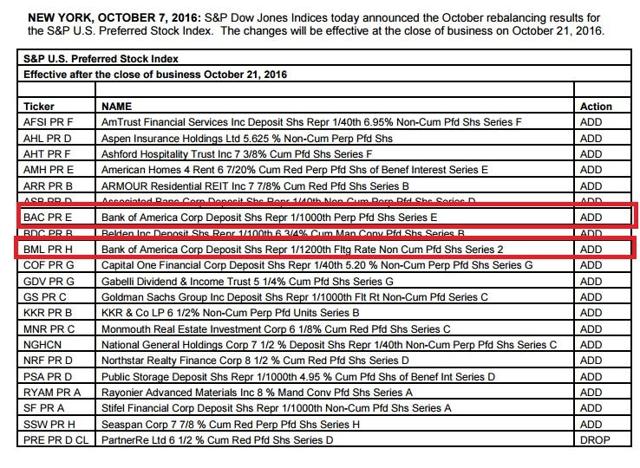 Click to enlarge
Surprise, surprise. BML-H and BAC-E are back in the index. I am writing another article about the rebalancing after this one. How can a technicality like this have such an effect on price of any security out there. There is nothing better in BAC-E or BML-H. Nothing has changed in general but there is one change that we have to admit and that is the fact that there is a buyer. When someone asks you: " Why is this stock soaring?", the only correct answer will always be: " Because someone is buying.". This is the case with BAC-E and BML-H. The iShares S&P US Pref Stock Idx Fnd(NYSEARCA:PFF) will have to buy this two sweet investments at these valuations.
An alert to BAC
Market is buying your BAC-E preferred stock as high as $26.30, you can find a way in the future to make use of this free lunch. Make a procedure so you can sell as much stock is needed on this price and refinance all your existing preferreds. This will definitely make sense. This idea is of course not scalable and BAC can do nothing about that, but the absurd is still absurd.
Who can benefit from this arbitrage?
If you by any chance have BAC-E or BML-H in your forgotten account, it is probably the best time to sell these 2 stocks and buy something else. I certainly hope that arbitrage traders like me can also benefit by initiating a pair trade or by just shorting this security, but this is a hard task. Short sellers in this market are like knights without swords. There was some supply of locates early in the day, but by the end of the day the locates got less and less. Regulation SHO will not let us arbitragers give a better price for PFF to buy this overvalued stocks. Risk and size management is a must in such low volume stocks.
Conclusion
Finally a decent arbitrage in preferred stocks. This one is so obvious that I am scared if might be too good to be true. Time will adjust the prices back to their normal levels, but this will probably be a tough trade.
Disclosure: I am/we are short BAC-E, BML-H.
I wrote this article myself, and it expresses my own opinions. I am not receiving compensation for it (other than from Seeking Alpha). I have no business relationship with any company whose stock is mentioned in this article.
Additional disclosure: I am long BML-L, BML-J, BML-G, BAC-A