In my first article on Luxottica (NYSE:LUX) (OTC:LUXGF) I exposed a long-term bullish view on the stock, mainly based on qualitative factors that have created a deep moat around the company's business. More recently, I realized that the company is still suffering because of a stagnating macroeconomic environment and weak consumer spending. I exposed a short-term bearish view and said investors should have waited for lower prices before considering buying or adding shares to their position. The stock price has fallen by around 10% since then, and I think it's necessary to reassess the situation and get prepared for the earnings release of October 24 th.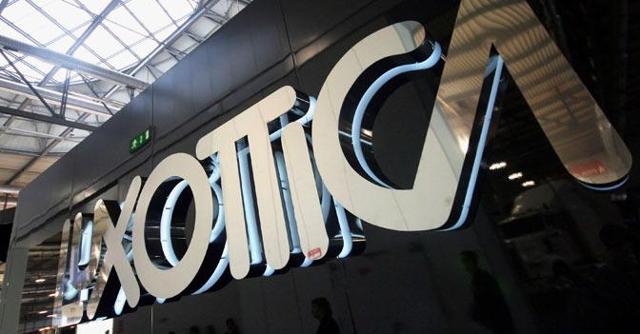 Click to enlarge
Moat: Summary
Before focusing on earnings and short-term prospects, I want to give a brief summary of the qualitative factors that have built the company's competitive advantage over time, making LUX the unquestioned world leader in the eyewear industry.
First, Luxottica owns Ray-Ban, the most famous brand in the eyewear industry, and other famous brands such as Oakley, Persol and Alain Mikli. Besides the proprietary brands, Luxottica manages a huge portfolio of licensed brands such as Chanel, Giorgio Armani, Prada ( OTCPK:PRDSY) ( OTCPK:PRDSF), Michael Kors (NYSE: KORS), Burberry ( OTCPK:BURBY) ( OTCPK:BBRYF), Coach (NYSE: COH), Dolce & Gabbana, Valentino, Versace and several more.
Second, the high level of vertical integration and the strong retail network guarantee a good level of control over costs and a better access to customers. LUX owns retail brands such as Sunglass Hut International, Sears Optical, Target Optical, Lens Crafters and many others. The huge portfolio of brands, the high level of vertical integration and the strong and growing retail network are the main factors that have built Luxottica's competitive advantage over competitors. These factors tend to reinforce each other. The level of visibility and access to customers guaranteed by Luxottica's retail network allows the company to keep a good level of bargaining power. Licensers are happy to renew their agreements with LUX, since there are not attractive alternatives, at least for North American markets.
Weakness in the emerging markets and Asia-Pacific
My doubts on the short-term prospects of Luxottica were confirmed after reading the company's H1 results. Net sales were up 1.1% over H1 2015 (+3.5% in constant currency terms) but net income was down 5.7% (-0.50% in constant currency). Any consumer goods stock trading at almost 26 times earnings needs to grow at a good pace to justify such a rich valuation, but it is not clear whether the company is able to deliver the necessary growth in this situation, especially in the short-medium term. In H1 results were mixed: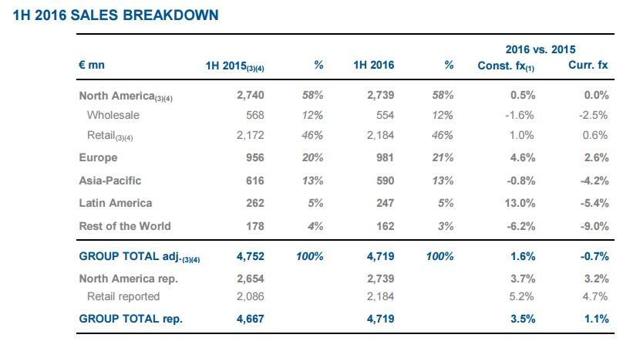 Click to enlarge
As we can see in the table above, sales were flat in North America and slightly up in Europe, but declined in every other region. The growth pace that would justify the rich valuation can't be achieved without a strong performance in the emerging markets. Performance in the Asia-Pacific region was weak, with sales down 0.8% (-4.2% in constant currency), even if the company declared that sales growth in some countries such as Japan, South Korea and India was actually positive. Sales in Latin America declined by 5.4%, while they declined by 9% in the rest of the world.
I am not questioning the company's business model, competitive strengths or long-term prospects. I think nobody can. But valuation matters, and a Price to Earnings ratio above 25 must be implying some growth. With such weak results in all the emerging markets I am not sure the market is properly pricing the company's future prospects. That's why in the next earnings release I want to have some signs that confirm the current valuation is justified. I want to see sales coming from emerging markets grow at a decent pace, ideally more than 5%, with flat or growing sales in Europe and North America. I want to see a strengthening position in the Asia-Pacific region, which accounts for 13% of the company's sales, but for about 20% of the world sunglasses market (Technavio). APA is expected to be the fastest growing region for the sunglasses market, since the number of consumers who can afford branded sunglasses and who are willing to spend money on lifestyle products is rising. Moreover the increasing urbanization is influencing people in adopting western lifestyles, looks and culture, which is a positive factor for fashion items in general. A further decline in sales in Asia-Pacific could mean the company is not being able to leverage its brand strength and financial power to take advantage of the positive trend in the region, suggesting excessive optimism in the current valuation.
I would not be concerned if the company reported flat sales in North America or Europe, because of the external factors that are negatively affecting the fashion industry in these regions. Declining tourism resulting from a strong dollar and concerns around terrorism have had a negative effect on the sales of fashion items to tourists. Probably, the dollar will not depreciate in the short-term, since the Fed will likely keep tightening, but tourism should recover if concerns around terrorism diminish and the economic environment in the emerging markets improves.
Takeaway - What I am looking at
The main factor that would justify Luxottica's valuation is growth in the emerging markets and in the rest of the Asia-Pacific region, where the company doesn't enjoy a strong retail network (with the exception of Oceania) but where it can exploit its brands' strength. I am sure the company will keep being highly profitable and enjoy a strong competitive position in North America and Europe in the future, but at this time the moat is not enough to justify a P/E above 25 in an overvalued market with several macro risks.
Despite the 10% decline, I think there is still some short-term weakness not priced in the stock, that could be offset only by a strong performance in non-core markets. At the current price I would consider buying only if the company reported decent growth rates in the developing markets (more than 3% and ideally more than 5%) without negative results in North America and Europe, with a positive earnings surprise (consensus at $0.47). Otherwise, I would expect the stock to fall under €36 ($44) before considering buying.
Anyway positive results in the third quarter release would not protect investors from significant downside risks in the coming months. There are still several factors that make me bearish on the market, starting from valuation, with the S&P 500 trading at a P/E above multiple above 25, the highest level of the last century if we exclude the .com bubble.
A significant number of macro risks are still in place, mainly related to the uncertainty around the Brexit process, concerns around Deutsche Bank (NYSE:DB) and the Italian constitutional referendum. If a stock market correction takes place, stocks in the fashion industry will suffer, including Luxottica.
I want to thank you for taking the time to read the article. If you liked it, click on the follow button at the top of the page. You will get these articles as soon as they are published.
Disclosure: I/we have no positions in any stocks mentioned, and no plans to initiate any positions within the next 72 hours.
I wrote this article myself, and it expresses my own opinions. I am not receiving compensation for it (other than from Seeking Alpha). I have no business relationship with any company whose stock is mentioned in this article.
Editor's Note: This article discusses one or more securities that do not trade on a major U.S. exchange. Please be aware of the risks associated with these stocks.