In late 2015, two activist investors (Mr. Carl Icahn and Mr. John Paulson) called for management of American International Group (NYSE:AIG) to "break up" the company by splitting the insurer into three separate businesses. The activists believe[d] that a break up of AIG would unlock shareholder value and would also strengthen the insurer's case for challenging the government on the Systemically Important Financial Institution, or SIFI, designation. In response to the activists, AIG announced plans to create a "learner, more profitable and focused insurer" by making a few strategic changes to its structure/operations.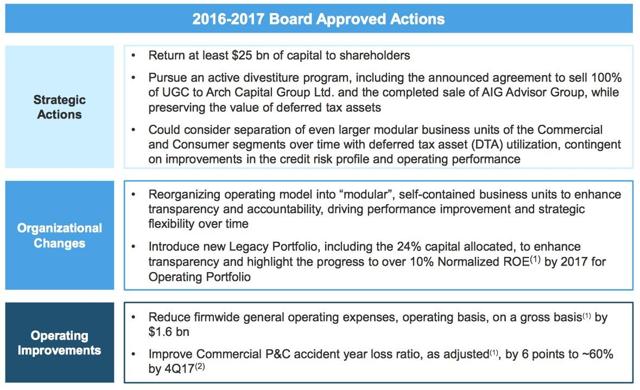 Click to enlarge
(Source: August 2016 Investor Presentation)
Over time, AIG has slightly changed its approach for disposing of non-core assets, as the initial plan was to IPO ~20% of United Guaranty and retain the remainder of the unit under the AIG umbrella. However, AIG eventually decided to sell 100% of the unit to Arch Capital Group Ltd. (NASDAQ:ACGL) for total consideration of $3.4b. More recently, the insurer also sold its stake in Ascot Lloyd's syndicate to the Canada Pension Plan Investment Board.
The excuse, or should I say the reason, that management gave for not wanting to split the company was the thought that the insurer would wipe out the benefits of the deferred tax asset, or DTA, if large portions of the business were sold. However, based on the recent activity, it appears that management is changing their tune and making decisions that are more in line with what Mr. Carl Icahn and Mr. John Paulson initially recommended/demanded.
Management is still focused on preserving the DTA but it appears that they are now more open to selling larger portions of the business, which is great news for long-term investors. Furthermore, AIG's path forward is now looking more and more like the path that another insurer, MetLife (NYSE:MET), decided to take in relation to selling non-core assets and challenging the SIFI designation.
Is MetLife Showing AIG The Path Forward?
On October 5, 2016, MetLife announced plans to distribute ~80% of its U.S. life insurance unit, Brighthouse Financial, at some point in the near future. There are still questions over whether the spinoff will be an IPO or sale, but the news was well received by the market (shares are up ~5% since the announcement).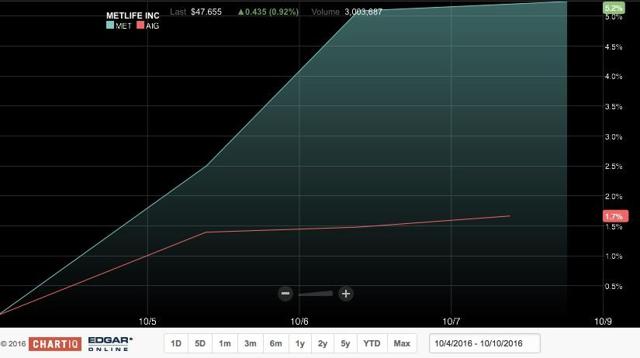 Click to enlarge
(Source: Nasdaq)
Not only are MET shares up big since the announced spinoff but the insurer's shares are also up big over the past three months, as investor sentiment has been positively impacted by management's recent decisions.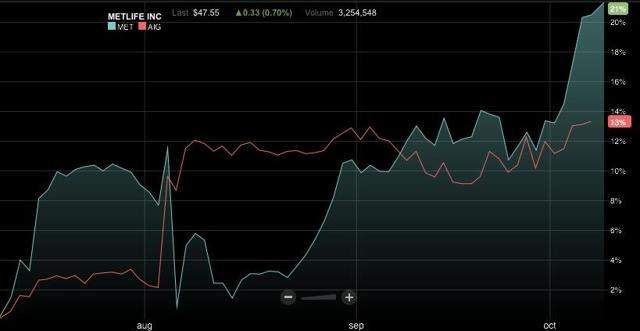 Click to enlarge
(Source: Nasdaq)
The street is also encouraged by MetLife's long-term business prospects, as Argus recently reiterated its "buy" rating on MetLife with a price target of $54 (~13% higher than today's price) and identified the upcoming spinoff as a catalyst.
MetLife took a very different approach than AIG did when it comes to selling businesses and accepting the SIFI designation, because from the start management of MetLife left the door open for significant asset sales/separations in order to rid itself from the burdensome SIFI designation. MetLife previously stopped buying back shares and started to buildup capital to ready itself for these type of large business separations, which is not the case for AIG. Instead, AIG has been buying back shares hand-over-fist and has been solely focused on returning capital to shareholders. MetLife is already battling the government in court over the SIFI designation but AIG has not yet challenged the designation, which could soon change.
So, which is the right path forward? I still believe that AIG is a long-term buy at today's price whether or not the company "breaks itself up", but, in my opinion, more shareholder value will be created if AIG were to take notes from MetLife and dispose of significant businesses in a direct attempt to rid itself from the SIFI designation.
Valuation
I hold both AIG and MET shares in the R.I.P. Portfolio, because I believe that shares of these two insurers are attractively valued and that both insurers will [eventually] benefit from a rising rate environment.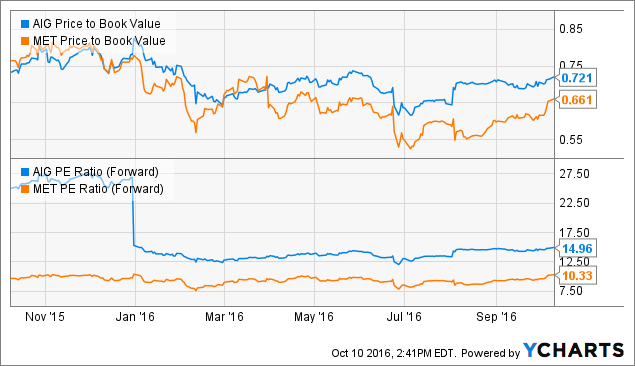 AIG Price to Book Value data by YCharts
AIG shares are trading at a slight premium to MET shares but AIG's valuation is more attractive when compared to other peers.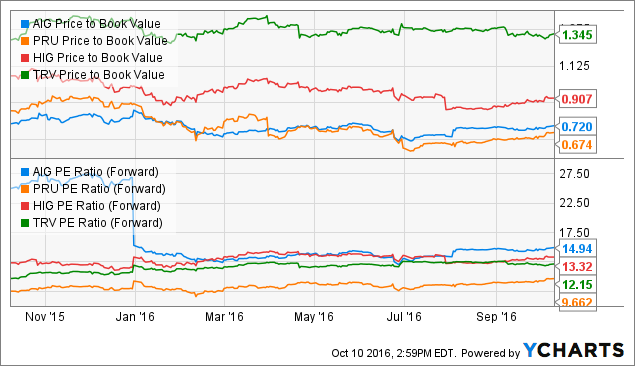 AIG Price to Book Value data by YCharts
Plus, AIG plans to return $25b to shareholders over the next two years and the company is paying an attractive dividend (that should be raised in the near future).
Bottom Line
It appears that management of AIG is changing course and is now making decisions that are more in line with what the activists have been asking for, which also happens to be similar to the strategic decisions that management of MetLife has been making for the last few months. In my opinion, the activists have been more successful than what Mr. Peter Hancock, President and CEO of AIG, would admit to but actions are indeed speaking louder than words.
AIG is operating in a challenging operating environment so the insurer's upcoming earnings will likely not be anything to write home about, but, in my opinion, AIG has several long-term catalysts in place that will help shares outperform the market over the next 12-18 months. Investors should not run out tomorrow to purchase AIG shares but any significant pullback should be considered a buying opportunity.
If you found this article to be informative and would like to hear more about this company, or any other company that I analyze, please consider hitting the "Follow" button above.
Disclaimer: This article is not a recommendation to buy or sell any stock mentioned. These are only my personal opinions. Every investor must do his/her own due diligence before making any investment decision.
Disclosure: I am/we are long AIG, MET.
I wrote this article myself, and it expresses my own opinions. I am not receiving compensation for it (other than from Seeking Alpha). I have no business relationship with any company whose stock is mentioned in this article.