The most popular emerging markets ETF (NYSEARCA:EEM) is up 18.0% YTD and up 11.6% in the past three months alone. This can largely be attributed to an overall low-yield environment in developed markets, most notably the US, EU, and Japan, where longstanding monetary programs of ultra-low rates and quantitative easing have bid down yields (and future yields) in bond and stock markets. According to Citigroup, as of July, approximately 35% of all debt in developed economies is trading at negative yields, pushing more and more funds into stock markets and emerging markets.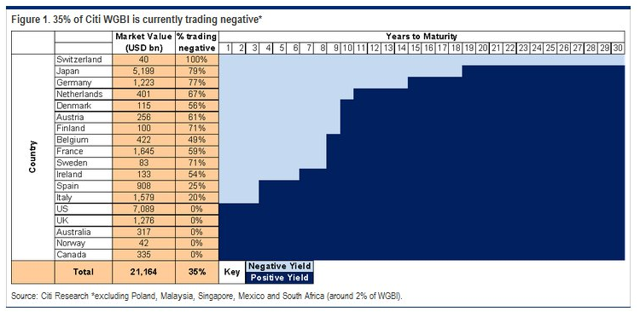 Click to enlarge
Moreover, rising oil prices have been beneficial for emerging markets. Although most developing economies are actually net importers of oil rather than exporters, higher oil prices frequently correlate with higher prices for other commodities that represent valuable economic assets for many developing countries.
Weakness in the US dollar has also been advantageous for emerging markets. With a mixed outlook on the state of the world's developed economies, central banks are continuing to keep rates extremely low with the ECB and BOJ helping to maintain extremely low bond yields through quantitative easing programs.
India's Place in the Emerging Markets Spectrum
Some emerging markets represent high-risk scenarios and must be treaded carefully (e.g., Brazil), while others look to be more stable in providing healthy, attractive yields in a world where they are hard to come by. I believe India is an attractive sovereign debt market to invest in and one in which I am personally invested in myself.
In a sea of low sovereign bond yields, India's 10-year bond is currently trading at 6.85%. Due to a favorable monsoon season, food prices are remaining stable, which should further decelerate the country's inflation, presently measured at 5.05% in August.
There are many positive indicators on the economic health of India. Real GDP has grown 7.1% year over year and 1.4% quarter over quarter. On an annual basis, this is expected to slow to approximately 6.9% year over year by Q3 2017 and to somewhere between 5.5%-6.0% by 2020.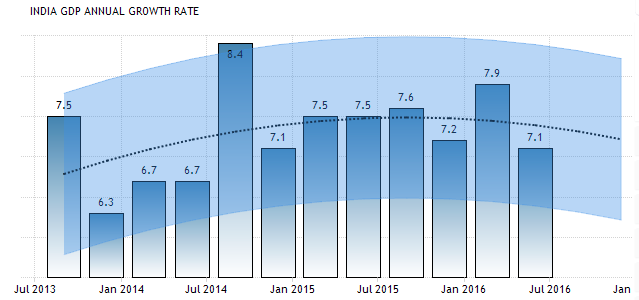 (Source: tradingeconomics.com)
The country's jobless rate is solid at 4.9%, which is lower than that of many notable developed economies, including the US, EU, Canada, Australia, and equal to the rate in the UK. GDP per capita by year-end 2015 had increased 66% since 2006 from $1,089 to $1,806. At its current trajectory, it should hit the $2,000 mark by year-end 2017.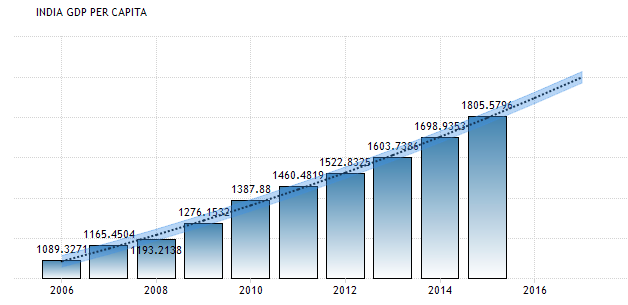 (Source: tradingeconomics.com)
Gross fixed capital formation looks to increase at a slightly higher clip than GDP to around 7% Y/Y, and measures the acquisitions of fixed investments by businesses, households, and government entities.
The country's GDP has been continually rising relative to debt. Its debt-to-GDP ratio stood at 77.1% in 2006, but had fallen to 67.2% as of the end of 2015. This suggests that, most importantly, incomes are rising faster than debt (opposite to what is occurring in the US and EU), making India's 10-year bond a more attractive investment as leverage decreases. Accordingly, there is very little belief that India is a developing economy with a substantially non-zero risk of default. Fitch and Standard & Poor's rate India at BBB- with a stable outlook, while Moody's rates India at Baa3 with a positive outlook.
In October, India's central bank already cut rates by 25 bps from 6.50% to 6.25%. Further rate cuts are likely to follow assuming inflation continues to drop and consumer prices remain low from increased agricultural output. CPI data for September will be released on Thursday, October 13, and should come in around 4.75%-4.85%, down 20-30 bps from the month before.
Moreover, industrial production is expected to recover from its July reading of -2.4% Y/Y to -0.2% for August. The country's trade balance will likely decrease from its -$7.67 billion mark to roughly -$8.4 billion, but is not of too much consequence. The Indian rupee has depreciated 50% against the US dollar in the past 6-1/2 years, but appreciated 2.3% against the USD in 2016 alone.
Its declining trade balance is less of a threat to economic performance than it might have been 10-15 years ago as it transfers into an increasing consumption-based economy. As the country matures economically, GDP from manufacturing is poised to decline, while the slack is bound to be picked up through an increasing shift toward services.
In August, on top of much in the way of positive data (or expected data), India made one of its most significant structural reforms since the 1990s by instituting the creation of a national sales tax. The tax, dubbed the goods-and-services tax (or GST), replaces numerous forms of taxation that are levied on Indian businesses. The simplification of the tax system aims to increase the ease at which goods can be transferred across state lines and stamp out the perverse incentives that may lead to bribery and corruption.
The details are still to be fleshed out entirely, including what products may qualify as potential exemptions, final tax rates, and how each state may react to potential lost income from GST's implementation. States that are less reliant on the central government poise to benefit most from the GST (e.g., the eastern and northern-most state) while the most reliant are likely to benefit least (e.g., central and southern states). But overall, successfully lowering internal barriers to trade and decreasing compliance costs, as the GST is designed to do, looks to be a credit positive outcome for the country.
If there is any concern regarding currency risk in a foreign sovereign debt transaction - being payments are dispensed in the debtor nation's currency - one could hedge out this risk by buying the USD against the Indian rupee (i.e., long USD/INR), or whatever one's currency preference.
Conclusion
In my view, India looks to be one of the most attractive and safest emerging markets available today. The country is home to approximately 1.35 billion increasingly wealthy citizens, with strong data among employment and GDP growth, falling/stabilizing debt-to-GDP levels, and a healthy level of price stability and disinflation.
And notably, the nation recently initiated the seeds of structural reform to its tax system to mitigate the logistical and compliance inefficiencies plaguing interstate trade. This reform has the chance to be very credit positive, but it is perhaps too premature to offer a deeper analysis without yet knowing the precise details.
I believe India 10-year bond yield of close to 7% is relatively safe considering what 7% typically gets you in this low-yield environment. Further, as inflation is poised to likely drop going ahead, this can help create an environment amenable to further rate cuts by the Reserve Bank of India. Accordingly, investors have the opportunity to buy into an attractive yield while also having the potential for further capital appreciation as rates are lowered and as sentiment surrounding the nation's economy continues to improve.
Disclosure: I am/we are long 10-YEAR INDIA BONDS.
I wrote this article myself, and it expresses my own opinions. I am not receiving compensation for it (other than from Seeking Alpha). I have no business relationship with any company whose stock is mentioned in this article.