Closed-end municipal bond funds have made a spectacular run in the last year. After being discarded as too interest rate-sensitive last fall based on fears of impending rate hikes, they have since come back into favor, with discounts closing substantially. Municipal bond funds have recorded 53 straight weeks of positive fund flows, helping to push prices up and bond yields down.
That positive record is being driven by a flight to safety and by foreign buyers scooping up the high quality of municipal bonds as Treasury surrogates with much better yields. We've touched upon just how close to Treasuries these bonds are in terms of overall risk, although some areas of the muni market bear close watching (see "Beware of Yields Too Good To Be True: Chicago Munis").
We are large proponents of NAV momentum, which tends to be driven by tightening spreads of the asset class as well as fund flows. In terms of fund flows, that benefit may be starting to wane as the positive flows slow to a trickle. The largest fund flow into munis occurred back in May at +$7.3 billion. That declined to about +$6 billion for most of the summer, according to ICI, and then down to +$4 billion in September.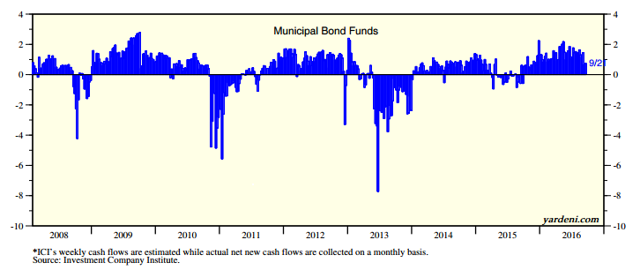 Click to enlarge
If the fear of higher interest rates continues, along with a dearth of additional demand from foreign buyers, fund flows could turn negative for the first time in over a year. If that were to occur, we could see a large move higher in the muni index yield.
Muni CEFs are being driven to premium levels by yield seekers who seemingly ignore the risks inherent in the funds, equivocating them with muni bonds in general in terms of risk. But muni CEFs have issues that investors need to consider, and which we've been pounding the table about over the past couple of months. Those variables include:
Call and reinvestment risk
Yield curve flattening
Pension crisis
The average muni fund had a premium just four weeks ago, but then the bond market experienced the mini-taper tantrum and many of these funds saw significant discount widening. The group of national muni CEFs that we follow saw an average spread widening of 350 bps since early September. Some funds saw much more significant discount widening as more funds cut their distributions, something we warned about back in June ("Are Muni Closed-End Funds Overvalued?").
Bargains abounded in the space back in December, with the average fund trading at a low double-digit discount to NAV on those higher rate fears. By early July, those discounts were gone and the average fund traded at just under a 1% discount to NAV, with many funds at a premium. This despite a significant amount of distribution cuts as the fundamental environment for muni CEFs became unfavorable. Those included much lower yields on new issues replacing maturing or called bonds, and higher borrowing costs due, in part, to money market changes that has driven up Libor rates.
Most muni CEFs use tender option bonds (TOBs) along with variable rate preferred shares (VRTP). Libor rates hit 0.8706% as of October 7th, driving up borrowing costs across the CEF complex. Those higher borrowing costs and lower yields on new issues are depressing muni CEF earnings. Couple that with a significant amount of call risk in the funds, and you have a recipe for unsustainable distribution rates across most funds.
Overall, we think the asset class is fairly expensive right now as Treasury yields trend higher, producing losses on the long-duration issues. Add in the leverage of the CEFs, the higher borrowing costs, and the tight discounts, and you have a not very favorable outlook. While the asset class in general is still a good one from a safety perspective, and will likely see continued demand from both domestic and foreign buyers, the HIGHLY favorable tailwinds experienced this year are not likely repeatable.
Fundamental analysis is more prudent than ever in the space, and investors should require a margin of safety (wider discount) given the sector headwinds. Despite the run, there remain several opportunities in the space, especially among funds that have recently cut their distribution and have seen the market price cut in punishment.
Methodology
(For those familiar due to previous analysis, skip to the next section.)
Given the run in closed-end funds since the start of the year, we thought we would visit the industry and do an overview of each of the underlying segments. We are looking at the mortgage bond funds today using a fairly simple calculation in order to incorporate several factors which we think SHOULD drive valuation of the funds. However, given the investor base of closed-end funds, distribution yield and discount tend to be the primary factor, and in many cases, the only factor looked at.
We are not big fans of a one-size-fits-all quantitative screen in order to create some rank of the value of respective funds. Our process involves a screening component as a starting rank, which we then use to dig deeper with a more qualitative analysis. Anyone who ranks closed-end funds via a one- or even two-variable ranking system is likely misleading the investor.
Our initial ranking system utilizes the current discount or premium, the current distribution rate and the earnings in excess over the distribution yield. Our adjusted annual total return assumption (which we simplistically call "adjusted proj TR") includes the price equaling NAV by year three. In other words, we include the discount closing to zero over a three-year period.
To us, this is a mechanism that helps incorporate a margin of safety. There are flaws with any ranking system, and we certainly know they exist with this system, but feel it makes one of the better starting points in analysis. For example, relative discounts typically exist for a reason - whether its size of the fund, poor relative performance, high expenses, or liquidity.
But our analysis is meant to create a starting point for the asset class that can be used to dig deeper. We hit on the main data points for investors. For one, we are calculating in a potential capital gain via the closure of the discount over an extended and fairly reasonable period of time. Second, we include the all-important distribution rate into the ranking. And lastly, we include what the fund is currently generating in terms of earnings, which can help us anticipate distribution cuts or increases.
Overvalued and Undervalued Municipal Funds
First, looking at the space as a whole, we can clearly see the current unfavorable trend. Of the 86 funds that are geared as national muni or high-yield muni by CEFConnect.com, 65 have a negative UNII trend, with just 3 flat and 18 up. In terms of earnings per share, 61 have realized a decline, 4 are flat, and 22 are up. Earnings coverage of the space averages 99.54%, aided by the cuts to distributions that have occurred over the last three months. Three months ago, that coverage rate was 99.34%.
The most striking change over the last three months has been the NAV momentum shift. Of the 91 funds that existed in the space in mid-June, 82 were experiencing positive NAV momentum, while 9 were flat. Zero were realizing negative NAV momentum. Today, of the 86 funds, zero show positive NAV momentum, 65 flat, and 21 negative. The headwinds we have noted above are clearly taking their toll on the performance of the funds and earnings generation.
However, we do think there are a few pockets of opportunities within the space, especially for the highest income earners. Those who earn more than $467K in joint taxable income would be in the highest tax bracket and subject to federal marginal tax rates of 43.4% when including the net investment income tax of 3.8%.
According to the Closed-End Fund Association (CEFA), the average insured levered muni debt fund had a discount of 1.7% compared to 0.8% the week before and a small premium in August. At the end of 2015, the average fund had a 4.8% discount.
The iShares National AMT-Free Muni Bond ETF (NYSEARCA:MUB) peaked in early July, shortly after the flight to quality stoked by the Brexit vote. Since then, the trend has been lower, with shares down 2.9%. YTD, the ETF is up 1.02% compared to over 4% in July. The chart below of the Nuveen Dividend Advantage Municipal Fund 3 (NYSEMKT:NZF) shows what we have typically seen across many muni CEFs. While discounts are wider due to the mini-taper tantrum in mid-September, the performance is also down as the NAV has rolled over.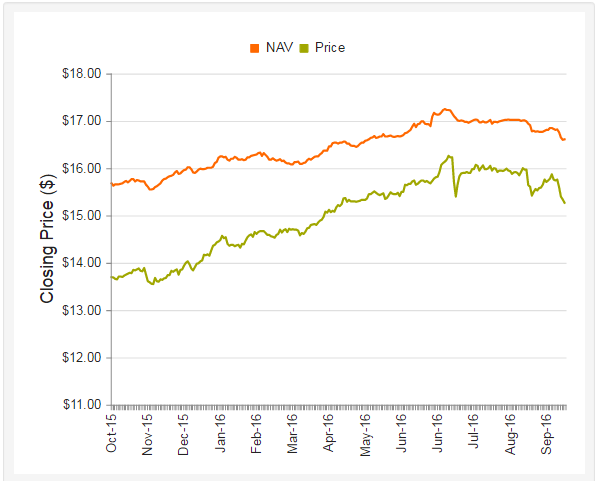 (Source: CEFConnect.com)
Below is the table with the current muni CEF data points that we consider a starting point for further analysis. Recall that these variations in discounts, yields, and earnings coverage could be due to a host of different factors that could play into why they are trading where they are. In other cases, the market may be missing certain variables that are mispricing the fund.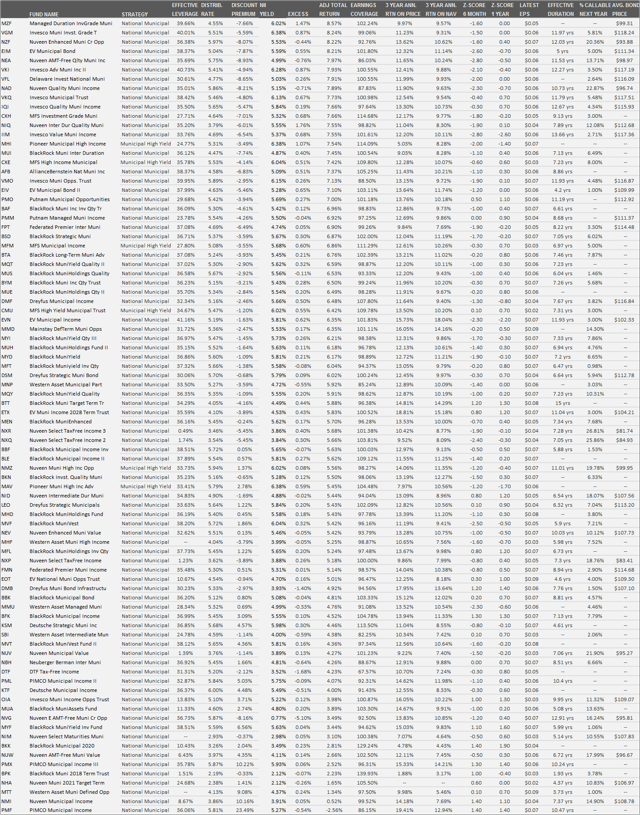 Click to enlarge
(Source: Author's Calculations from CEFConnect.com, CEFAnalyzer, and other data sources)
For a better image of the above table, please click on the following link: http://imgur.com/a/W60kq
There are several funds that show cheap z-scores on a six-month basis with several funds that have been sold off due to recent distribution cuts. To us, these are the most attractive, as they are now aligning earnings yield and distribution yield given the under-earning environment in which muni CEFs reside. As issues get called and new issues are purchased with, in many cases, half of the yield of the previous holdings, earnings were going to inevitably fall.
We have identified several opportunities for investors in the highest tax bracket, where tax-equivalent yields are still favorable when compared to the taxable CEF space. For investors who are not in the highest income tax bracket, an assessment of the risk-return trade off is required in order to ascertain whether the switch to a taxable fund is warranted.
The table below shows the tax-equivalent yields necessary for a muni CEF to be worthwhile dependent on the marginal tax bracket of the investor.
| | | |
| --- | --- | --- |
| Muni CEF Yield | Tax Rate | T-E Yield |
| 5.25% | 28% | 7.29% |
| 5.25% | 33% | 7.84% |
| 5.25% | 35% | 8.08% |
| 5.25% | 39.6% | 8.69% |
| 5.25% | 43.4% | 9.28% |
In other words, if you are in the 35% bracket, you need to earn at least 8.08% on the taxable side to come out ahead. This exercise does equivocate risk levels between the two asset classes, which isn't necessarily true. Munis do have much lower default rates, but also have higher durations, making them more sensitive to interest rate increases.
Conclusion
As we noted above, there are several recent opportunities in the muni CEF space, really for the first time in several months. These are being driven by distribution cuts, in some cases the second in the past year, which have sent investors to the exits. But in reality, these are the funds that are aligning the earnings environment with the distribution rate, something that is inevitable with all the funds in the sector. Many of these funds have been punished to an extreme degree, creating solid discounts and better yields on price.
Note: To get these types of articles as soon as they are published, just click on the "Follow" button next to my profile and choose the "Real-time alerts" option.
Marketplace Service For Those Hunting For Yield
In April 2016, we launched our marketplace service Yield Hunting: Alternative Income Investing dedicated to yield investors who wish to avoid the froth associated with the equity, REIT, and other more volatile areas of the market. We encourage investors to utilize the free two-week trial in order to benefit from our yield opportunities within closed-end funds, business development companies, and other niche areas. We attempt to construct a "low-maintenance portfolio" with a yield in excess of 7% on a tax-equivalent basis with capital gain optionality. Our core model is up 15.79% with our muni model up.
Disclosure: I am/we are long NAD, NVG, VKQ, IQI, EIM, EIV, PML.
I wrote this article myself, and it expresses my own opinions. I am not receiving compensation for it (other than from Seeking Alpha). I have no business relationship with any company whose stock is mentioned in this article.
Additional disclosure: The commentary does not constitute individualized investment advice. The opinions offered herein are not personalized recommendations to buy, sell or hold securities. As I have no knowledge of individual investor circumstances, goals, and/or portfolio concentration or diversification, readers are expected to complete their own due diligence before purchasing any stocks mentioned. The strategies discussed are strictly for illustrative and educational purposes and should not be construed as a recommendation to purchase or sell, or an offer to sell or a solicitation of an offer to buy any security. There is no guarantee that any strategies discussed will be effective. The information provided is not intended to be a complete analysis of every material fact respecting any strategy. The examples presented do not take into consideration commissions, tax implications or other transactions costs, which may significantly affect the economic consequences of a given strategy. This material represents an assessment of the market environment at a specific time and is not intended to be a forecast of future events or a guarantee of future results. This information should not be relied upon by the reader as research or investment advice regarding the funds or any security in particular.