A few days ago, Baker Hughes (NYSE:BHI) came out with some data regarding the global rig count. During a time when oil production continues to fall in the U.S., as well as in other countries in the world like China and Venezuela, but prices are rising, fears are arising that the uptick in the rig count will result in more production coming on-line moving forward - which, if true, would prolong or maybe even worsen the oil market recovery. In what follows, I will dig into the data provided by the company and give my assessment of the overall market and what it means for investors in companies like Memorial Production Partners (NASDAQ:MEMP), Approach Resources (NASDAQ:AREX), and Legacy Reserves (NASDAQ:LGCY), as well as for the United States Oil ETF (NYSEARCA:USO) and other oil-related ETFs moving forward.
A disclosure
As a disclosure, I should mention that the recent monthly data provided by Baker Hughes pertaining to the rig count incorporates not only oil rigs, but natural gas rigs as well. As much as I wish that the data was broken down into both categories, that's not how it's presented. Having said that, this isn't necessarily a problem, because in its Drilling Productivity Report, the EIA (Energy Information Administration) assumes that all rigs produce a blend of the two - so its own estimates look at the overall rig count, not rig counts that are divided.
A look at the global rig count
Over the past few months, the global rig count has, according to Baker Hughes, mostly risen. After bottoming in May of this year at 1,405 units in operation, the count has increased to 1,584 units in operation as of September. This recent uptick from August amounts to an increase of 37 units in operation. In the table below, you can see the rig count data provided on a monthly basis, which shows Latin America, Europe, Africa, the Middle East, Asia/Pacific, Canada, and the U.S.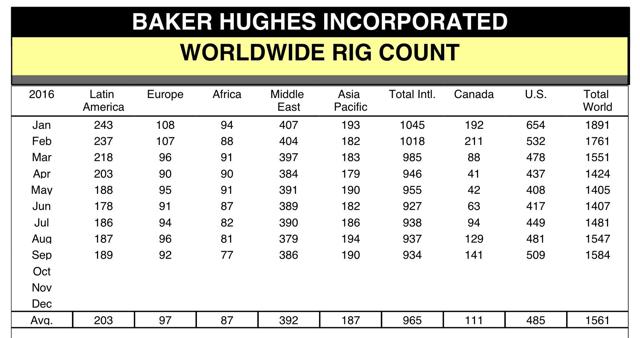 Click to enlarge
*Data from Baker Hughes
What's interesting about this data is that all of the recent rig count changes can be chalked up to Canada and the U.S. for the most part. In just the past month alone, the rig count here has risen by 28 units from 481 to 509, while in Canada they were up by 12 units from 129 to 141. Internationally, the rig count (which excludes Canada and the U.S.) actually fell by 3 units over the course of a month.
From May of this year, the picture is even more stark on the international stage. While the U.S. rig count is up by 179 units from that time and the rig count in Canada is up by 99 units, the international count (excluding these two regions) is actually down by 21 units from 955 to 934. In fact, every month since May, with the exception of June, the rig count in those areas has declined. To some extent, this may be due to seasonal factors, but another factor is likely the adverse impact that low energy prices earlier this year have had.
Now, the question is: How big is the overall increase we've seen? The answer is that it's hard to tell. In articles like this, you can see my overall conclusion regarding production data from domestic locations, but the sad truth is that there's no reliable data that I can find from international sources that gives me a basis for estimating the impact of a change in rig count in other nations or regions. Trying to speculate on this would be negligent, in my opinion.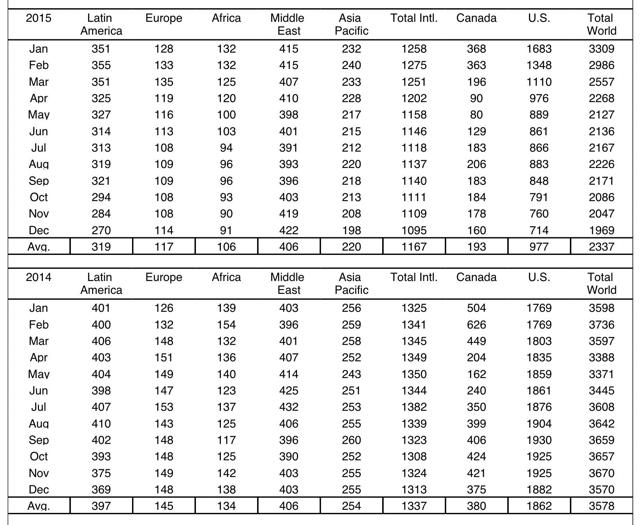 Click to enlarge
*Data from Baker Hughes
Instead, a better approach might be to look at the change in rig count over a long period of time. If, for instance, you look at the images above, which show monthly rig count data for 2014 and 2015, you can get an idea of where we stand now compared to where we stood in the recent past. Across all regions, as can be seen in the table below, the rig count is still down year over year, with Latin America and the U.S. leading the way with drops of 41.1% and 40%, respectively, while the Middle East has barely budged at a drop of 2.5%. From 2014, when a great deal of drilling activity was going on, the rig count in places like the U.S. is still down by as much as 73.6%. Globally, the rig count is down 56.7% over the past two years.

Click to enlarge
*Created by Author with data from Baker Hughes
Takeaway
Right now, it's hard, if not impossible, to know the full impact that these changes in rig counts will have; but the fact of the matter is that, even with rig productivity improvement rates, the world's rig count is down such an extreme amount that, as the decline rates in these regions continue and even if some new production activity comes on-line, the picture looks bullish for investors. This does not mean that global output will fall further (I believe it will, based on EIA data) or that it will even stay flat if the rig count continues to climb, but it does imply that a material resurgence in the production of oil, absent a major uptick in the rig count, is very unlikely for now.
Disclosure: I am/we are long AREX, MEMP, LGCY.
I wrote this article myself, and it expresses my own opinions. I am not receiving compensation for it (other than from Seeking Alpha). I have no business relationship with any company whose stock is mentioned in this article.
Additional disclosure: I own LGCYO, not LGCY.
Editor's Note: This article covers one or more stocks trading at less than $1 per share and/or with less than a $100 million market cap. Please be aware of the risks associated with these stocks.