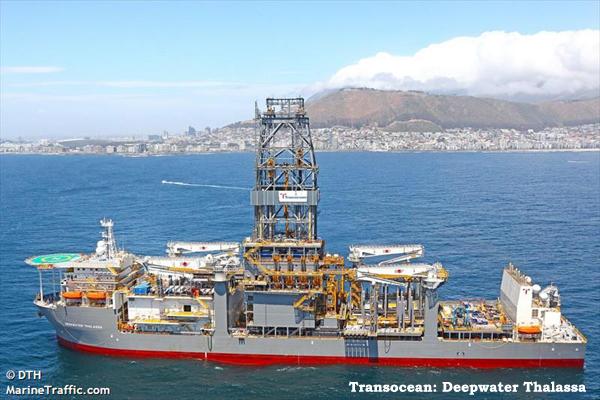 This article is an update of my preceding article on Transocean, Ltd. (NYSE:RIG) published on August 7, 2016, which was focused on Q2 2016 results.
On October 7, 2016, Transocean announced the following:
Transocean Phoenix 2 Limited, one of its wholly-owned indirect subsidiaries (the "Issuer"), has priced an offering of senior secured notes. The Issuer will issue U.S. $600 million in aggregate principal amount of senior secured notes due 2024 (the "Notes") pursuant to Rule 144A/Regulation S to eligible purchasers.

The Notes will be guaranteed by Transocean Ltd., Transocean Inc. and a wholly-owned indirect subsidiary that owns the Deepwater Thalassa. The Notes will be secured by a lien on the Deepwater Thalassa and certain other assets related to the rig.

The Notes will bear interest at the rate of 7.75% per annum and will be callable after October 15, 2020. The offering is expected to close on or about October 19, 2016, subject to customary closing conditions. The Issuer expects to receive aggregate net proceeds of approximately U.S. $583 million from the offering, after deducting the initial purchaser`s discount and estimated offering costs.

The net proceeds from the Notes will be used primarily for the purpose of partially financing the construction of the Deepwater Thalassa.
I - A little about the Deepwater Thalassa and the relationship with Shell and Chevron.
The Deepwater Thalassa commenced its 10-year contract with Shell in the Gulf of Mexico in February 16, 2016.
The newbuild ultra-deepwater drillship Deepwater Thalassa commenced operations on its 10-year contract in the U.S. Gulf of Mexico with Shell at a dayrate of $519,000. Built by Daewoo at Okpo Shipyard in South Korea, the rig is designed to operate in water depths of up to 12,000 feet and drill wells to 40,000 feet. It features Transocean's patented dual-activity drilling technology, industry-leading hoisting capacity, Transocean's designed and patented Active Power Compensation hybrid system and a second blowout preventer (BOP). The drillship is upgradeable to accommodate a 20,000 psi BOP system.
M. Mark Mey, CFO, said in the Q3'2015 conference call:
Capital expenditures totaled $940 million, mostly related to our newbuild program and included the final shipyard payment on the Deepwater Thalassa. The Thalassa will commence its $1.9 billion, 10-year contract for Shell in late December.
Reading the 10-Q 3Q'15 page 41, I deducted that the total cost for the Deepwater Thalassa was $920 million, which is much higher than its original cost of $750 million.
Transocean has been awarded five long-term contracts with Shell and one with Chevron in the Gulf of Mexico (mostly).
Below, is an excerpt of my most recent fleet status on July 21, 2016. However, a most recent fleet status (fun trading) has been published on October 4, 2016, after the company announced the termination by Reliance of the UDW Discoverer India.
Rigs Under Construction. (Ultra DeepWater only).
#
RIG
K feet
Delivery
Contract End

Day Rate

K $

Location
Ultra-deepwater Drillships
1
Deepwater Pontus
12/40

Q1/18

Q4'17-Q4'27

519

[Shell]

TBA

2
Deepwater Poseidon
12/40

Q2/18

Q1'18-Q1'28

519

[Shell]

TBA

3
Deepwater Conqueror
12/40
Q4/16
Q4'16-Q4'21
599

[Chevron]

US GOM

4
JSPL Ultra-deep Espadon TBN 1 ("2")
12/40
1Q'20
Available
-
-
5

JSPL Ultra-deep Espadon TBN 2

("2")

12/40
3Q'20
Available
-
-
Also, two UDW are now working for Shell in the Gulf of Mexico, as we speak.
M. Jeremy Thigpen, CEO, said at the Barclays conference in September -- Seeking Alpha published my transcript here:
Before I get started, I want to drive your attention to our latest addition to our fleet, this beautiful piece of machinery. This is the Deepwater Proteus, HS dual activity, high-specification 2.8 million pound hook load, 2x7 RAM BOPs, capable of drilling in the water up to 12K feet, and up to a maximum depth of 40K feet, it's awesome. More importantly, it's in the Gulf of Mexico on contract for Shell and that's a 10-year contract, which is really nice to have in the current market and she is performing exceptionally well along with her sister rig the deepwater Thalassa which has been contracted earlier in a year. So we are really excited not only with the new technology that we are adding to our fleet, but also the start of these 10-year contracts that we have on board with Shell.
1

2016

Ship

8/16 - 5/26

486

[Shell]

US GoM
2

2015

Ship

7/16 - 2/26

488

[Shell]

US GoM
We can see above that Transocean has an important part of its current backlog with Shell. On fact, 4x10-year contracts and another 5-year contract with Chevron.
DeepWater Proteus - 10-year contract @$486k/d. Backlog remaining ~$1.7 billion
DeepWater Thalassa - 10-year contract @$488k/d. Backlog ~$1.7
DeepWater Pontus - 10-year contract @$519k/d. Backlog ~$1.9 billion
DeepWater Poseidon - 10-year contract @519k/d. Backlog ~$1.9 billion
DeepWater Conqueror (Chevron) - 10-year contract @$599k/d. Backlog ~$1.1 billion.
These five long-term contracts represent a contract backlog of $8.3 billion as of today, which represent about 67% of the total backlog of Transocean now at $12.4 billion.

Click to enlarge
Construction Costs estimated, indicated by Transocean for the five UDW are:
DeepWater Proteus - $840 million
DeepWater Thalassa - $920 million
DeepWater Pontus - $875 million
DeepWater Poseidon - $885 million
DeepWater Conqueror (Chevron) - $840 million
A total of $4.36 billion (partially paid as of today).
II - Commentary.
This recent news is quite interesting, because it follows what has been said by M. Jeremy Thigpen, CEO, at the recent Barclays' conference in September 8.
So again this is about preserving near term liquidity extending our runway, giving ourselves options if opportunities present themselves over the course of that time horizon.

Just a really good job by the finance team and we have other levers that we can pull to we talk a little bit of the secured financing against the Shell rig contract as well as the Chevron rig in the five year contract and those conversations we continue to have and really at this point looking forward absolute best pricing in term of conditions it gives us flexibility because we do not need it at this point in time.

Like I have said to continue our runway, but we do not have to have it and we are in a position where we can sit back and see how the market plays out and negotiate as needed. So internally do a lot of help out going in the right direction, I think we need some help with the market and it is the big question for everyone else including us.
One conclusion, is that it is highly possible that this new financing will be followed by others. The UDW Deepwater Proteus could be a candidate soon.
It is significant to notice that Transocean was able to secure this financing amid a severe market environment and the risk related to long-term contract. I noticed that the interest was quite respectable at 7.75% -- compared to 9% previously -- all considered. This is showing the strength of the company which is the uncontested leader of the offshore drilling sector.
One difficult topic is that taping the debt market is great, but has its limits, even for Transocean. Total debt was $8.218 billion in 2Q'16 and it is difficult to see an increase in debt as a positive, whereas, the net debt may remain stable, because the company will not use its precious cash -- cash on hand end of 2Q'16 was $2.153 billion and $3 billion of undrawn revolver facility -- to finance its new build program. The total debt with this new financing will be about $8.82 billion, unless the company purchased more debt?
M. Marc Mey, CFO, said in the recent 2Q'16 conference call:
During the quarter, we opportunistically repurchased $228 million of debt at a cost of $189 million. This includes the $100 million of debt repurchases discussed during last quarter's conference call that settled after the end of the first quarter. Cash interest savings to maturity of the repurchased debt is approximately $55 million.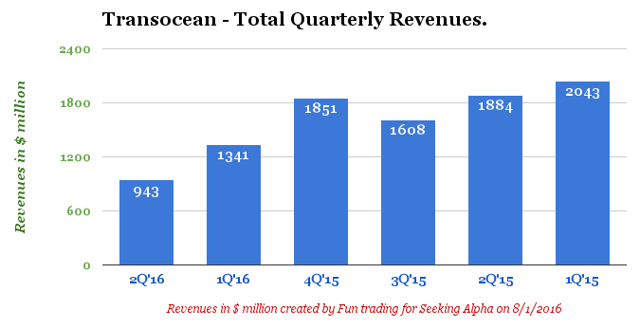 Click to enlarge
The second topic is the duration of this bear cycle, which is the most important, in my opinion, and justifies the company actual strategy to monetize its long-term contracts with Shell and Chevron.
It makes sense for Transocean to monetize its long-term contracts with Shell and Chevron by adding debt with maturity 2024, to allow the company some extra "runway" while waiting for a recovery.
The offshore drilling industry, especially the ultra-deepwater segment is expected to recover totally by H2 2019- H1 2020, and consequently, it is an important task to finance the newbuild program by debt with maturity well beyond this potential recovery. The timing can always be discussed, of course, but .
M. Jeremy Thigpen, said:
So again this is about preserving near term liquidity extending our runway, giving ourselves options if opportunities present themselves over the course of that time horizon....

Do not know when the market will turn around? I feel is 2016 is going to be tough, most of 2017 if not all, I personally would like to see some green shoots in the back in 2017, that we can do something material in 2018 and utilization up and day rate up in 2018.

But it is based on the data point that we are receiving today, if we look at the features, try to left shows supply at the end of 2015 it shows a modest decline rate that leads to the red bar there, it shows the known production over that time period and then what you see when you add all that up you have still a significant gap to make up by 2020 between supply in 2015 and expected demand in 2020 and we are going to make that gap, certainly a big portion of that will come from UDW.
Conclusion:
I see this financing as a positive despite debatable timing. Transocean is adapting to a ongoing terrible situation illustrated by the recent termination of a long-term contract by Reliance in India of the UDW Discoverer India.
The company announced the following:
ZUG, SWITZERLAND-October 3, 2016-Transocean Ltd. announced today that Reliance Industries Ltd. (Reliance) has elected to exercise its contractual option to terminate the contract for the ultra-deepwater drillship Discoverer India, effective December 2016, prior to its expiration in January 2021. In accordance with the contract, Transocean will be compensated by Reliance and its partners for the early termination through a lump-sum payment of approximately $160 million.
I was a little puzzling, I must say. Reliance terminated the Drillship Discoverer India effective December 2016. The contract was scheduled to end in January 2021 at a day rate of approximately $508k/d. I calculated the period between December 2016 to January 2021 at about 1,470 days, which means a total backlog of $747 million.
The company indicated that the termination fee will be $160 million or 21.5%, without any further explanation?
This is atypically low, and we need further details to understand the situation. The normal fee should be around $560 million of 75% of the contract backlog.
This is a huge blow to Transocean backlog, no question about that. It is difficult to jump to conclusions without having all the facts available, and I will wait until the next conference call to find out more about this case.
My first reaction is that the press release was a sad typo, to tell you the truth. It was certainly something that no one expected, especially, after listening to M. J Thigpen.
It is worth to indicate here what M. Jeremy Thigpen said in the Barclays conference regarding the backlog:
So we have said publicly that we have no cancellation for convenience language in our contracts without very stiff penalties, and so we have got good customers with solid balance sheet that will survive the downturn and they are paying their bills and they are going to emerge from this and we will emerge with time.
The Reliance termination is casting some doubt and as a long-term RIG shareholder, I was not pleased with the lack of information, I must say.
Conclusion: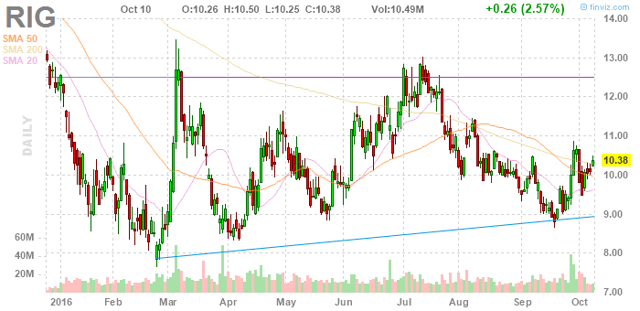 Click to enlarge
Transocean is the uncontested leader in the offshore drilling sector and should be considered as a long-term investment. Recently, after the last OPEX decision in Algiers, the oil prices turned North again and it is encouraging. A price of oil between $50-$60 a barrel is extremely important for the offshore drilling sector. Again, I will use Jeremy Thigpen's own words:
People ask me what is the magic price that our customers are saying, been doing, it is different by segmenting so the IOC the super majors are preserving liquidity and protecting dividend and at $45 a barrel they are not well excited. They are already set the budget for 2017 and they are doing it in the current price environment. So they honor their current contracts, but I do not see a lot of increase in activity and demand from those companies in 2017 unless oil prices will materially change for the better between now and then.

The independents and NOC seem to be more responsive to oil changes so when oil was at $50 a barrel a couple month ago or a month ago whenever it was our phone was ringing off the hook, what rig you have available how quickly you can mobilize, what the day rates look like and then oil dropped to $40 a barrel and then all stopped so I think if you look at the magic price I think as we get closer to $50 a barrel independents and NOC start to be more engage you start to see a path toward $60 and then $60 are sustainable and then the NOC get re-engage and if we continue to see supply destruction that we see here then it can come quicker than many people might think.
In this environment, we can see how important it is for RIG to finance its new build program. This is just about leverage and "runway". Is it costly in the long-term? Yes, it is potentially costly, but the negative is mostly compensated by the immediate positive.
I recommend RIG as a long-term investment with a buy rating when the stock trade below $9-$10 range.
Disclosure: I am/we are long RIG.
I wrote this article myself, and it expresses my own opinions. I am not receiving compensation for it (other than from Seeking Alpha). I have no business relationship with any company whose stock is mentioned in this article.