Watching the GBP/G10 flash crash last week, where someone likely fat-fingered a position, made me all the more conscious about the role currencies play in gold's price development. The U.S. dollar against G10 currencies has been on a significant uptrend since mid-August, providing strength to the thesis that the Federal Reserve may raise rates at the December FOMC meeting. Should the dollar continue its run up and the Federal Reserve gives signs that it will raise rates in December, then gold will see considerable weakness. Yet, there's another issue surrounding gold prices and that it's relative volatility. Investors are indecisive at the present moment and are causing a spike in the precious metal's volatility, something that investors need to be conscious of.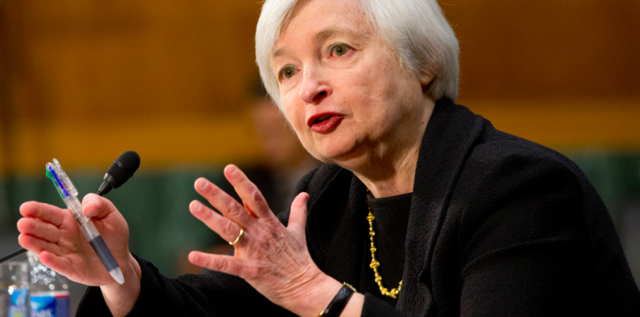 Click to enlarge
Source: Huffington Post
Dollar Strength Picks Up The Pace
This strong uptrend seen by the dollar against a basket of global currencies is an excellent sign that the American economy is seeing support as it transitions from Q3 to Q4 and awaits the quarterly GDP report. With the dollar showing considerable strength and not in overbought territory, the Federal Reserve may be monitoring this and using it as additional fodder to justify a Fed Funds rate hike in December. Below, investors can see that the dollar has now crossed its 200 DMA, despite having a down session on Columbus Day.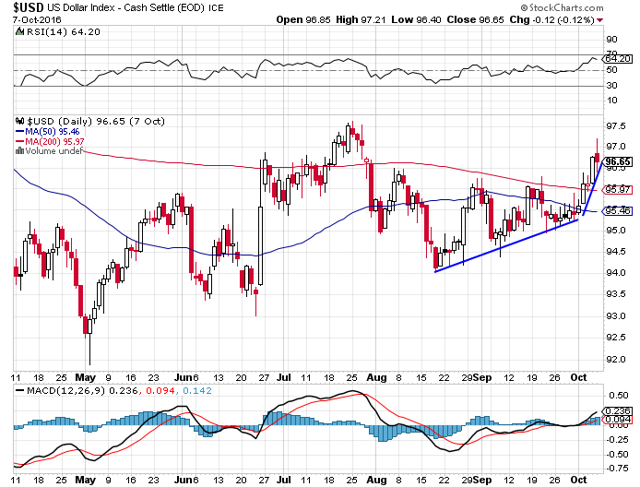 Click to enlarge
Source: StockCharts
Gold's Volatility Picking Up
Fair and square, I thought gold was going to see strength last week. The thesis did not play out and actually gold saw one of its worst weeks in quite some time. The best I can do is revise the thesis and understand what is happening. Thus, I want to focus in a bit on volatility relative to gold. Seen below is a one-year chart of gold. We can see that last year around this time that gold was just about to start its descent to below the $1,075 level and interestingly enough, during the FOMC meeting at which the Fed raised short-term lending rates, volatility remained relatively minimal. Fast forward to the last ten sessions and volatility has spiked well above its 12-month average to a level not seen since mid-February.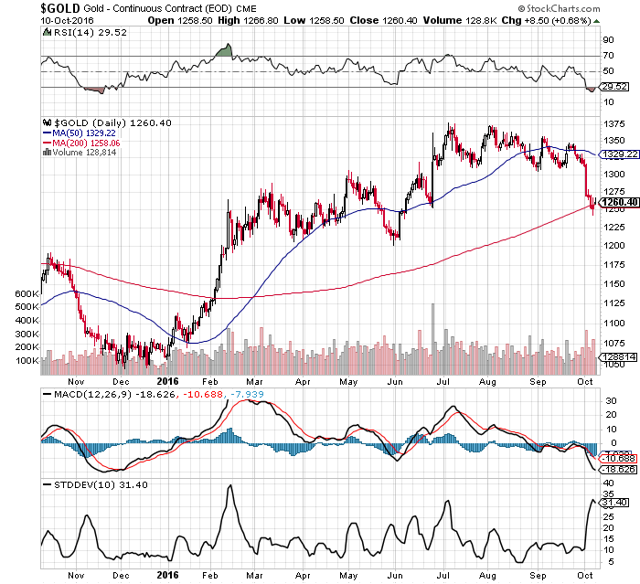 Click to enlarge
Source: StockCharts
Now, volatility relative to gold prices tells us that investors are having a difficult time weighing the global macro landscape and the Federal Reserve's potential to hike interest rates at the December meeting. Perhaps heightened volatility will take the reins this week as earnings season for Q3 officially started today with Alcoa (NYSE:AA) before the bell and subsequently missing revenue and EPS. Twenty-three companies in the S&P 500 have actually already reported, but the market recognizes AA as the kick-off anyway.
Per S&P Global Intelligence, the S&P 500 so far has reported an increased 5.1% earnings surprise. This is a positive development, especially as this figure is supported by top-line growth in the double digits. Now, naturally, this slightly isolated as the population size is small relative to the entire index and entire market, but nonetheless a positive indicator for a risk-off environment, where investors are inclined to move into riskier securities. There are actually some large companies reporting this week, notably CSX Corp. (NYSE:CSX), Delta Air Lines (NYSE:DAL), and banks Citigroup (NYSE:C), JPMorgan (NYSE:JPM), and Wells Fargo (NYSE:WFC), in which the latter will be highly covered and watched given everything that has happened with the fake accounts.
If this earnings season shows strength and bucks the trend of declining corporate growth, then the Fed will have all the support it needs to raise interest rates at the December FOMC meeting. I am expecting higher volatility for gold, in particular, to be present especially if we get some surprise reports. This volatility could shift gold further into the red if we get bullish guidance from some of the larger reports, especially the TBTF banks. The fact that the Federal Reserve has waited this long to raise interest rates surprises me as the lack of monetary policy has really stifled the American economy. Banks, too, have seen lower net interest income because of the Federal Reserve's inability to hike.
If this hike occurs, expect gold to go negative. Now, there's a camp of investors out there who believe that gold will react in the same manner that it did last year, where the rate hike gets priced in several days before the meeting, declines on the meeting and the over the next few months sees a bullish rally. This is a completely fair thesis, but this second rate hike will be confirmatory of positive developments for the American economy already seen in Q3 and will cater to a risk-off environment.
It has also been interesting to see options activity, as detailed by a recent Wall Street Journal article. The skew of options on gold, the put cost net of call cost, is showing that more bets are being placed in puts relative to calls, seen below. This means that in a leveraged manner, investors are betting that gold sees further weakness.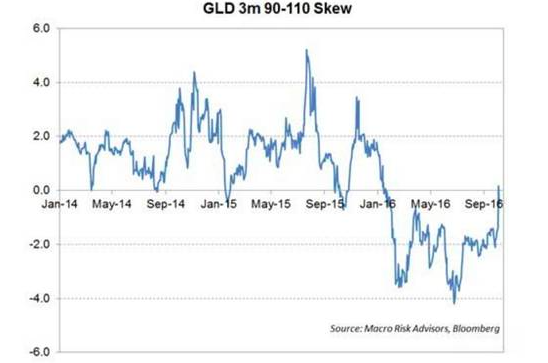 Source: Wall Street Journal
Securities investors can use to benefit from a future downtrend in gold are 3x leveraged bearish ETP's (NYSEARCA:DUST) and (NASDAQ:DGLD), as well as shorts on non-leveraged ETP's (NYSEARCA:GDX), (NYSEARCA:GLD), and (NYSEARCA:IAU). If investors are particularly keen on the short side, then perhaps a short on 3x leveraged bullish ETN (NYSEARCA:NUGT), which I would only advise on an intraday basis, is appropriate.
Conclusion
I detailed in a previous article on leveraged miner Barrick Gold (NYSE:ABX), where I said that the environment's sentiment on gold has shifted dramatically. At the same time, I saw a report earlier this week that said fund managers piled more into gold-backed ETFs in late September. This conflict among major investors has pushed gold volatility through the roof and the price of it to the downside. I expect gold to be down further in the short-term, especially ahead of the December FOMC.
Disclosure: I am/we are short GLD.
I wrote this article myself, and it expresses my own opinions. I am not receiving compensation for it (other than from Seeking Alpha). I have no business relationship with any company whose stock is mentioned in this article.
Additional disclosure: Day trade on DUST