By Scott Tzu
We all know that merger and acquisition talks have been the sole fuel behind Twitter's (NYSE:TWTR) stock moves over the last few weeks. Recently, over the last few days, the stock has tanked from about $24 per share to current levels around $17 per share on news that most bidders had lost interest.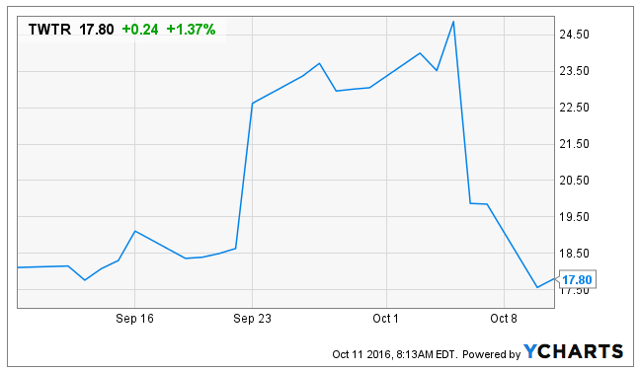 Click to enlarge
But a new story out last night confirms that salesforce (NYSE:CRM) may still be interested in bidding for Twitter. In addition, FOX Business Network reported yesterday afternoon that the company is still almost definitely going to be sold at some point, but that the price was still up in the air. At this point, investors don't really have solid footing to stand on with either side of the story. Both sides, including those that have said bidders have dropped out and those that say bidders are still interested, have cited anonymous sources.
We do still think that salesforce is likely involved with Twitter and we wanted to make our case as to where we thought the salesforce narrative went wrong and was misconstrued by the investing public. We noticed it as it was happening, we thought that it may become an issue in the coming days, and sure enough now salesforces' involvement with Twitter is being contested.
Last night, the New York Times published an article containing several key pieces of information,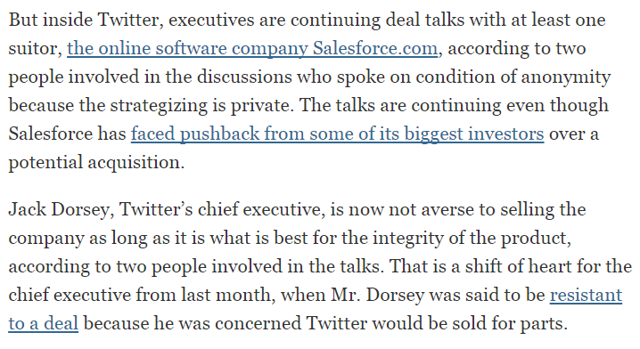 Click to enlarge
Many people were left wondering this morning where the narrative with salesforce had gone wrong. After all, salesforce's stock had tanked on the notion that the company may be bidding for Twitter. The stock sold off from around $72 per share to $66 per share in a matter of two days once it was reported that they were considering to be a bidder for the company.
Then, over the last two days after the CEO made an appearance on CNBC, the stock rose back up from $67 per share to $75 per share as investors cheered the notion that the company may not be interested in Twitter any longer.
So which stocks are mispriced right now and what is the real narrative? We believe right now salesforce stock may still be on its way lower as investors misinterpreted the CEOs interview on CNBC with Jim Cramer last week.
In the interview, Cramer talks to salesforce CEO Mark Benioff about potentially making a bid for Twitter despite the fact that shareholders don't seem to think that it's a good idea. The response that the CEO gave was that the company has to weigh all different options, regardless of what the shareholders think. He then went on to comment that he spent about 25% of his time on mergers and acquisitions and the attitude taken between him and Jim Cramer afterwards was one where they almost seemed to be laughing off the prospect of an acquisition. It was directly after this that the stock spiked from $66 to $69, starting its move back higher.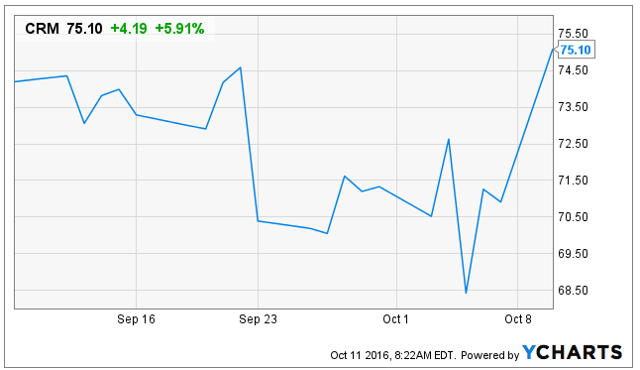 Click to enlarge
But the fact of the matter is that all the CEO said was that they are considering and weighing all offers. There was nothing contained in that interview that led us to believe that salesforce was no longer a bidder. Many people drew their own conclusions, such as "the CEO would not be appearing on national television if they were actually interested in the company," but there was no real evidence based on the interview that they weren't going to be making a bid.
Also, it had been reported in the media days prior that salesforce CEO Mark Benioff actually referred to Twitter as "an unpolished jewel". We think that statement says a lot.
This was the inflection point that the public got wrong. We never stopped thinking that Twitter was eventually going to be acquired for the same reasons that the New York Times article pointed out last night. It is the people's news service. It is one of its kind. It constantly leads the major news organizations and networks in disseminating important information. Its move to live streaming content has been a success. Its involvement in the presidential debates has been extremely robust. And there are so many reasons we continue to believe that Twitter is eventually going to be acquired, regardless of whether or not salesforce is in the picture.
Despite this, we are not surprised that salesforce is still in the picture. As Twitter stock moves lower, perhaps on the expectation of a deal not getting done, it's going to make for more leverage for those potentially looking to make an acquisition for the company.
Right now, it would seem that salesforce is mispriced, as their interest in the company is what originally drove the stock down to $66 per share and the market's misunderstanding of their involvement has push the stock up to $75 here. We think investors could probably take short term advantage of this arbitrage by going long Twitter and short salesforce. We simply remain long Twitter.
Disclosure: I am/we are long TWTR.
I wrote this article myself, and it expresses my own opinions. I am not receiving compensation for it (other than from Seeking Alpha). I have no business relationship with any company whose stock is mentioned in this article.